Analyst: Apple Inc. Watch Shipments to Plunge 25% in 2016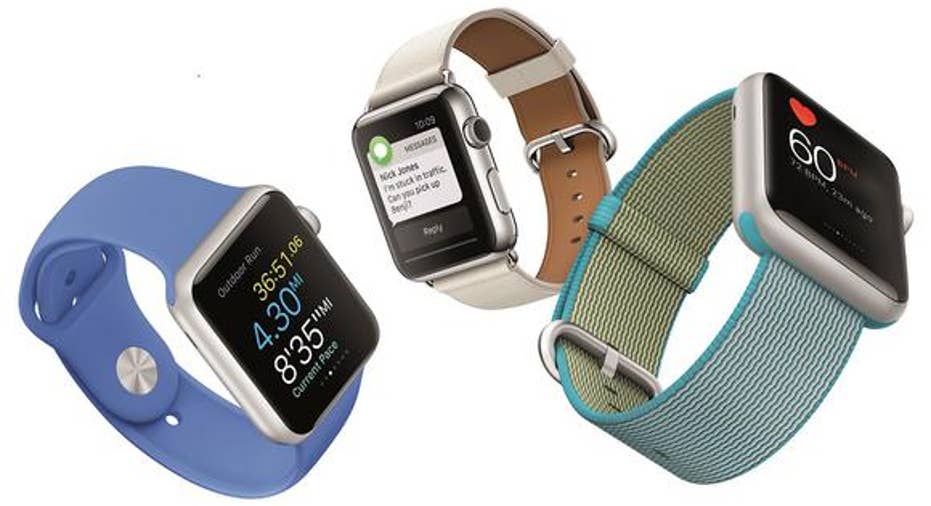 Image credit: Apple.
Yet another Apple product category is expected to face a year-over-year decline in 2016. According to KGI Securities analyst Ming-Chi Kuo (via MacRumors), Apple Watch shipments worked out to 10.6 million units during 2015 (during which it was available for only eight months). For all of 2016, shipments are expected to drop to just 7.5 million units.
This prediction is largely in-line with a report from DigiTimes last month claiming that Apple Watch sales have been (relatively) tepid and that the category is expected to decline year-over-year in 2016.
Interestingly, according to Kuo, Apple plans to launch the second generation Apple Watch in the fall of 2016 rather than at WWDC in June as predicted by Drexel Hamilton analyst, Brian White. Perhaps Apple would be on track to see better year-over-year comparisons if it were to release the refreshed device sooner?
Speaking of a refreshed device ...White previously claimed that Apple's next generation Apple Watch could be anywhere from 20% to 40% thinner than the first generation model. However, Kuo, whose track record in nailing product-level features/specification is unmatched, believes that the new Apple Watch will generally bring internal improvements rather than a significant change to the industrial design.
That, Kuo indicates, is likely to change with the 2017 model, which is expected to bring a reworked industrial design.
Can an internal spec bump be enough?For the 2016 Apple Watch, I am expecting a significant improvement in performance and internal specifications. Although such "spec bumps" alone don't seem to be enough to drive iPhone sales growth (as evidenced by the lackluster sales of the iPhone 6s/6s Plus), marketed correctly, they could help the Apple Watch.
Unlike the iPhone, which has been "fast" for quite some time, the Apple Watch is still in its infancy in terms of both features and performance. This means that application developers are fairly limited in what they are able to accomplish with the current Apple Watch, which in turn limits the appeal of the device to consumers.
Once Apple starts endowing the Apple Watch with more serious compute power and, perhaps, improves the connectivity features of the device to reduce/eliminate the reliance on the iPhone, sales could return to a growth track.
Maybe the Apple Watch 2 will perform better than Kuo, the supply chain vendors, and perhaps even Apple itself expect? Time will tell.
Maybe the market research firms should tone down their smartwatch predictionsWhenever a new product category sprouts, the well-known market research firms (IDC, Gartner, etc.) tend to put out multi-year predictions for industry unit growth for said product category. Furthermore, with fairly limited sales data, these firms even go so far as to predict unit growth data per operating system.
IDC, for example, predicted in a recent report that Apple Watch sales would come in at 14 million units in 2016 and grow at a 22% compounded annual growth rate through 2020. There are similar predictions for other operating systems such as Android, Android Wear, Tizen, RTOS, and Pebble OS.
Given that Apple Watch sales are expected to decline this year, and given that the other smartwatch makers aren't even on the radar (Samsung has resorted to giving away its Galaxy Gear smartwatches with smartphone pre-orders), these hyper-bullish industry predictions will likely prove far too optimistic and that investors should not rely on them in making investment decisions.
The article Analyst: Apple Inc. Watch Shipments to Plunge 25% in 2016 originally appeared on Fool.com.
Ashraf Eassa has no position in any stocks mentioned. The Motley Fool owns shares of and recommends Apple. Try any of our Foolish newsletter services free for 30 days. We Fools may not all hold the same opinions, but we all believe that considering a diverse range of insights makes us better investors. The Motley Fool has a disclosure policy.
Copyright 1995 - 2016 The Motley Fool, LLC. All rights reserved. The Motley Fool has a disclosure policy.