American Outdoor Brands Corp: Time to Move On?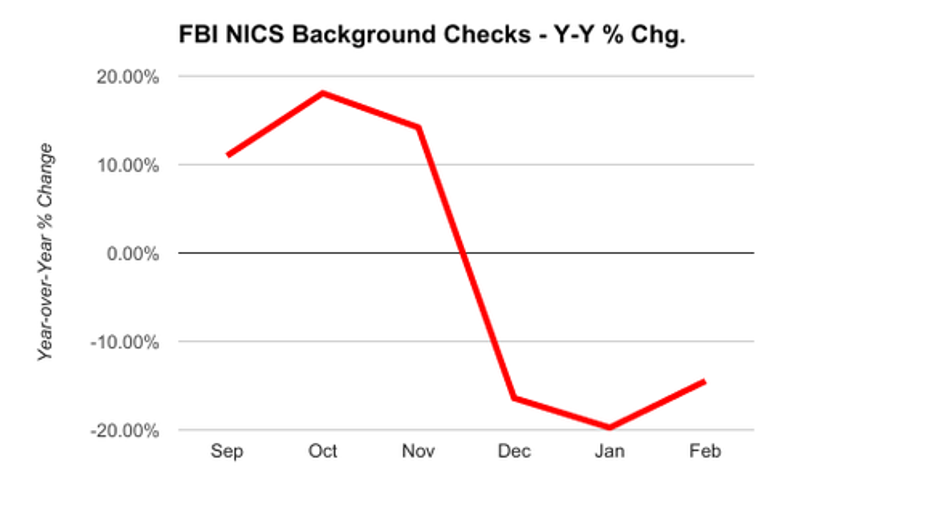 Because fear and greed are the two driving factors on Wall Street, investors are cautioned to leave emotion at the door when they wade in. But when it comes to investing in American Outdoor Brands (NASDAQ: AOBC), that's no easy task, because its stock tends to be ruled by passion.
Regardless of how the actual business is doing, shares of Smith & Wesson's parent company will rise and fall based on the fervor exhibited in the gun market. Fear of strict gun laws drove shares of American Outdoor Brands to new highs last year, but the election of a gun-friendly president and Congress has set its stock careening lower.
Image source: Getty Images.
Even though the gunmaker is likely to have another robust performance this year, albeit one below the record results of last year, its stock remains 30% below where it traded a year ago. Is this kind of volatility an indication that it's time for investors to move on from American Outdoor Brands? Let's take a look to see whether its lower valuation really is justified.
A little off target
There's little doubt gun sales will slow this year. If all we do is look at the number of background checks the FBI is performing on gun buyers, we see that in just the first two months of 2017, they're already running 20% below last year. And privately held Remington Outdoor has laid off over 150 employees, or 14% of the workforce, at its Ilion, New York, facility due to falling demand. Another 16 were let go from its Lexington, Kentucky plant, and late last year, 39 were laid off in Huntsville, Alabama. Two years ago, Remington had 1,300 employees -- today, the workforce is at a little over 900.
Yet despite the number of background checks declining year over year, they're still elevated compared with their historical levels. The 2.2 million checks run through the FBI's National Instant Criminal Background Check System (NICS) last month was down 14% year over year, and January's checks were down 20%, but they're still among the most ever conducted for those two months.
Data source: FBI. Chart by author.
So even if those trends continue, and 2017 sees NICS checks end up 20% lower than last year, it would still be the third largest number of annual background investigations performed since the FBI began tracking the data in the late 1990s.
That's why the CEOs of American Outdoor Brands and industry peer Sturm, Ruger aren't sounding any alarm bells at the moment when discussing their operations. They admit demand is softening, but as American Outdoor's James Denby says, it's a normalization trend. Sales are reverting to the mean, which is still a historically high level.
Changing industry demographics
The reason for optimism is the number of new people being attracted to shooting sports, particularly women. Winchester, the ammunition manufacturing division of Olin, notes there are between 20 million and 40 million recreational shooters in the U.S., and it points to data from 2013 from the National Shooting Sports Foundation indicating that as many as 5.4 million are women, a 60% gain from 2001.
The Crime Prevention Center also notes that women applying for concealed carry permits far outstrips the number of men seeking one, with applications from women rising 270% between 2007 and 2015, while male applicants are up 156%.
Image source: Getty Images.
Gun sales may not grow at the breakneck pace they enjoyed during the Obama administration, but they'll continue to head higher, which bodes well for Smith & Wesson and makes American Outdoor Brands' discounted stock price appealing.
A discounted value
Trading at just 13 times 2017 analyst estimates, the gunmaker's valuation presents a significant discount to the broad market. With 5-year earnings growth forecasts at 15%, the valuation is even more attractive. That's reinforced by its enterprise value, which goes for a bargain-basement seven times trailing free cash flow.
Business might be down at the moment for American Outdoor Brands and the firearms industry as a whole, but with healthy long-term trends in its favor, new buyers entering the market, and an extremely discounted stock price, the rugged outdoors company still has a lot to offer investors.
10 stocks we like better than American Outdoor Brands CorporationWhen investing geniuses David and Tom Gardner have a stock tip, it can pay to listen. After all, the newsletter they have run for over a decade, Motley Fool Stock Advisor, has tripled the market.*
David and Tom just revealed what they believe are the 10 best stocks for investors to buy right now... and American Outdoor Brands Corporation wasn't one of them! That's right -- they think these 10 stocks are even better buys.
Click here to learn about these picks!
*Stock Advisor returns as of February 6, 2017
Rich Duprey has no position in any stocks mentioned. The Motley Fool has no position in any of the stocks mentioned. The Motley Fool has a disclosure policy.