American Express: Keeping the Costco Spend?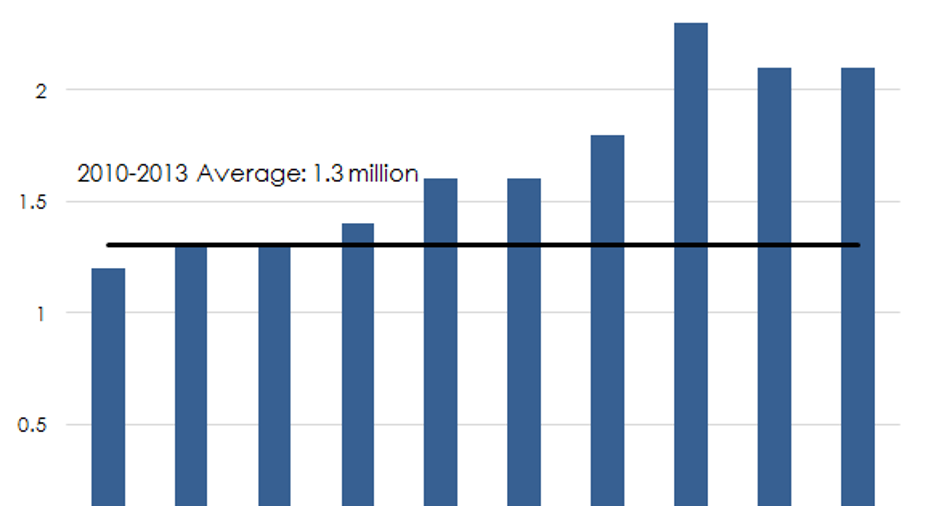 American Express pulled a rabbit out of its hat by announcing that it put 2.1 million new cards in American hands in the first quarter of 2016.
The acquisitions, as AmEx calls them, included "new cards from Costco co-brand Card Members who have signed up for another American Express product" said the company's chief financial officer, Jeffrey Campbell, in his prepared remarks on its post-earnings call with analysts. He added that Costco customers had been a significant driver of new card issuance in recent quarters.
Quantifying how many of American Express's newly issued cards can be attributed to current (soon-to-be-former) Costco card members is rather difficult. Campbell declined to put a hard number on its Costco wins, but he indicated that analysts could ballpark the figure by referring to a slide in a presentation two quarters ago.
No need to go digging -- I recreated the data from that slide, with supplementary information from AmEx's year-end call below.
Campbell's specific words were that a "good portion of the increment of the standard run rate" was driven by AmEx's ability to push new cards to Costco members. I take that to mean card issuance in excess of the 2010-2013 average, a figure that is highlighted in the original presentation. Since the second quarter of 2015, American Express has cumulatively issued 3.1 million more cards than the 2010-2013 average.
From that, we know American Express has captured no more than 31% of its 10 million Costco cards. If two-thirds of incremental cards went to Costco members, it works out to about 20% of outstanding Costco cards.
In any event, the difficult task isn't getting new cards in old hands, it's getting new cards in old hands that will use them. It might have been better news if, in fact, the increase in card acquisitions had nothing to do with Costco at all.
Curious case of spending spilloverLegal documents explain AmEx's main opportunities and challenges. Inactive card members become more active when big merchants are added to its network, as card members tend to use their cards again at nearby merchants. It calls this effect "spillover."
But where spillover can add to spending, it can also subtract from it. Another document cites an instance in which AmEx lost a deal with Continental Airlines that resulted in a "severe" loss in charge volume, again due to so-called spillover. (The severity of the loss to spending volume was unfortunately scrubbed from the public documents.)
Spillover may be an artifact of consumer behavior (once used, a card often returns to a wallet, where it's placed atop other cards) or a matter of convenience (using just one card makes bill paying easier). Who really knows?
What we do know is that American Express is winning Costco members with promotions for its Blue Cash card, a lend-centric card much like the existing Costco card. (A previous analyst day presentation revealed that users of its "EveryDay" card, a slightly lesser card than Blue Cash, were two times more likely to carry a balance.)
The downside, however, is that AmEx's Blue Cash cards may be dead on the new card's arrival. As fellow Fool, John Maxfield wrote, the new Citi Costco card adds a percentage point of rewards on top of the categories favored by the outgoing AmEx card. It also offers 1% cash back everywhere, roughly equivalent to the 1 point earned for $1 of spend on AmEx's Blue Cash, the card it is pushing to Costco customers.
AmEx's quarterly card acquisitions may be just as short-lived as they are impressive in volume. Citi's Costco Visa rolls out on June 20, at which point newly issued AmEx cards will have to win America's spend from a very capable competitor.
The article American Express: Keeping the Costco Spend? originally appeared on Fool.com.
Jordan Wathen has no position in any stocks mentioned. The Motley Fool owns shares of and recommends Costco Wholesale and Visa. The Motley Fool recommends American Express. Try any of our Foolish newsletter services free for 30 days. We Fools may not all hold the same opinions, but we all believe that considering a diverse range of insights makes us better investors. The Motley Fool has a disclosure policy.
Copyright 1995 - 2016 The Motley Fool, LLC. All rights reserved. The Motley Fool has a disclosure policy.