American brands move to Paris to kick off couture week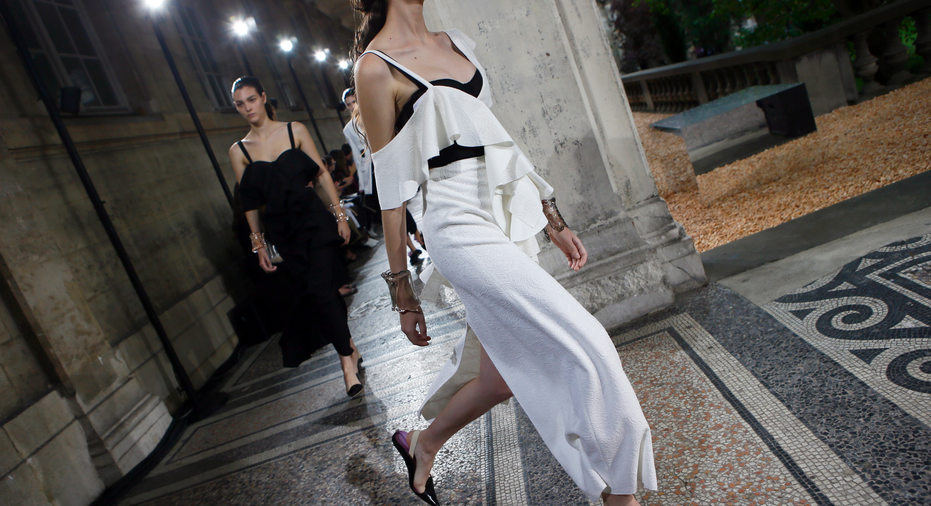 U.S. ready-to-wear brands Proenza Schouler and Rodarte switched from their regular New York slots to open Paris couture week Sunday, in a sign the business and organizational model of global fashion is evolving to meet the industry's changing needs.
Here are some highlights from day one of fall-winter 2017 collections.
___
RODARTE IS ETHEREAL
Actress Kirsten Dunst wandered among the flowers in the stone courtyard of the Left Bank show and looked ethereal in a black, floaty tulle gown as she was snapped by photographers.
The venue was carefully chosen for Rodarte's beautiful and rather magical Paris debut.
The historic old stone cloisters lent an otherworldly feel to the collection of frothy, spell-binding looks that seemed to merge the tulle of 1900s gowns with styles of the low-slung gaucho.
It was finely executed.
Garlands of white baby's breath flowers were woven into hair, trailed in long bouquets grazing the ground, or held underneath arm clasps on models, who walked slowly around the courtyard as though caught in a trace.
Cascading layers of tulle adorning the shoulders, high frilly 1900s necklines, and sheer sections of embellishment defined many of the loose and feminine silhouettes.
The magical and floaty shapes were punctuated with low-slung, studded leather gaucho pants in black or red that gave this collection from the Los Angeles-based brand a Hispanic feel.
Indeed, one floral look — a diaphanous sheer embellished silk gown in purple, green and red with regal cape — was worn by a model with thick eyebrows and flowers in her hair — and it strongly evoked Mexican painter Frida Kahlo.
It was the piece de resistance in Rodarte's accomplished debut.
___
BRANDS DITCH NEW YORK FOR PARIS
In a blow to the New York Fashion Week calendar, labels Rodarte and Proenza Schouler have decided to move their ready-to-wear women's collections from the Big Apple to the City of Light and show during Paris couture week.
Both houses have said that this change will apply for the foreseeable future.
In a statement, Proenza Schouler said it is "to break from the traditional ready-to-wear calendar in order to pursue a business model more aligned to the realities of commerce today."
It adds that "currently a large percentage of the brand's sales are placed during the pre-collection market."
Paris couture week falls during the pre-collection season, and the move to the French capital is being seen as a way for houses to synchronize calendars and capitalize on the media glare that Paris couture week brings.
Rodarte, designed by sisters Kate and Laura Mulleavy, has said that it is aligning its runway collections with the couture schedule starting in July 2017. But the house will also add a third collection to their yearly production schedule that is likely to be presented in New York.
___
FASHION CALENDAR BOUDARIES ARE BLURRED
The boundaries of global fashion weeks are increasingly becoming blurred.
Paris menswear week saw womenswear designs ubiquitous on runways, and both Givenchy and Saint Laurent have decided to show menswear in the womenswear shows this fall.
Now, New York Fashion Week ready-to-wear houses are unveiling their spring-summer 2018 designs during Paris couture week where fall-winter 2017 designs are being showcased.
But how is this calendar chaos sitting with fashion industry insiders?
"I think we're entering transformation and change in the industry as a whole. Fashion is being reorganized and we're really in the throes of it," veteran fashion writer Jessica Michault said.
She said the immediacy of digital age has changed how brands and buyers view the fashion calendar with images instantaneously available online sometimes a year ahead of when the styles hit the shops.
Freelance fashion editor, Jonathan Huguet, who attended the Proenza Schouler Paris debut, was happy about the changes.
"I think it's quite nice to have these brands here today to show Parisians a bit of American fashion. Perhaps it will encourage the brands to be more couture, more constructed, and that's good," he said.
Marc Ascoli, a freelance Paris-based artistic director, was also open to fashions various forms merging together.
"I'm absolutely not hung up on the idea that there's menswear, womenswear and couture that should all be separated," he said.
"It's good that things change, that the boundaries get blurred. It's real-politick, it's about synchronizing the pre-collections with the couture."
___
PROENZA SCHOULER DEBUT
In their highly-anticipated Paris debut at the start of couture week, New York-based label Proenza Schouler enlisted the help of Parisian ateliers and French artisans to shape their runway designs.
The result? A collection from a brand that might hark from the U.S. but felt wholly Parisian in its cut and energy.
Designers Jack McCollough and Lazaro Hernandez used oversize asymmetrical ruffles to produce a downward-moving silhouette.
Bell-shaped fabric ruffles hung limply off the shoulder or cascaded haphazardly down the torso in many of the frothy looks.
The sense of unfurling continued in pointed heels that opened at the top — evoking a sense of hurried (un-)dress.
It was a creative collection — in black and white, shot with flame red.
Parisian-style tuxedo jackets in exaggerated proportions had side sections that were snipped away, and sported oversize pockets.
Meanwhile, floral motifs and floral lace were used abstractly on layered gowns to blurredly confuse the eye and make a clever play on depths.
___
"MAISON CHLOE" OPENS WITH INAUGURAL EXHIBIT
Parisian fashion house Chloe unveiled a new cultural space, the Maison Chloe, on Sunday with an inaugural temporary exhibit on French artist and fashion photographer Guy Bourdin.
Bourdin was known for his provocative images and Chloe was the ready-to-wear brand he photographed the most.
The exhibit looks at the house through Bourdin's lens.
"The Chloe dress comes in and out of the story and the building itself begins to feel as though it's experienced via Guy Bourdin's distorting eye," curator Judith Clark said.
The intimate five-floor center is located near the label's central Paris headquarters and will host a year-round exhibit and events program showcasing the company's 65-year history all the way from the house's founder, Gaby Aghion, to the present.
___
Thomas Adamson can be followed at www.twitter.com/ThomasAdamson_K