AMD's Ryzen: The Good and the Bad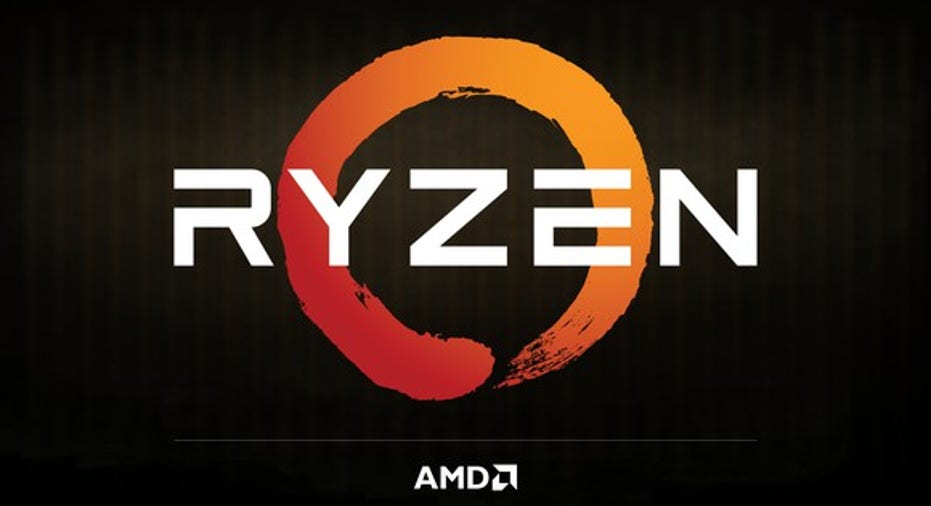 After a long wait, Advanced Micro Devices (NASDAQ: AMD) has finally launched the first batch of its Ryzen CPUs. AMD is starting at the high end, launching three Ryzen 7 products aimed at ending Intel's (NASDAQ: INTC) dominance in an area where AMD has been largely absent for years. The Ryzen 7 1700, 1700X, and 1800X, priced between $329 and $499, represent a major achievement for the company.
Ryzen has exceeded my expectations, which were not particularly high due to AMD's long history of coming up short of its own promises. The company has largely delivered with Ryzen, and this moment truly represents a turning point. However, those hoping for huge market share gains may need to temper their expectations. While Ryzen is the clear winner in applications that can make full use of its eight cores, gaming is another story.
Image source: AMD.
A powerhouse workstation chip
All three Ryzen 7 processors feature eight cores, double the typical number for desktop processors. Intel does sell some desktop chips with more than four cores, but those are priced at almost comical levels given Ryzen's pricing. Intel was able to price these chips so high because it faced absolutely no competition. That ends with Ryzen.
The consensus from the independent third-party reviews of Ryzen is clear. In applications that scale well with the number of cores, AMD's new chips are a home run. Intel's expensive Broadwell-E chips also do well, but Ryzen offers far higher performance per dollar.
There are some workstation use cases where Ryzen performs badly despite the extra cores. Tom's Hardware ran a litany of tests where Intel's i7-7700k, a quad-core chip priced at $349, handily beats out the most expensive Ryzen chip. The site points out that many of the applications are specifically optimized and compiled for Intel CPUs, giving Intel a major edge. This will presumably change once developers optimize for Ryzen, but it may put a damper on demand in the meantime.
In tests where optimization isn't an issue, the 1800X blows the 7700k out of the water. For those who routinely use workstation and professional applications that scale well the core count and that aren't specifically optimized for Intel CPUs, Ryzen has disrupted the market in a big way.
Not so great at gaming
While Ryzen's eight cores bring increased performance in cases where they can be fully utilized, single-threaded performance remains a problem. AMD's previous generation of chips, which began with Bulldozer in 2011, were awful compared to Intel in terms of single-threaded performance. Ryzen closes the gap significantly, but it still falls short of Intel's best.
Tom's Hardware concludes that it's hard to recommend the 1800X over Intel's cheaper quad-core chips for gaming. GamersNexus calls it a hard pass for gaming. These high-end Ryzen chips are by no means bad for gaming. But they simply can't match Intel's 7700k.
The problem is that PC games generally can't take full advantage of eight cores. Performance doesn't scale nearly as well with the core count compared to other types of applications, and that leaves Ryzen at a disadvantage. This varies game to game, and some games do a better job than others. But in general, single-threaded performance matters for gaming. And that's exactly where Ryzen falls short.
Even in CPU-intensive games like Ashes of the Singularity, Tom's Hardware has the 7700k easily beating the 1800X at both 1080p and 1440p resolutions. The benchmarks AMD provided were done at a 4K resolution, which showed a much smaller gap. But the bottleneck at 4K is the GPU, so the performance gap between Ryzen and the 7700k is less visible.
A mixed bag
For those whose main use case is gaming, there appears to be little reason to opt for a Ryzen chip over Intel's 7700k. The equation changes if applications that benefit from more cores are thrown into the mix, but as a gaming chip Ryzen disappoints. This will work against AMD as it aims to gain market share from Intel.
Overall, Ryzen is an important accomplishment for AMD. AMD is in a vastly better position with Ryzen compared to its previous generation of chips, and market share gains are almost guaranteed. Lower-end Ryzen 5 and Ryzen 3 chips are coming in the second quarter and the second half, respectively, which will fill out AMD's lineup and make the company more competitive than it's been in quite some time.
10 stocks we like better than Advanced Micro DevicesWhen investing geniuses David and Tom Gardner have a stock tip, it can pay to listen. After all, the newsletter they have run for over a decade, Motley Fool Stock Advisor, has tripled the market.*
David and Tom just revealed what they believe are the 10 best stocks for investors to buy right now... and Advanced Micro Devices wasn't one of them! That's right -- they think these 10 stocks are even better buys.
Click here to learn about these picks!
*Stock Advisor returns as of February 6, 2017
Timothy Green has no position in any stocks mentioned. The Motley Fool recommends Intel. The Motley Fool has a disclosure policy.