AMD's Bet on Mainstream Graphics Could Backfire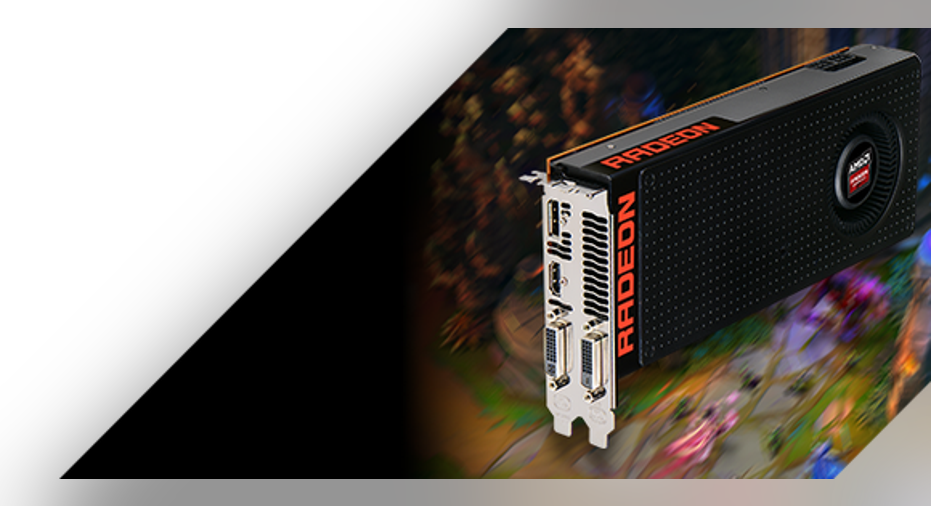 Image source: AMD.
Sometime soon, Advanced Micro Devices is expected to officially unveil its newest graphics cards built on the Polaris graphics architecture. With Polaris, AMD is making a bid to reclaim its position in the graphics card industry. Rival NVIDIA has run away with the market in recent years, leaving AMD with a unit market share of about 20%. That's down from 40% just two short years ago.
NVIDIA has already shown its hand, announcing two high-end graphics cards based on its new Pascal graphics architecture earlier this month. NVIDIA-provided benchmarks show major performance and efficiency improvements compared to the cards that the new GTX 1080 and GTX 1070 are replacing. Both Pascal and Polaris cards will be built on advanced 14/16nm FinFET manufacturing processes.
While NVIDIA is following the typical pattern of introducing high-end parts first and filling in the rest of the lineup later, AMD is taking the opposite approach with Polaris. There will be two Polaris GPUs, Polaris 10 and Polaris 11, and neither will be focused on the high-end desktop graphics market. Polaris 11 is targeting the mainstream notebook market, and Polaris 10 will go after the mainstream desktop and the high-end notebook market.
AMD's strategy is a risky gambit. On the one hand, most of the volume in the graphics card market comes from mainstream cards. With mainstream Pascal cards yet to be announced, Polaris will be competing with last-gen NVIDIA products, a situation that could lead to meaningful gains in market share.
On the other hand, the graphics card market is moving in the exact opposite direction, and AMD risks ceding the lucrative high-end graphics market to NVIDIA for another product generation.
A shifting graphics market
Despite the weak PC market, NVIDIA has managed to grow its GPU revenue in recent quarters. In 2015, revenue from GPUs, which include gaming GPUs as well as enterprise and data center GPUs, rose 9% compared to 2014. Gaming revenue has been growing even faster for NVIDIA, jumping 25% year over year during the fourth quarter. A portion of this growth was due to NVIDIA's winning market share from AMD. But a shift toward high-end graphics cards was also a contributing factor.
According to Jon Peddie Research, the market for discrete graphics cards has been shrinking for quite some time. Unit shipments of add-in boards peaked at 114 million in 1999, falling to 65 million by 2013. The decline continued during the fourth quarter of 2015, with total discrete GPU shipments slumping about 7% year over year. A weak PC market and integrated graphics improving dramatically in recent years have been the main drivers of this decline.
While the discrete GPU market is declining in terms of volume, the enthusiast portion of the market is thriving. In 2015, shipments of enthusiast graphics cards doubled to 5.9 million units. Much of this increase, I suspect, was due to NVIDIA's GTX 970, a graphics card launched in late 2014 for $329 that has been a massive success for the company. Despite its high price, the GTX 970 is by far the most popular discrete graphics card in use on the Steam PC gaming platform.
AMD's plan to focus on the mainstream GPU market comes at a time when the market is clearly shifting toward the high end. NVIDIA was able to pull PC gamers to higher price points in 2015 with the GTX 970, and the company is looking to do it again with the GTX 1070 this year. If all of AMD's Polaris graphics cards are priced below the GTX 1070, the company will need to offer compelling performance in order to prevent the same thing from happening this time around.
AMD's bet on mainstream graphics could backfire if Polaris falls short of expectations. The GTX 1070 is a bit more expensive than its predecessor, with an MSRP of $379, which gives AMD some breathing room on price. The latest rumors point to AMD shooting for a price point below $299 for Polaris 10.
If Polaris 10 delivers enough performance at that price, the GTX 1070 may not have the same success as the GTX 970 did before it. But if AMD can't give PC gamers a good reason to choose its new cards over NVIDIA's higher-end offering, market share gains may be minimal for the struggling company.
The article AMD's Bet on Mainstream Graphics Could Backfire originally appeared on Fool.com.
Timothy Green has no position in any stocks mentioned. The Motley Fool owns shares of and recommends Nvidia. Try any of our Foolish newsletter services free for 30 days. We Fools may not all hold the same opinions, but we all believe that considering a diverse range of insights makes us better investors. The Motley Fool has a disclosure policy.
Copyright 1995 - 2016 The Motley Fool, LLC. All rights reserved. The Motley Fool has a disclosure policy.