Amazon's Whole Foods deal could hurt Blue Apron's IPO: Analysts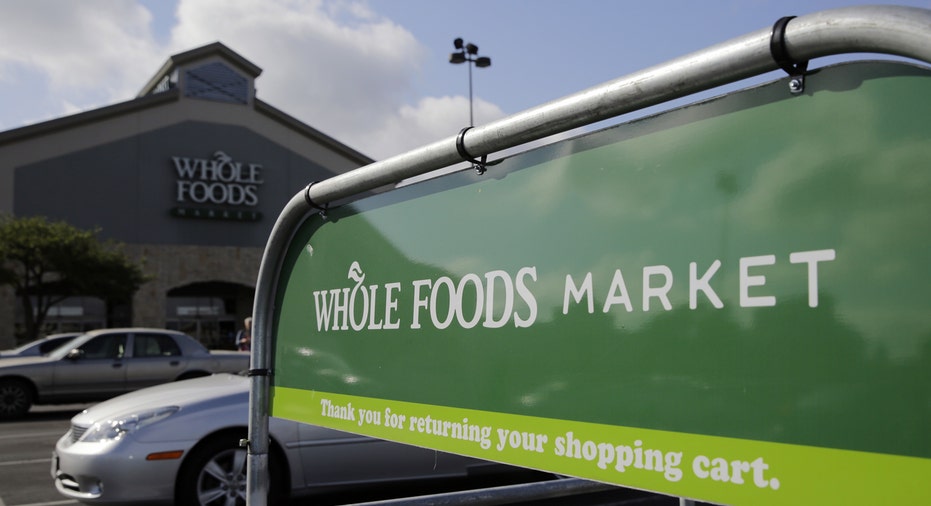 Amazon's bombshell deal to purchase Whole Foods grocery chain announced Friday could spell trouble for meal kit delivery services – especially unicorn startup Blue Apron, which was valued mostly recently at $2 billion and filed for an IPO earlier this month.
The acquisition of more than 450 brick-and-mortar Whole Foods stores, located primarily in major cities, will give CEO Jeff Bezos' retail giant a crucial foothold in its bid to build out its "Amazon Fresh" grocery delivery service. Stock prices of top competitors like Kroger (NYSE:KR), Walmart (NYSE:WMT) and Costco (NASDAQ:COST) plunged Friday in reaction to the news, erasing more than $55 billion in market value, the Wall Street Journal reported.
"If established retailers like Kroger and Walmart are getting penalized by investors today [in reaction to the Amazon/Whole Foods deal news], then Blue Apron may see declining interest in their IPO," Diana Sheehan, director of Kantar Research's grocery channel research team, told FOX Business.
When Blue Apron filed its intent to go public earlier this month, company executives cited growth opportunities in online sales as a key element of their market opportunity. Blue Apron's S-1 filing noted that online sales composed just $9.7 billion, or 1.2%, of the $781.5 billion U.S. grocery market in 2016, according to a Euromonitor report.
Blue Apron is just one of the meal-kit services competing in the young space. Plated, HelloFresh and Purple Carrot are among the startups currently delivering "fresh" foods to doorsteps.
With distribution out of Whole Foods stores, Amazon could target online customers with more speed and precision, said Sheehan.
"Combining Whole Foods value prop and strong brand, with Amazon's ability to execute direct-to-home delivery really changes the competitive context in this space," Sheehan said. "The Whole Foods is very likely competing directly with Blue Apron, Hello Fresh and other meal kit providers for the high-income, millennial shopper. If Whole Foods creates specialty Meal Kits and can then also deliver them, plus groceries, specialist meal kit providers may lose appeal."
Increased competition among meal-delivery services is just one element of the fallout from Amazon's planned $13.7 billion acquisition of Whole Foods, according to Morningstar analyst R.J. Hottovy. It could also be seen as an opportunity for some startups hoping to be snapped up. As competition for market share in the online grocery space increases, larger retailers could look to privately-owned meal delivery companies as a potential backdoor route into the market.
"Obviously this development could pose a competitive threat to meal-kit services, especially with Amazon's Prime member base, its own meal-kit services, and now relationships with Whole Foods' suppliers," Hottovy said. "However, we could see this also leading to meal-kit services becoming acquisition targets for other grocer and consumer product companies looking to more actively participate in digital commerce."