Amazon's Latest Move in Grocery Is Nothing New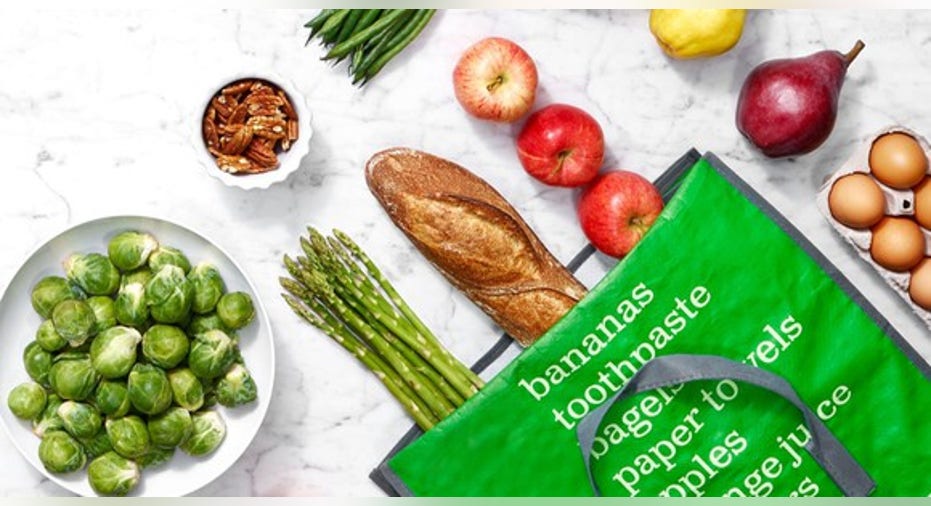 Amazon.com(NASDAQ: AMZN) is taking another step into grocery retail.
After aggressively expanding its AmazonFresh delivery service and lowering its price last year, the company unveiled a new cashier-less prototype of a store called Amazon Go in Seattle last December. Now, Amazon is taking the next step into the industry with plans to open two grocery pick-up locations, also in Seattle, according to documents revealed byGeekwire.
Image source: AmazonFresh Twitter Page
The tech news website showed permits indicating that the e-commerce giant is seeking to open two "AmazonFresh Pickup" location in the SoDo and Ballard neighborhoods soon. According to signage, the stores offer customers the ability to "Shop online" and "Pick up here." The signs also say, "Relax while we load your groceries."
The holy grocery grail
Amazon has had its eye on the grocery industry for years since it first launched AmazonFresh in 2007. The company moved slowly, only operating Fresh in Seattle for several years, but expanded rapidly last year and now offers the grocery delivery service in more than 15 metropolitan areas.
It's clear why Amazon is angling for a piece of the grocery market. Grocery store sales totaled $631.3 billion last year, one of the biggest retail categories and almost as much as from general merchandise stores, which hit $668.3 billion. Unlikechains likeWal-Mart(NYSE: WMT),Costco,and even Target, which all derive a significant percentage of their sales from groceries, Amazon has only begun to penetrate the huge market.
Groceries present singular problems for an e-commerce company like Amazon. Fresh produce, meat, dairy, and frozen foods can't sit out in the hot sun like the average Amazon delivery can, so the company needs to coordinate with customers to ensure they're home to receive their deliveries, or delivery them in packaging that will keep at temperature. Amazon also needs specialized trucks and facilities that will also keep foods fresh.
Those challenges may explain why the company is increasingly turning toward brick-and-mortar stores to break into the delivery market with its new Amazon Go store and the upcoming pickup locations.The Wall Street Journalalso reported last fall that Amazon was aiming to open as many as 2,000 grocery stores nationwide over the next ten years. However, Amazon denied that report.
Late to the party
Amazon is known for innovation, and though its new pickup sites may seem novel, they are not much different from what rivals like Wal-Mart andKroger(NYSE: KR) are already doing at hundreds of stores.
Wal-Mart introduced its own grocery pickup program in 2014, and has ramped it up quickly; the world's largest retailer expects to have pick-up kiosks at nearly 1,000 stores by the end of this year. Wal-Mart's dedication to expanding the program is a sign of its success, as the company's scaled back on opening new stores to make investments in programs like grocery pickup. Grocery pickup has also been a significant driver of the company's own e-commerce growth. The grocery segment makes up more than half of revenue at U.S. Wal-Marts, so it's key that the company defends its leadership from rivals like Amazon.
Image source: Wal-Mart.
Kroger, the nation's biggest traditional grocer, now offers its own grocery pickup service, ClickList, at more than 500 stores nationwide, and is also rapidly expanding it, as its management, like Wal-Mart's, has found an overwhelmingly positive response from consumers. Unlike Wal-Mart's service, which is free, ClickList costs $4.95 per shopping trip.
The details of Amazon's new pickup service are unclear, as the company has yet to make an announcement about it. We don't know, for instance, it there will be a pickup fee; if the program will be exclusively for Prime members or open to all customers; or if there will be any bonuses or perks to the service.
As it stands now, Amazon has given Wal-Mart and Kroger a big head start in grocery pickup, and those two retailers have a built-in advantage with thousands of stores that can easily host pickup kiosks. Amazon, on the other hand, needs to find and convert new real estate each time it wishes to open a new pick-up station. The economics of a store that customers can't actually shop in may be questionable as well.
Though the technology behind Amazon Go is potentially groundbreaking, the initial reports of Amazon Fresh Pickup seem like more of a me-too service. Investors won't get to make a full assessment until Amazon unveils it, but for now, the advantage in grocery seems squarely with Wal-Mart and Kroger.
10 stocks we like better than AmazonWhen investing geniuses David and Tom Gardner have a stock tip, it can pay to listen. After all, the newsletter they have run for over a decade, Motley Fool Stock Advisor, has tripled the market.*
David and Tom just revealed what they believe are the 10 best stocks for investors to buy right now... and Amazon wasn't one of them! That's right -- they think these 10 stocks are even better buys.
Click here to learn about these picks!
*Stock Advisor returns as of February 6, 2017
Jeremy Bowman owns shares of Kroger. The Motley Fool owns shares of and recommends Amazon and Costco Wholesale. The Motley Fool has a disclosure policy.