Amazon's First Step into Grocery Retail is Brilliant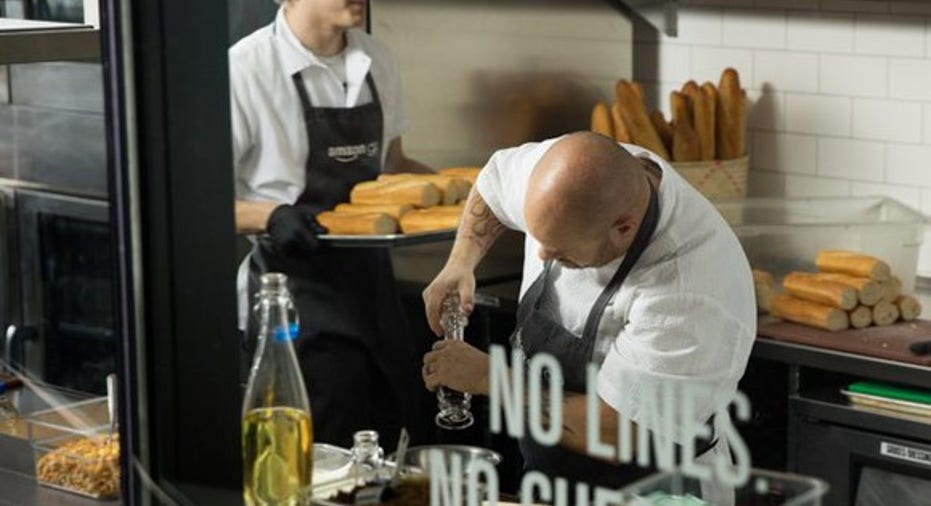 Amazon.com(NASDAQ: AMZN) did it again.
The e-commerce and tech giant stunned the business world with yet another unforeseen innovation. On Monday, the company unveiled a new grocery store without checkout counters or lines. Dubbed Amazon Go, the store has what Amazon calls "Just Walk Out" technology that scans products as customers take them off the shelves and then charges them shortly after they leave the store, sending a receipt to their phone.
Image Source: Amazon.
On its website, Amazon explains that the technology is similar to self-driving cars, as it uses computer vision, sensor fusion, and machine learning. A video shows customers scanning the app on a turnstile as they walk into the store, which then adds items to their virtual cart as they pull them off the shelf.
The Seattle store is just 1,800 square feet, about the size of a convenience store rather than a full-service grocery store, and offers fresh-made items along with staples like bread and dairy. The store is currently open to Amazon employees in a Beta test, and is expected to open to the general public in early 2017.
The future, brought to you by Amazon
Amazon spent four years working on the Just Walk Out technology. That commitment and innovation is a hallmark of what makes the company unique -- Amazon has constantly pushed the envelope to innovate on behalf of the customer, a mantra of founder Jeff Bezos. From its early days in e-commerce, to the development of e-books, the Kindle system, cloud computing, Alexa, drone delivery and now Go, the company is constantly investing in the future. The time commitment involved to develop such technology makes it difficult for competitors to catch up, which has long been one of Amazon's competitive advantages as it hasn't stopped growing at breakneck speed.
Checkout lines are one of shoppers' biggest complaints, if not the biggest. They cost customers valuable time, and cashiers are a significant cost for a business. Eliminating checkout counters even frees up a chunk of real estate inside the store.
Can Amazon pull it off?
While the technology certainly looks impressive, there's no guarantee it will be profitable, that Amazon will be able to scale it up, or that it can avoid the challenges that cashiers help prevent like shoplifting. The 1,800-foot store relies on a system of cameras and microphones throughout the store to make the technology work, but the requirements of a full-size grocery store at about 40,000 square feet would be much greater.
According to theWall Street Journal, Amazon has serious aspirations in groceries, envisioning opening 2,000 stores nationwide over the next 10 years.By comparison,Kroger(NYSE: KR), the country's biggest traditional supermarket chain, has about 2,800 stores.
Amazon is currently building two other store models to test. One will be a large multipurpose store with pick-up capability, while the other is a drive-through prototype that does not have an in-store shopping option.
Rivals like Kroger andWal-Mart(NYSE: WMT) are not sitting still either, and are likely to respond to Amazon's shot across the bow. Wal-Mart is rapidly expanding its own grocery pick-up service, which should be available in close to 1,000 stores by the end of next year, and Kroger has made its competing service, Clicklist, available at over 500 stores.
Self-checkout has been around for several years, but despite its apparent convenience and efficiency it hasn't been able to eliminate the need for a cashier. Scanning bar codes can be frustrating, and machines tend to be ornery, in part because they're designed to prevent shoplifting.
Whether traditional grocers like Wal-Mart and Kroger are working on their own ways to make the checkout process easier, or even eliminate it, is unclear. For Amazon, Go shows why the company has been able to disrupt so many industries already: innovation is part of its culture. It thinks long-term, is unafraid of failure or losing money, and focuses on pleasing the customer rather than competitor threats.
Staid retailers like Kroger and Wal-Mart, on the other hand, have a much different culture. As Amazon moves towards opening 2,000 stores, those supermarket giants may be tested like never before.
10 stocks we like better than Amazon.com When investing geniuses David and Tom Gardner have a stock tip, it can pay to listen. After all, the newsletter they have run for over a decade, Motley Fool Stock Advisor, has tripled the market.*
David and Tom just revealed what they believe are the 10 best stocks for investors to buy right now... and Amazon.com wasn't one of them! That's right -- they think these 10 stocks are even better buys.
Click here to learn about these picks!
*Stock Advisor returns as of Nov. 7, 2016
Jeremy Bowman owns shares of Kroger. The Motley Fool owns shares of and recommends Amazon.com. Try any of our Foolish newsletter services free for 30 days. We Fools may not all hold the same opinions, but we all believe that considering a diverse range of insights makes us better investors. The Motley Fool has a disclosure policy.