Amazon's Echo Dot Is Great, but You Probably Can't Buy It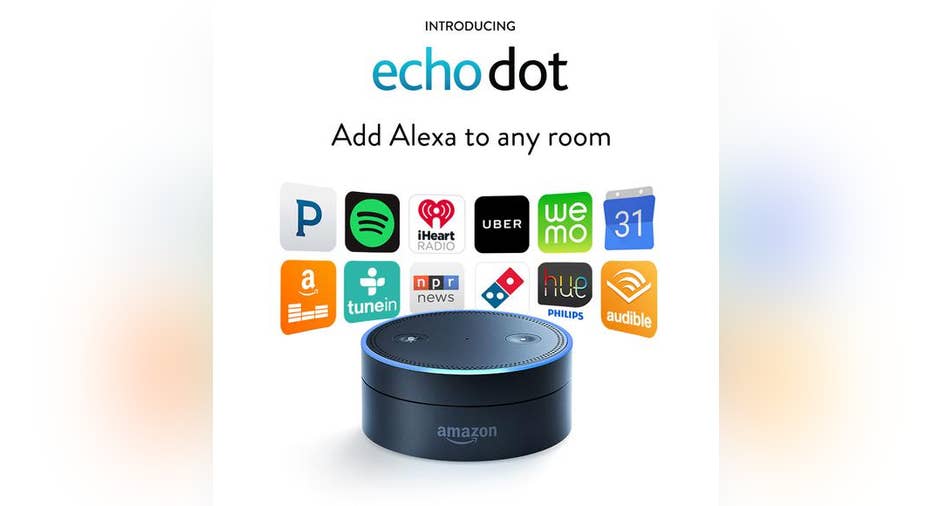 Amazon Echo Dot. Image source: Amazon.
If there's one thing that can be said for certain about Amazon's hardware, it's that the company isobsessedwith making its products cheaper over time.
Priced around $200, the original Kindle Fire tablet wasn't expensive when it was released in the fall of 2011. Still, Amazon worked to cut costs. Just over four years later, it's selling Kindle Fires for a mere $50 a pop. The same was true for the Kindle ($400 to $80) and the Fire TV ($100 to $40). As their costs came down, their popularity increased, and though Amazon hasn't been able to dominate the tablet or the set-top box markets, it's captured a sizable share. Now, Amazon is applying that same strategy to its Echo smart speaker.
Earlier this month, it announced the Echo Dot, a half-priced alternative to the standard Amazon Echo. The Dot is an attractive device that will make it far more affordable to buy into Amazon's burgeoning smart-home ecosystem -- that is, once it becomes available for most consumers to purchase.
"Alexa, order an Echo Dot"Ordering an Echo Dot is not a complex process, but it's one only the most dedicated Amazon customers will be able to execute. In order to purchase the Echo Dot, you must first be an Amazon Prime member. By itself, that's not a major hurdle -- there are about 54 million U.S. Prime members, according to Consumer Intelligence Research Partners -- but Amazon has gone further. You can't purchase the Echo Dot through Amazon's website, or even its mobile app. Instead, you must ask Alexa, Amazon's digital personal assistant, to order you one. That means you'll need to already own the standard Amazon Echo, or one of Amazon's Fire TV devices in addition to a voice remote.
Amazon claims Echo Dot supplies are limited, and restricting purchases in such a manner ensures that it can adequately fulfill demand. That may be the case, but the manner in which Amazon is selling the Echo Dot speaks to some aspects of the company's strategy. In recent years, Amazon has experimented with making some of the items it sells exclusive to Prime. The original Amazon Echo, for example, could only be purchased by Prime members for several months after its initial debut. Amazon Elements, its in-house line of premium baby wipes, is similarly restricted. Although these items may eventually go on sale to the general public, their existence makes the prospect of a Prime membership just a bit more enticing.
A larger base of Prime members benefits Amazon directly, as Prime subscribers are estimated to purchase almost twice as much per year as non-Prime members.
The voice ordering also hints at the Amazon Echo's larger purpose. Although it can be used to play music, control light switches, and even tell you how much gas is in your car, the Echo benefits Amazon directly by making it easier for consumers to place orders with Amazon. Alexa can't directly order anything, but she can add items to her owner's shopping cart, and reorder common household items and musical tracks on the fly.
Taking over the homeIn that aspect, the Echo Dot could be more successful for Amazon than its more expensive sibling. Retailing for $90, it's far more affordable than the $180 Amazon Echo -- perhaps affordable enough to purchase several, and place them in a variety of spots throughout the home.
Of course, the Echo Dot isn't as fully featured as the standard Echo. Its built-in speaker is considerably smaller, making it ill-suited for playing music. However, this limitation can be overcome by pairing it with a separate speaker. Bluetooth speakers have become commoditized, and can be purchased for well under $25 (if consumers don't already have several lying around their house). More demanding audiophiles can use a 3.5 mm cable to attach the Echo Dot to a high-end home theater setup.
Last year, Amazon sold nearly $64 billion worth of goods in the U.S., up more than 20% from the prior year. By itself, Amazon's Echo Dot won't make a material difference, but it stands as yet another way for Amazon to drive additional sales in the years ahead.
The article Amazon's Echo Dot Is Great, but You Probably Can't Buy It originally appeared on Fool.com.
Sam Mattera has no position in any stocks mentioned. The Motley Fool owns shares of and recommends Amazon.com. Try any of our Foolish newsletter services free for 30 days. We Fools may not all hold the same opinions, but we all believe that considering a diverse range of insights makes us better investors. The Motley Fool has a disclosure policy.
Copyright 1995 - 2016 The Motley Fool, LLC. All rights reserved. The Motley Fool has a disclosure policy.