Amazon Ups the Ante on Streaming Video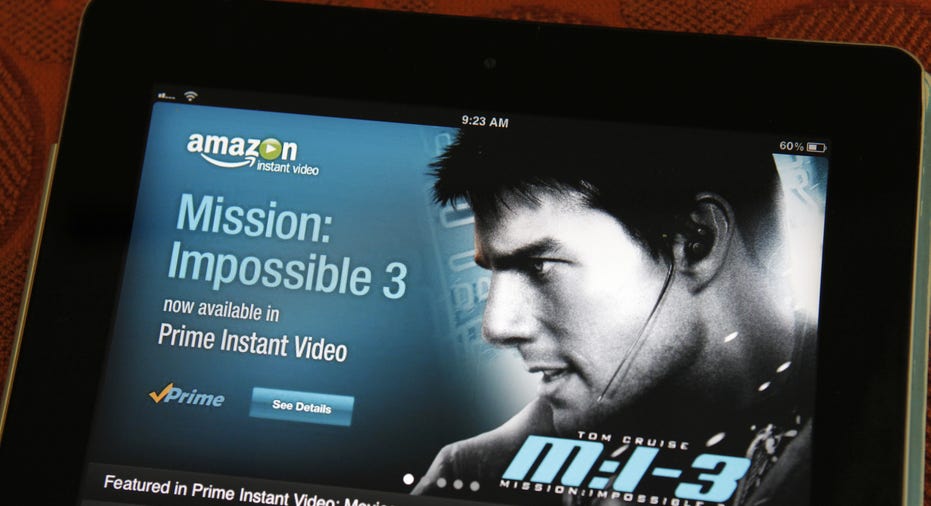 Amazon.com is firing a shot across the bow of Netflix by attempting to become a primary destination for streaming video.
The Seattle online retailer said Sunday it will begin offering its video-streaming service as a stand-alone option for the first time. A monthly subscription will cost $8.99, a dollar less than the most popular plan from Netflix.
The move pits the Seattle online retailer more directly against Netflix, which also happens to be one of the biggest customers of Amazon's cloud-computing services. For years, the two have worked to one-up each other with exclusive content deals and original series like Netflix's "House of Cards" and Amazon's "Mozart in the Jungle."
Amazon has been offering its video service as a perk for subscribers of its $99 annual Prime shipping service. Prime membership also will be offered monthly for the first time to all U.S. customers for $10.99, Amazon said Sunday.
An Amazon spokeswoman said the new monthly option could be turned off or on as customers wished, a possible benefit for shoppers during the busy holiday season.
The move to offer a stand-alone video service suggests Amazon is confident it has the robust programming needed to go head-to-head with Netflix. Amazon has snapped up deals for HBO's older content, as well as with premium TV network Epix, whose catalog includes "Hunger Games: Catching Fire" and "World War Z." More recently, Amazon has signed director Woody Allen for an exclusive TV series, and has become an aggressive buyer of independent movies, battling Netflix for film festival favorites.
The new $8.99-a-month pricing began Sunday in the U.S. Netflix plans range from $7.99 to $11.99 a month, though most customers pay $9.99 for more than one simultaneous stream per account. Hulu LLC's basic streaming service is $7.99, with a commercial-free option of $11.99.
Representatives of Netflix and Hulu declined to comment.
" Jeff Bezos is absolutely escalating the arms race with Netflix," said Wedbush Securities analyst Michael Pachter, referring to Amazon's chief executive. "The two services will compete more closely for customers, and Amazon has the marketing advantage by offering the full Prime service for just a little bit more each month."
Amazon has experimented before with a month-to-month Prime subscription and in March began selling the $10.99 option to Sprint Corp. customers.
It raises the specter of customers buying a month of Prime around Black Friday to get all their Christmas shopping done with Amazon's two-day shipping guarantees and, in some cities, same-day or same-hour options.
The Prime service has become a crucial component in Amazon's growing retail dominance. In addition to providing a reliable revenue stream of membership fees, Prime customers spend as much as double what non-Prime customers do in a year, by some estimates. Amazon has bulked the service up with add-ons like exclusive discounts and streaming music.
Highlighting its ruthlessly competitive streak, Amazon is rolling out the new streaming-video option on the eve of Netflix's first-quarter earnings report Monday. Price increases to $9.99 from $7.99 for grandfathered customers of Los Gatos, Calif.-based Netflix take effect next month, two years after they were announced. Those customers could opt to continue paying $7.99, but would lose out on high-definition streaming and the ability to have two streams at once.
As long ago as 2012, Netflix CEO Reed Hastings predicted Amazon would offer its streaming service on a stand-alone basis.
Amazon's move comes as a plethora of new streaming video services are flooding the market to target so-called cord-cutters, people who are dropping pay-TV subscriptions. Traditional TV networks like HBO and CBS have launched their own stand-alone services, while cable-television providers like Comcast and Dish Network Corp. are offering slimmed-down, inexpensive streaming packages of channels.
Amazon spends about $3 billion on streaming video content annually, compared with $4 billion for Netflix, not including overseas rights or DVDs, said Wedbush's Mr. Pachter.
For its part, Santa Monica, Calif.-based Hulu has become a competitive buyer of library and original programming, increasing its content outlays from $600 million in 2014 to $1.5 billion in 2015, according to estimates from Nomura Securities.
Netflix had about 43.4 million paying U.S. customers at the end of last year, which it expected to rise to 45.4 million by the end of March. It has about 75 million total customers globally. Amazon doesn't disclose its Prime membership totals, but estimates range from 40 million to 60 million world-wide.
--Shalini Ramachandran contributed to this article.
Write to Greg Bensinger at greg.bensinger@wsj.com