Amazon, "Pokemon Go," or Summer Heat: Which Was Really Responsible for Gap's Weak Q2?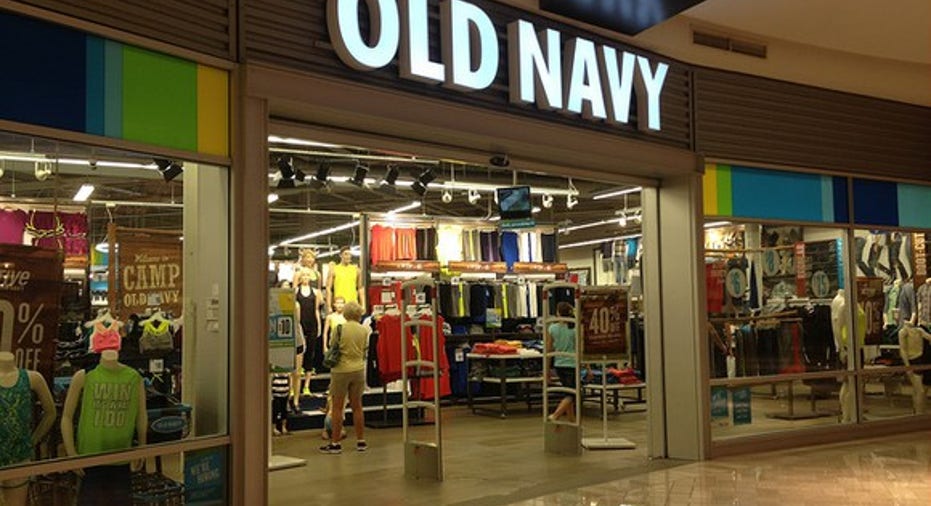 It's hardly comforting that Gap was able to say its Old Navy brand was doing less bad than either Banana Republic or its namesake stores, but at least it didn't try to make excuses for the poor performance. Image source: The Motley Fool.
We've seen it time and again: Retailers post disappointing earnings then latch onto a major event that occurred during theperiod to explain away their poor showing. From snow storms to port strikes, companies have offered up a variety of excuses over the years that deflect attention from the worsening results. But now Wall Streetanalysts are coming up with the excuses for them.
Falling out of fashion
Clothing retailerGap(NYSE: GPS), which has been struggling with falling comparable-store sales for a while now, recorded yet another disappointing earnings result last week. It said compsat its namesake stores were down 3% versus a 6% decline last year, while Banana Republic comps plunged 9% from the year-ago period when they were down just 4%. Old Navy was the best of the bunch, with comps coming in flat, though they were up 3% in 2015.
Of course, Gap is not alone in posting poor numbers. Bank of America says analysis of its debit and credit card data shows department stores, teen and young adult stores, home goods, and electronic stores are all suffering this summer. About the only retailers doing well are the discount shops -- not just dollar stores, but alsoWal-Mart, which just beat Wall Street's revenue and profit estimates, andTJX Companies.
Yet despite the broad, worsening outlook for the economy, and Gap itself reporting lower total comps for the 15th time out of the past 16 quarters, one analyst laid the blame for retail's tough July on three different causes:
Hot summer weather
Amazon.com(NASDAQ: AMZN)Prime Day
Pokemon Go
No, really. People were apparently too busy chasing after Pikachu to go shopping.
More grounded in reality
Now Gap didn't offer up these excuses, and to his credit CEO Art Peck didn't once mention during the conference call the weather, Amazon, or the hunt for a Snorlax as a reason the clothing retailer fell short, but it's not hard to see at least one of these making their way into some retailer's grab bag of rationales.
Sometimes there is a correlation between an event and an earnings result. Following Hurricane Sandy in 2012, for example, there was widespread damage, flooding, and outages that kept stores in the affected region closed for extended periods of time. That might be a valid reason; other times the nexus between event and performance seems more obscure.
The so-called "polar vortex" from two years ago, a variation on the "snow in winter" phenomenon that regularly afflicts corporate earnings,was a favorite of companies at the time, while others have used more fanciful excuses. Tesla hasblamed customers going on vacation last year for it missing car delivery numbers,whileNetflix fingered the switch to chip-based credit cards as the reason behind its subscriber numbers coming in below expectations, an excuse one analyst called "the dumbest thing I ever heard."
A 2014 study found that when companies start blaming external factors for their earnings woes, their stocks performed worse going forward, but what happens when Wall Street starts feeding them rationalizations?
As big as the Amazon itself
It actually could make sense that Amazon's Prime Day ate into Gap's sales. The second annual sales dayevent for the e-commerce leader was huge, and was the single biggest sales day in the company's history, surpassing sales from its first one last year by 60%. In the U.S. alone, sales were up 50%.
Yet despite the vaunted results, it seems Amazon gadgets and kitchen appliances were the big movers (215,000 pressure cookers were sold!), not something that would typically affect clothing retailers (though it did also sell a million pair of shoes).
It strains credulity to think consumers were too busy playing Pokemon to shop.Indeed, some retailers actually reported brisk business because there were Pokemon in their stores. An article by industry site Racked noted shops like Forever 21, Sephora, and even Macy's were attracting players hunting down the digital creatures.
Are worse-than-expected retail sales a factor?
Still, traffic doesn't always translate into sales, and it's likely the worsening U.S. economy that's taking retailers down. While the Commerce Department had reported core retail sales in June enjoyed a 0.5% tick higher ("core sales" exclude autos and fuel), July only rose 0.1%, half of what analystswere anticipating. Because retail sales account for a third of consumer spending, analysts thought the improving job market would lead to higher sales, but more than a third of the population has given up on finding work, so it isn't even included in employment statistics anymore.Add in an uncertain election cycle, and consumers have reason to be worried.
Investors now have a laundry list of excuses to look to explain away Gap's worsening numbers, but they would do better looking at the retailer's attempt at climbing onto the coattails of fast fashion and abandoning its traditional customer for coming up short. Warm weather in summer, a one-day sales event by a competitor, and a smartphone game craze are not likely factors that will take down a retailer for very long, not even one struggling as much as Gap.
A secret billion-dollar stock opportunity The world's biggest tech company forgot to show you something, but a few Wall Street analysts and the Fool didn't miss a beat: There's a small company that's powering their brand-new gadgets and the coming revolution in technology. And we think its stock price has nearly unlimited room to run for early in-the-know investors! To be one of them, just click here.
Rich Duprey has no position in any stocks mentioned. The Motley Fool owns shares of and recommends Amazon.com, Netflix, and Tesla Motors. Try any of our Foolish newsletter services free for 30 days. We Fools may not all hold the same opinions, but we all believe that considering a diverse range of insights makes us better investors. The Motley Fool has a disclosure policy.