Amazon Just Got a Big Win in the Internet of Things Market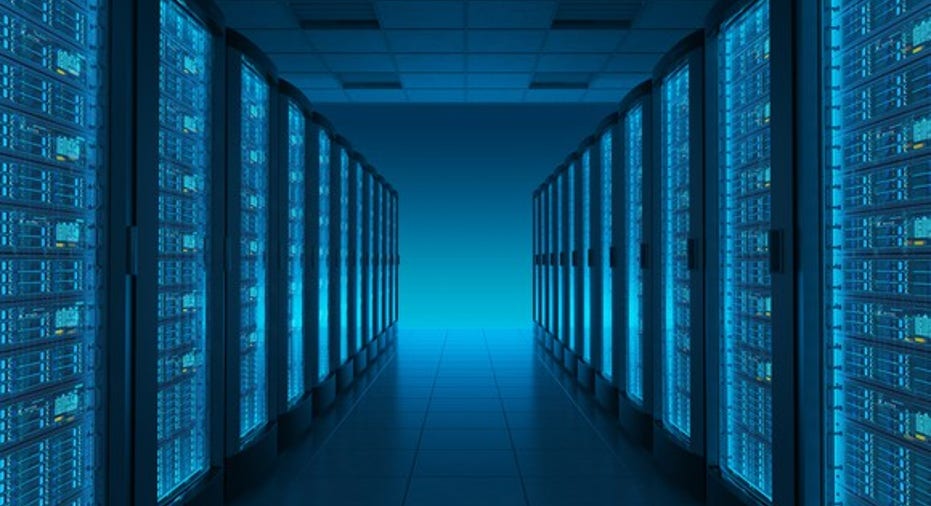 The Internet of Things (IoT) is growing rapidly as businesses deploy millions of devices that collect and exchange data. In order to aggregate and make sense of all this data, most businesses rely on a third-party company to provide a cloud platform. Amazon , Microsoftand Google -- the Alphabetsubsidiary -- all have their own IoT platforms, as do smaller providers like Salesforce .
Salesforce is still trialing its IoT suite with a few select businesses, but it's finding that customer demand is growing too quickly to keep up with. As such, it's tapping the larger public cloud provided by Amazon Web Services (AWS). That's a big win for Amazon, as it only recently launched its own IoT business, and it gets the benefit of Salesforce's large existing customer base.
Keeping up the pace
Salesforce has a good product on its hands. It hasn't even fully launched its IoT platform and it's already experiencing "uncontrolled exponential growth," according to Adam Bosworth, the executive VP of Salesforce's IoT Cloud.
That growth is expected to continue. Research firm IDC projects a 17% annual growth rate over the next five years for the global Internet of Things market. It expects platforms like Salesforce's to grow even faster forecasting "IoT purpose-built platforms, application software, and 'as a service' offerings will capture a larger percentage of revenue" in 2020.
But even with robust demand and "exponential growth," investing in new data center equipment takes a lot of time and money. Using a public cloud service like AWS allows Salesforce to provide instant scale with no capital expenditures. It also provides a good backup system if and when Salesforce has issues with its own data centers (like it did earlier this month).
Ultimately, Salesforce will still keep some customer data in its own data centers, as enterprises can be very particular about the privacy of their data storage.But the ability to offload less-sensitive data to AWS will enable Salesforce to provide a full solution while spending less. Meanwhile, Amazon becomes a big beneficiary of all the hard work Salesforce is doing in the space.
But doesn't Amazon have its own IoT platform?
Amazon unveiled its own Internet of Things platform in October, making it easier for developers to use AWS for their own IoT applications. It's also competitively priced in an attempt to attract developers to its platform as more and more IoT applications come online. That would set up Amazon well to ride the big wave of growth that's still coming down the pipeline.
So, why is Amazon letting Salesforce use its platform to compete with it? Put simply, if Amazon doesn't do it, someone else will. It's the same reason Amazon provides cloud services to Netflix even though it's trying to compete against it with Amazon Prime. It also provides the backbone of Heroku, a cloud platform for web developers, which is owned by Salesforce. Amazon has had no problems accepting the business of companies that directly compete with the services it already offers.
If Amazon didn't provide these services to big companies, they'd just find someone like Microsoft or Google to provide cloud support. The public cloud market is very competitive between these three, with Microsoft and Google aggressively going after big businesses with large public cloud needs like Spotify and Apple.
Amazon investors are relying on AWS to help the company maintain profitability. The cloud service topped a $10 billion run rate in the first quarter, growing 64% year over year. More important, it sports an operating margin of 28%, well above the company's consolidated operating margin of 6%. Deals like the one with Salesforce should help Amazon maintain its momentum.
As the market for cloud computing grows, and Microsoft and Google catch up with Amazon, customers are looking at their options and are weary of putting all of their eggs in one basket. As mentioned, Salesforce will retain some of their customers' data in its own data centers. It could also use multiple cloud providers if it wants. Still, the fact that it chose to work with Amazon first is telling of how well Amazon has been able to hold off the competition.
The article Amazon Just Got a Big Win in the Internet of Things Market originally appeared on Fool.com.
Suzanne Frey, an executive at Alphabet, is a member of The Motley Fool's board of directors. Adam Levy owns shares of Amazon.com and Apple. The Motley Fool owns shares of and recommends Alphabet (A shares), Alphabet (C shares), Amazon.com, Apple, Netflix, and Salesforce.com. The Motley Fool owns shares of Microsoft and has the following options: long January 2018 $90 calls on Apple and short January 2018 $95 calls on Apple. Try any of our Foolish newsletter services free for 30 days. We Fools may not all hold the same opinions, but we all believe that considering a diverse range of insights makes us better investors. The Motley Fool has a disclosure policy.
Copyright 1995 - 2016 The Motley Fool, LLC. All rights reserved. The Motley Fool has a disclosure policy.