Amazon Is Chasing After (and Winning) a $191 Billion Prize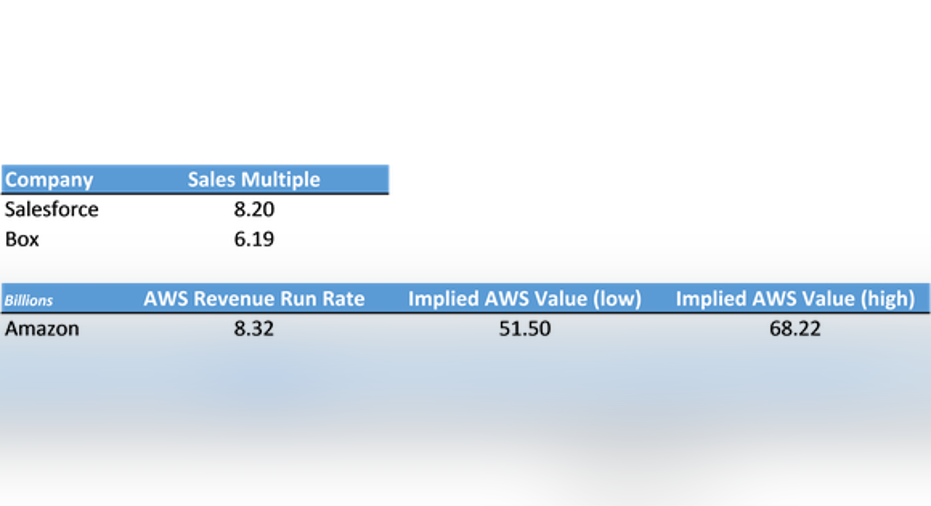 Source: stockmonkeys.com.
One reason Amazon.com stock has risen by an astounding 44,726% since its 1997 IPO is the company's uncanny ability to transform itself as era-defining trends emerge. What was once just an online bookstore is now an Internet retailing behemoth selling everything under the sun.
Ten years from now, we may see Amazon dominating another unrelated industry. Cloud computing is estimated to be a $191 billion "hypergrowth" opportunity by 2020, according to Forrester Research, and Amazon Web Services, or AWS, is charging ahead.
What exactly is "the cloud"?I like to think of the cloud as an Internet-based hard drive. For everyday consumers, the cloud essentially moves files off hard drives and over to a third party, where users can access the documents through an Internet connection. When you're taking a picture on your iPhone that later pops up on your iPad, that's the cloud at work.
Cloud computing for the enterprise space is the same. A company's costly tech infrastructure will be managed by a third-party specialist, and its databases and software programs will be accessed online instead of installed on in-house servers.
Some tech insiders credit cloud computing with kick-starting this decade's tech boom, since cloud computing drastically reduces costs and keeps companies more efficient. Just imagine building your own start-up and having to deal with constant tech updates while also needing to replace your infrastructure every few years.
Now, when handing over control to a third party, you can understand why government agencies, megabanks, and any companies with sensitive data might have some hesitations.
Enter the "private cloud" -- a clever marketing creation mostly conceived to assuage concerns enterprises had over data security. Like many new technologies, it was hailed as a game-changer.
Security issues debunkedFast-forward to today, and the private cloud has mostly failed to achieve its once grand aspirations. In fact, Cade Metz from Wired penned an in-depth report claiming that "just about every private cloud project has failed."
Turns out concerns over privacy were mostly unfounded and the likes of AWS, or Microsoft's competing cloud, Azure, were already light-years ahead of everyone else.
Hindsight is 20/20, but close followers could've seen the writing on the wall back in 2013, when AWS scored a landmark $600 million contract to build a cloud for perhaps the most data-sensitive entity around: the CIA.
The CIA's chief information officer went on record calling the use of AWS "one of the most important technology procurements in recent history" and adding, "It's going to make a big difference for national security."
In short, concerns over security were unfounded, as AWS customers such as the Securities and Exchange Commission, Netflix, and Dropbox had discovered earlier.
To be fair, what Amazon eventually built was a cloud available only to the CIA, not a fully public cloud operating alongside everyone else. Savvy readers might consider this cloud "private," but the reality is the CIA is using AWS's regular cloud platforms just like everyone else.
A cloud tipping pointAWS is already bigger than its four closest competitors in the fast-growing segment of infrastructure cloud computing, according to Synergy Research Group. Now that a paradigm shift is occurring at the enterprise level, where companies are learning just how secure their data can be, it's off to the races for Amazon as the big money fuels the fire.
AWS's growth isn't going unnoticed, either. In fact, Evercore Partners was calling AWS a $50 billion business back in 2013. Amazon's cloud segment could be worth even more today.
Amazon finally pulled back the curtain on AWS, revealing that the segment was on a multibillion-dollar tear in the recent quarter. AWS revenue was up 78% over the previous year and running at an $8.32 billion annual rate. Using a back-of-the-envelope calculation of cloud competitors Salesforce and Box , AWS is worth anywhere from $51.5 billion to $68.2 billion today.
Salesforce and Box sales multiple as of 12/28/15. Source: Yahoo! Finance.
What's next for AWS?Amazon probably won't take its foot off the pedal anytime soon. The company is well known for maintaining thin margins in favor of scooping up market share by undercutting competitors and funneling as much capital as possible into high-growth businesses.
Whether Amazon CEO Jeff Bezos sees a $191 billion prize at the end is up for debate. But Bezos isn't one to shy away from cutthroat tactics to grab the lion's share of whatever profits are available.
As Bezos has said before, "Your margin is my opportunity." Expect the company to continue innovating so it can continue underpricing competitors and staying ahead of the pack.
The article Amazon Is Chasing After (and Winning) a $191 Billion Prize originally appeared on Fool.com.
Nathan Hamilton owns shares of Amazon.com, Netflix, and Salesforce.com. The Motley Fool owns shares of and recommends AMZN and NFLX. The Motley Fool recommends CRM. Try any of our Foolish newsletter services free for 30 days. We Fools may not all hold the same opinions, but we all believe that considering a diverse range of insights makes us better investors. The Motley Fool has a disclosure policy.
Copyright 1995 - 2016 The Motley Fool, LLC. All rights reserved. The Motley Fool has a disclosure policy.