Amazon HQ2 bid deadline: Austin, Atlanta among contenders to watch
With Amazon's (NASDAQ:AMZN) application deadline for bids for its second North American headquarters fast approaching on Thursday, several of the United States' largest cities have already indicated their interest.
The competition to host Amazon's second home has been fierce. The e-commerce giant says it plans to invest more than $5 billion in construction costs toward the new facility, which will add as many as 50,000 high-paying jobs to the local economy of whatever city wins the bidding process.
"We expect HQ2 to be a full equal to our Seattle headquarters," Amazon founder and CEO Jeff Bezos said in a statement last month. "Amazon HQ2 will bring billions of dollars in up-front and ongoing investments, and tens of thousands of high-paying jobs. We're excited to find a second home."
In announcing the competition, Amazon touted "tens of billions of dollars in additional investments" that HQ2 would likely attract to the local community and estimated its investments were worth $38 billion to Seattle's economy from 2010 to 2016. The company set strict criteria for which bids would merit consideration.
Amazon has expressed a preference for metropolitan areas with at least one million residents and a "stable and business-friendly environment," as well as easy access to mass transportation. Bidders with layouts that can draw top talent or provide creative real estate options are at an advantage.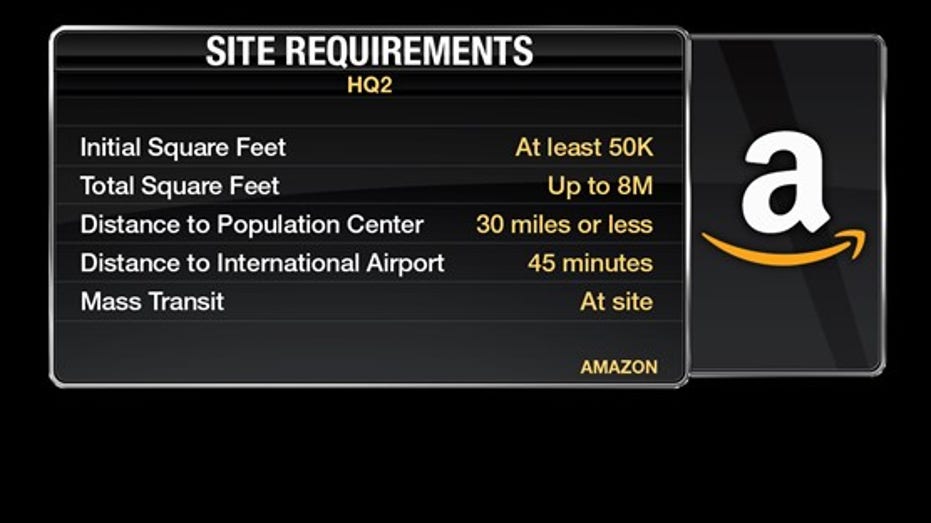 Cities are going to great lengths to draw Amazon's attention through tax incentives and other perks. The city of Stonecrest, Georgia has offered to make Bezos its mayor and change its name to Amazon if he awards the new headquarters to the area, while Birmingham, Alabama placed giant-sized Amazon delivery boxes throughout the city.
Other locations have already bowed out of the running. San Jose, California Mayor Sam Liccardo told FOX Business he would not enter the competition because tax subsidies are "a bad deal" for local residents.
While many cities are expected to formally submit HQ2 bids ahead of the Thursday deadline, some have emerged as frontrunners. FOX Business breaks down a few of the top contenders.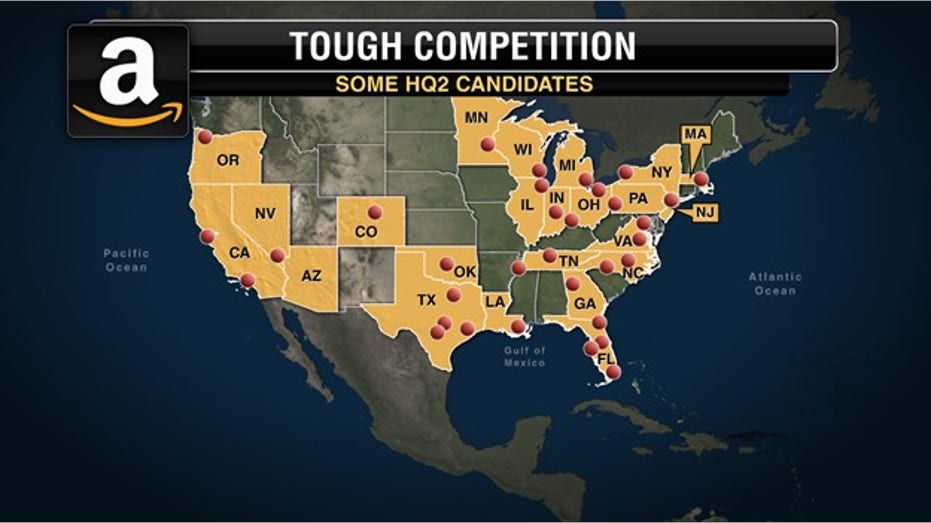 Austin, Texas
Austin is the top-ranked option to host Amazon HQ2, according to research by Moody's Analytics, thanks in large part to Texas' business-friendly environment and a relatively low cost-of-living and operation.
"Austin has the highest score on business environment in the top 10, thanks to fast job growth, a dynamic tech economy, and the high incentives Texas offers businesses," the firm said.
While Austin is considered a frontrunner to win the bidding process, the city's leaders have taken a low-key approach to the situation.
"I'm not convinced that, ultimately, Amazon decides what's the best match for them based on the kinds of things that some other cities are doing," Austin Mayor Steve Adler said, according to the Austin American-Statesman. "The ultimate decision to Amazon is where the best match is, and I don't think that kind of decision lays out in a messaging to the rest of the world. The city of Austin will submit a proposal, and I think it will address the things that Amazon wants."
Atlanta, Georgia
State and local officials are working hard to attract Amazon's attention. Georgia Gov. Nathan Deal said last month that the state is "going to make a big push" to land HQ2, with economic recruiters reportedly putting together a package of tax perks and other incentives. Moody's Analytics ranked Atlanta second in its power rankings, citing the city's high scores in "human capital and affordability."
"The metro area has nearly 6 million residents and is a supply-chain hub with a burgeoning tech workforce and is home to Hartsfield-Jackson International Airport, a globally connected port of entry," Moody's told Business Insider.
Philadelphia, Pennsylvania
Philadelphia ranked as Moody's third-best option for Amazon HQ2 due to a strong talent pool, multiple transportation options and solid scores in quality of life and cost-of-living and operation. The city's proximity to other East Coast business hubs is also a benefit. On the downside, Moody's told BI that Pennsylvania's fiscal problems and an inefficient local tax structure could dissuade Amazon.
In a promotional campaign, Philadelphia officials touted the city's easy-to-navigate layout, talent pool and quality of life as key elements of its bid.
"We're really at a sweet spot," Philadelphia mayor Jim Kenney said in a statement to the Morning Call. "The location is central on the Northeast corridor, the talent pool is vast, and Philadelphia has all of the amenities Amazon's employees want, at a lower cost than other big cities."
Boston, Massachusetts
Aside from its East Coast location and mass transportation options, Boston touts arguably the deepest talent pool of any city vying for HQ2. With a local headquarters, Amazon would have easy access to top schools like Harvard University and MIT. Beantown ranked 9th among Moody's top contenders, also posting strong scores in the business environment and quality of life categories.
Washington, D.C.
Aside from its status as the nation's capital, D.C. already boasts multiple ties to Bezos. The Amazon founder owns the Washington Post and recently bought a house near the city, which "would provide a convenient East Coast location for perhaps the world's most valuable CEO," according to the Brookings Institute.
In addition, Washington has easy access to major aviation and rail hubs, as well as a large potential talent pool due to its proximity to top colleges, according to Brookings. D.C. officials are set to pitch four potential building sites to Amazon, the Washington Business Journal reported.