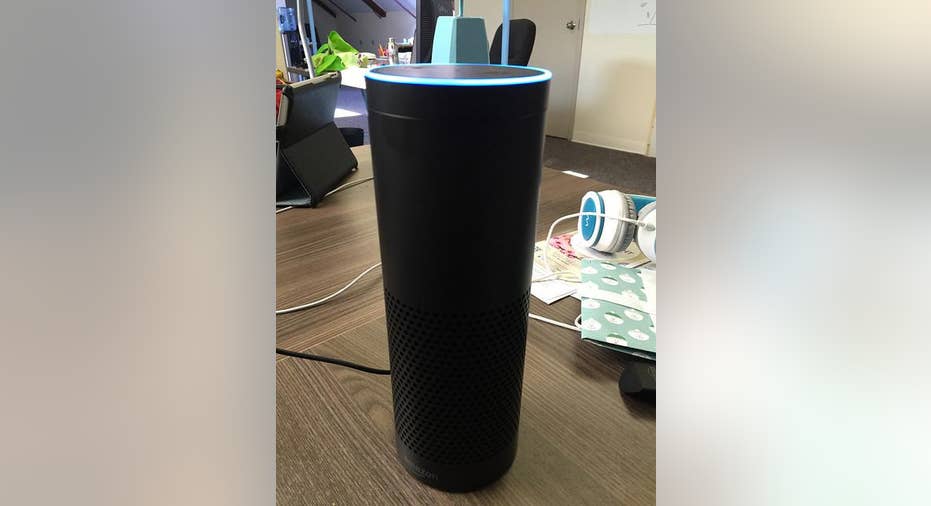 In a little more than 20 years,Amazon.com has stretched its tentacles into more industries than arguably any other modern enterprise. It's done so by being relentlessly experimental and unafraid to jump into any business that it has the potential to fold into its e-commerce empire.
In the span of few days last week, the company made headlines in industries from fashion to gadgets, launching a number of new products that would keep most competitor businesses occupied for a quarter or even a year. The moves show Amazon's fearlessness and how many projects it pursues at once. Let's review Amazon's big week.
Store No. 2Last Monday, word broke that Amazon was opening its second physical store. Amazon launched the first Amazon Books late last year in a high-end shopping center in Seattle, which received mostly positive reviews, and staffers have called the response "phenomenal," saying it's busy all the time.Now the company said it will open the second brick-and-mortar location at a similar mall in San Diego.
After putting Borders six feet under and bringingBarnes & Nobleto its knees, it seems strange for Amazon to open brick-and-mortar locations -- but the strategy has its benefits. As the company dives deeper into gadget like Fire tablets and the Echo, a physical location gives customers the opportunity to come in and test such devices. It also gives Amazon the ability to tout books by its own authors and the top-reviewed tomes on its website.
Separately, Amazon got another piece of good news from the book world as the Supreme Court threw outApple'sappeal over an e-book price-fixing scandal, giving Amazon a win over its rival in digital books.
Project RunwayThe next day, Amazon launched a nightly live fashion show, throwing its weight around an industry it's not usually associated with. Known as Style Code Live, the show will be broadcast nightly on Amazon's website for free.
The move comes as Amazon's ambitions in fashion have started to rattle major retailers. It recently opened a 50,000-square-foot space in London to shoot fashion photos, and analysts expect it to be the biggest apparel retailer by next year. It now carries over 30 million items,and it's slapped Amazon Fashion billboards up in major cities around the country with the slogan, "Smart is beautiful" as it pushes its own private label clothes.
Without physical stores, Amazon may be at a disadvantage to traditional retailers, but its reputation for low prices and convenience have carried weight with consumers, and its investments should fuel continued growth.
Ready for takeoffBuilding on previous vague assertions that the company is assembling its own logistics service, Amazon last Wednesday signed an agreement withAir Transport Services Group to lease 20Boeing767 freighter planes. The deal also gives Amazon the option to purchase 19.9% of Air Transport Services at $9.73 a share, its closing price on Feb. 9. Air Transport Services shares spiked on news of the deal and are now trading above $14.
Logistics is the biggest obstacle toward Amazon's ambitions of vertically integrated e-commerce, and deliveries are its biggest problem area with customer service. It's no surprise that the company would seek to take at least part of its enormous shipping burden into its own hands.
Amassing a fleet to truly challenge FedExorUPSwill require billions in capital spending, but just meeting its own needs is more manageable. Analysts estimate the deal with ATSG will meet about 15% of Amazon's shipping requirements.
Can you hear the Echo?Finally, Amazon ended the week with a feather in its cap as it signed Capital Oneto the Alexa system on Friday, allowing users of the Alexa-powered Echo to make payments or check on their credit card transactions through the Amazon device. Capital One was the first bank to partner with the device.
The Amazon Echo.
Amazon has also signed up such partners as Uber andDomino's Pizza, and won some other endorsements over the week asNew York Timescolumnist Farhad Manjoo said, "Amazon has found a surreptitious way to bypass Apple and Google -- the reigning monarchs in the smartphone world -- with a gadget that has the potential to become a dominant force in the most intimate of environments: our homes."Apple co-Founder Steve Wozniak also said, "I think it's the next big platform for the near future."
That was a week in the life of Amazon. Not too shabby. The company made breakthroughs in retail, fashion, logistics, and technology. What'll it do next?
The article Amazon.com's Big Week originally appeared on Fool.com.
Jeremy Bowman owns shares of Apple. The Motley Fool owns shares of and recommends Amazon.com and Apple. The Motley Fool owns shares of Barnes & Noble. The Motley Fool recommends FedEx, and United Parcel Service. Try any of our Foolish newsletter services free for 30 days. We Fools may not all hold the same opinions, but we all believe that considering a diverse range of insights makes us better investors. The Motley Fool has a disclosure policy.
Copyright 1995 - 2016 The Motley Fool, LLC. All rights reserved. The Motley Fool has a disclosure policy.