Amazon.com, Inc.'s Best-Selling Product in 2016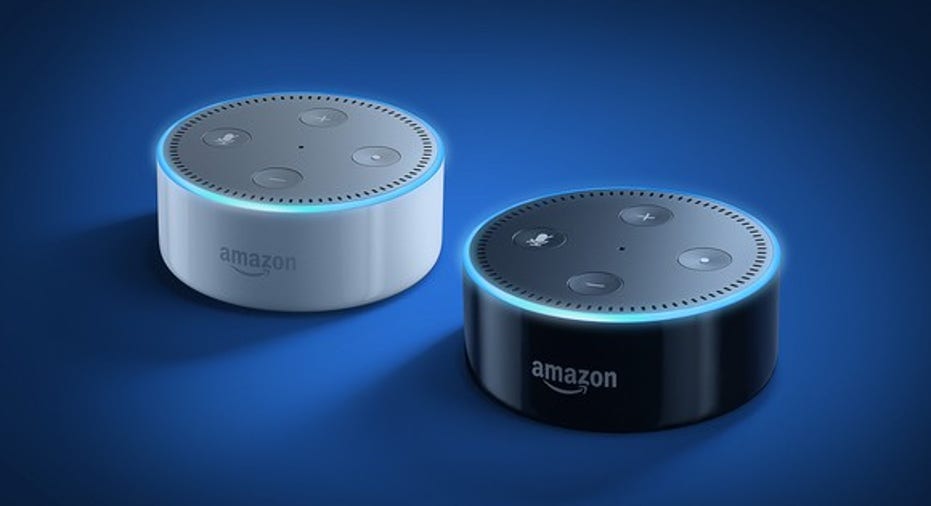 Amazon.com (NASDAQ: AMZN) recently confirmed it shipped over a billion items this holiday season. Recent estimates are predicting that the online retail juggernaut will post 2016 revenue of roughly $137 billion, good for year-over-year growth of 28%.I can't help but wonder, which of those items was the online retail juggernaut's most popular over the last year?
Perhaps unsurprisingly, Amazon just confirmed its best-selling product in 2016 was one of its own making: the new Alexa-enabled Echo Dot.
Echo Dot was the best-selling product on all of Amazon.com last year. Image source: Amazon.com, Inc.
Echo Dot's great enabler
According to a recent press release from Amazon, "Echo Dot is the best-selling, most gifted item on Amazon.com with millions sold worldwide since launch."
"Echo and Echo Dot were the best-selling products across Amazon this year," elaborated Amazon Worldwide Consumer CEO Jeff Wilke, "and we're thrilled that millions of new customers will be introduced to Alexa as a result. Despite our best efforts and ramped-up production, we still had trouble keeping them in stock."
In case you're unfamiliar, Alexa is Amazon's virtual personal assistant -- or as Amazon puts it, "the brain behind Echo Dot." With the help of far-field voice-recognition technology and an array of seven microphones in Echo Dot -- a delightfully small, hands-free device that can be placed anywhere in your home -- consumers can perform a staggering array of tasks using only voice commands, such as playing music, ordering a pizza, requesting virtually any information, calling a ride from Uber, controlling compatible smart-home devices, and of course, ordering items from Amazon.com.
Because Alexa is a cloud-based service, Amazon can also make it "smarter," automatically adding new features without requiring any action from consumers. Over time, Alexa even adapts to users' speech patterns, vocabulary, and personal preferences.
Surprise!?
Of course, this is isn't an exhaustive list of everything Echo Dot can do. But in retrospect, perhaps it shouldn't be surprising that such a remarkable, continuously improving device would enjoy such strong demand when it's priced at just $49.99. And it's nothing new to see Amazon's own products leading the way -- around this time last year, for example, I pointed out that Amazon.com's best-selling item in 2015 was none other than its new 7-inch Fire tablet, which coincidentally shared the same enticing $49.99 price point.
It's also difficult to estimate what kind of margins Echo Dot commands, especially given Amazon CEO Jeff Bezos' long-held stance that, "Your margin is my opportunity." But similar to the ultra-low-margin Fire tablet last year, that's not exactly the point.Rather, most important to the company is that Echo Dot continues to make Amazon's ecosystem of products and services that much stickier, both by building rapport with consumers, and driving incremental sales for its core online retail operations.
Amazon isn't in the habit of providing official revenue or unit sales stats for specific products. But given the millions upon millions of items offered on the world's largest e-commerce destination, Echo Dot's status as Amazon.com's best-selling product of 2016 is no small feat.
10 stocks we like better than Amazon.com When investing geniuses David and Tom Gardner have a stock tip, it can pay to listen. After all, the newsletter they have run for over a decade, Motley Fool Stock Advisor, has tripled the market.*
David and Tom just revealed what they believe are the 10 best stocks for investors to buy right now... and Amazon.com wasn't one of them! That's right -- they think these 10 stocks are even better buys.
Click here to learn about these picks!
*Stock Advisor returns as of January 4, 2017
Steve Symington has no position in any stocks mentioned. The Motley Fool owns shares of and recommends Amazon.com. The Motley Fool has a disclosure policy.