Amazon Can't Hide ItIt's Betting Big on Alexa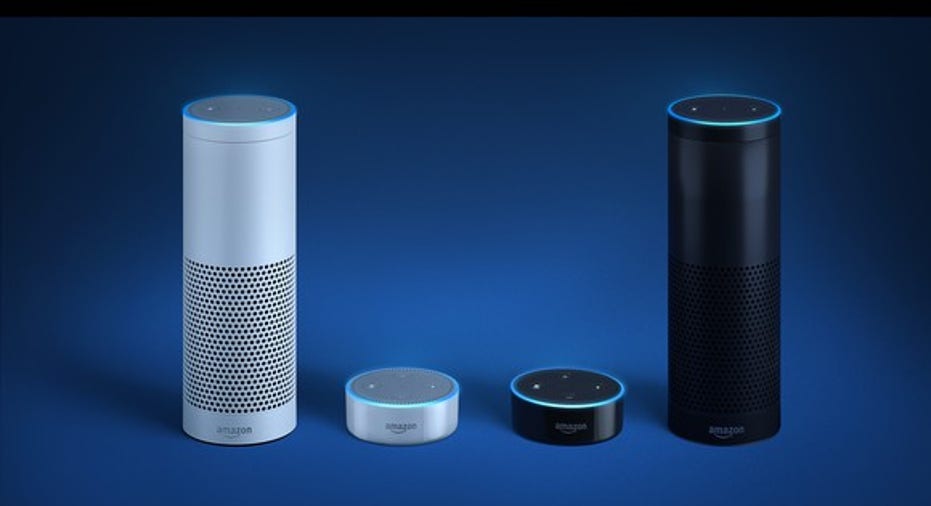 Amazon.com, Inc. (NASDAQ: AMZN) recently announced the Alexa Fund Fellowship, a program that will fund universities and researchers seeking to advance artificial intelligence (AI) voice technology in the areas of natural language understanding, automatic speech recognition, text-to-speech conversion, and conversational artificial intelligence.
The initial four university participants are Carnegie Mellon University, University of Southern California, Johns Hopkins University, and University of Waterloo. The universities will develop undergraduate or graduate level classes in voice technology and "will receive funding, access to Alexa devices, and mentoring from an Alexa Science team member."
Echo and Echo Dot smart home speakers featuring Alexa virtual assistant. Image source: Amazon.
Amazon's been doting on Alexa
Alexa, the voice-activated virtual assistant that powers the family of Echo home smart speakers, has been seeing a lot of love and some sizable investments from the e-commerce giant. There were more than 1,000 employees working on Alexa and Echo a year ago and there are currently hundreds of jobs open on the expanding team. Late last year, Amazon announced the Alexa Prize, awarding $2.5 million to the university team that could build the most compelling conversational bot using the Alexa Skills Kit. So, why is Amazon lavishing all of this love on the digital darling?
The next big thing
In 2016, Amazon CEO Jeff Bezos posited that Alexa might be the fourth pillar of Amazon's business, along with e-commerce, its cloud computing arm Amazon Web Services (AWS), and its Prime member loyalty program. Speaking more broadly about the subject of artificial intelligence, which underpins Alexa's technology, Bezos said:
Alexa powered devices are a smash. Image source: Amazon.
Early sales of the Alexa-powered family of products have been impressive. Consumer Intelligence Research Partners (CIRP) estimates that 8.2 million U.S. consumers have purchased one of the devices, while analysts at Morgan Stanley speculated that 11 million units had been sold by early December, though they admit that estimate doesn't count the recent blockbuster holiday season.Amazon announced that the devices were top sellers on its site over the holidays.
With $44 billion in revenue during the company's most recent quarter, these sales certainly won't move the needle, at least not yet. But the devices feed other portions of the business.A recent analyst note by Mark Mahaney and Jim Shaughnessy from RBC Capital Markets indicates that 17% of current users place orders on Amazon with their devices, and the ecosystem could result in an additional $10 billion in sales of devices and products annually by 2020.
Beyond the classroom
While Amazon's educational generosity is laudable, the company has much to gain from its recently announced initiatives. Collaborations with higher education can lead to improved skills for Alexa, making her more useful, and serve to raise public awareness of the devices. Finally, there is a huge market among tech companies for graduates educated in the AI sub-disciplines of machine learning and deep learning. These programs will help Amazon identify promising young talent and potential future employees already proficient in the inner workings of Alexa.
Amazon also believes that Alexa has potential in the enterprise market. The company has already made a number of AI-based voice services available to its AWS cloud customers. Amazon also recently made it free for those customers to build and host most Alexa skills.
The next great frontier for Alexa may be as an office assistant at work. A recent article in The Wall Street Journal detailed that some businesses have already taken steps to integrate Alexa's voice technology into a variety of office tasks such as setting reminders for meetings, scheduling vacations, and adding events to calendars. This is a virtually untapped market for Alexa, and as voice recognition evolves, it will likely be the logical next step.
A smart bet on the future
With potentially billions of dollars at stake, Amazon clearly has a vested interest in the future of a product that may have, quite frankly, started as a novelty. The AI behind Alexa learns the more the product is used, and by investing heavily in the product now, Amazon may be trying to ensure a foot in the door of a potentially lucrative future market.
10 stocks we like better than AmazonWhen investing geniuses David and Tom Gardner have a stock tip, it can pay to listen. After all, the newsletter they have run for over a decade, Motley Fool Stock Advisor, has tripled the market.*
David and Tom just revealed what they believe are the 10 best stocks for investors to buy right now...and Amazon wasn't one of them! That's right -- they think these 10 stocks are even better buys.
Click here to learn about these picks!
*Stock Advisor returns as of February 6, 2017.
Danny Vena owns shares of Amazon. The Motley Fool owns shares of and recommends Amazon. The Motley Fool has a disclosure policy.