Amazon Beats Wal-Mart in Consumer Electronics. Is Best Buy Next?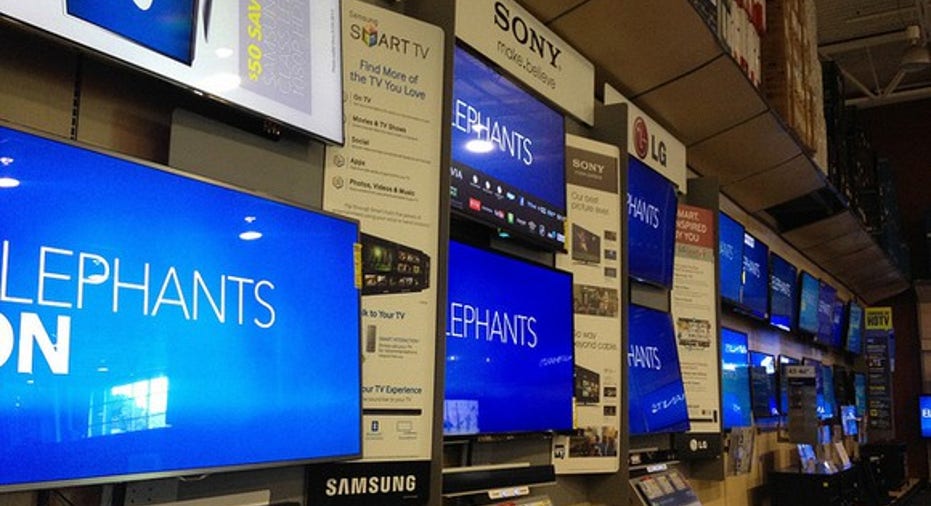 There doesn't seem to be anything Amazon.com touches these days that doesn't turn to gold. It now has its sights set on being the world's biggest consumer electronics retailer. Image source: The Motley Fool.
It won't be long before Amazon.com is the largest retailer of consumer electronics. Despite its already gargantuan size and the amount of market share it has gained over the past few years, last year it was able to accelerate that growth to the point where it now commands a 17% share, surpassing Wal-Mart as the second-biggest CE retailer. As Best Buy continues to falter, albeit at slower rates than before, it's clear that Amazon will become No. 1 sooner instead of later.
That's pretty much the view of Deutsche Bank analyst Mike Baker (via Barron's), who pointed out that it was Amazon that was almost wholly responsible for the growth the consumer electronics industry achieved in 2015. Of the $5.6 billion increase the industry saw last year, $5.1 billion, or 90% of the total, was attributable to Amazon.
According to the analyst, only a little more than a third of the top 25 CE retailers actually saw higher sales last year -- everyone else suffered falling sales. Data from First Research says that the top 50 firms account for 70% of the total $136 billion industry, and other than Amazon, only Costco was able to gain market share.
Industry site This Week In Consumer Electronics (TWICE) notes that consumer electronics sales rose 4.3% last year, a nice rebound from 2014 when they were flat, primarily because of Amazon's 28% increase in sales to $23 billion. Best Buy's sales were up 3.8% last year to almost $31 billion, but its market share slipped to 22.7% while Wal-Mart's sales rose just 2.6% to $22.2 billion, for a 16% share.
Apple was able to retain its hold of the fourth place spot with a 4.3% increase in sales to $13 billion, but that left its market share static at around 10%. Not surprisingly, some retailers like Sears Holdings saw their share of the CE market tumble as its business continues to implode, but it recently announced an initiative to introduce more connected-home products through brand extensions, such as having its Kenmore appliance brand begin appearing on TVs.
It now falls to Best Buy to defend its position, which may become increasingly difficult in the face of the onslaught from Amazon, but it's testing a new in-home consulting service that will be offered to customers for free. Called In Home Advisors, it will supplement Best Buy's Geek Squad service and repair division that has suffered from falling sales. Although Best Buy reported Geek Squad drove more interactions with customers year over year in the first quarter, revenues were still down and have been for some time as it drove "investments" in pricing.
The challenge will be to use the service to somehow offset Amazon's low pricing, Prime membership program, and the commoditization of consumer electronics that has led to products being considered disposable. In the past Best Buy argued its Geek Squad would be a key differentiator for it, but that hasn't panned out and a consulting service certainly doesn't seem like it will move the needle either. After all, services only represent 4% of Best Buy's total revenues.
At this point it looks like Amazon.com is unstoppable, and it only remains to be seen whether it will be this year or next that it's able to overtake Best Buy atop the consumer electronics retail hill.
The article Amazon Beats Wal-Mart in Consumer Electronics. Is Best Buy Next? originally appeared on Fool.com.
Rich Duprey has no position in any stocks mentioned. The Motley Fool owns shares of and recommends Amazon.com and Costco Wholesale. Try any of our Foolish newsletter services free for 30 days. We Fools may not all hold the same opinions, but we all believe that considering a diverse range of insights makes us better investors. The Motley Fool has a disclosure policy.
Copyright 1995 - 2016 The Motley Fool, LLC. All rights reserved. The Motley Fool has a disclosure policy.