Altria Group Looks to Keep Earnings on the Rise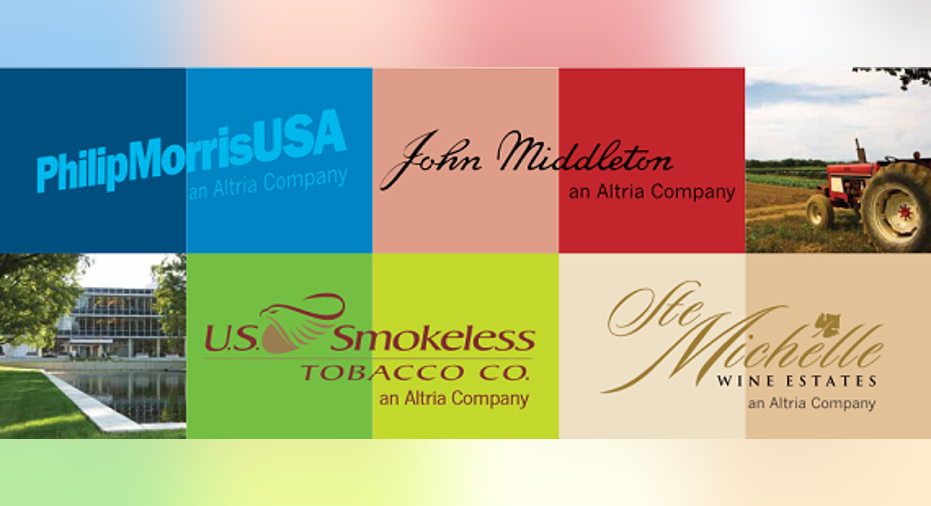 Image: Altria Group.
The tobacco industry has defied countless calls over the years for its imminent demise, and Altria Group has managed to retain its leadership over the industry even after giving up a big part of its empire. Many investors believed that when Altria spun off Philip Morris International , what was left would be worth less than what it gave up. Yet even though Philip Morris has benefited in some cases from different regulatory frameworks abroad, Altria has nevertheless found ways to keep its sales and earnings growing. Coming into Thursday's first-quarter financial report, Altria shareholders want more of the steady growth that they've grown accustomed to seeing. Let's take an early look at the latest from Altria Group and whether its earnings will live up to expectations.
Stats on Altria Group
| | |
| --- | --- |
| Analyst EPS Estimate | $0.68 |
| Change From Year-Ago EPS | 7.9% |
| Revenue Estimate | $4.41 billion |
| Change From Year-Ago Revenue | 3.2% |
| Earnings Beats in Past 4 Quarters | 2 |
Source: Yahoo! Finance.
Can Altria earnings keep growing?In recent months, investors have largely stayed steady in their views on Altria earnings, making only a modest penny-per-share reduction to their forecasts for the full 2016 year. The stock has rebounded nicely from the stock market swoon earlier in the year, rising 8% since mid-January.
Altria's fourth-quarter results set a generally solid tone for the tobacco giant coming into 2016, although some investors found them slightly disappointing. Revenue grew 2.5% and net income inched upward by 1%. Altria continued to rely on its pricing power to drive growth, overcoming a 2.6% drop in domestic cigarette shipments due largely to inventory movement considerations. Market share for the key Marlboro brand inched upward to 44%, and faster growth in the smokeless products segment helped to pull Altria's overall results higher on the strength of the Copenhagen brand.
A big part of Altria's long-term success has come from its ability to fend off legal challenges, and that continues to play a vital role. Earlier in April, Altria and its Philip Morris USA subsidiary won a key jury trial in a class action lawsuit against the tobacco company. The lawsuit sought damages of $1.8 billion, alleging that the company had deceived smokers with its marketing of so-called light cigarettes. Similar victories for both Altria and Reynolds American recently signal an ongoing willingness to support tobacco-company interests in legal proceedings, something that Philip Morris International has worked hard to try to duplicate overseas despite having to deal with different systems of laws.
Looking forward, investors continue to hope for growth from the e-cigarette arena, where Altria has become a significant player. Yet between its MarkTen and Green Smoke products, revenue from e-cigarettes is still an inconsequential portion of Altria's overall sales. A partnership with Philip Morris International could help Altria in its efforts to promote heat-not-burn technology, but it could take a lot longer for the market to grow enough to be a noticeable part of either company's overall business.
Altria is also watching as the proposed deal between Anheuser-Busch InBev and SABMiller proceeds. Altria's stake in SABMiller should translate into a sizable investment in Anheuser-Busch following a deal, and the beer-makers have been working to make strategic moves to get approval for the merger. For instance, a conditional deal from Asahi Group to buy certain beer brands from the post-merger Anheuser-Busch should help obtain necessary approvals. Altria investors will have to wait for the dust to settle, but in the end, the tobacco company can expect to have significant exposure to the beer business.
In the Altria earnings report, the biggest issue investors should focus on is how the merger of Reynolds American and Lorillard is affecting the competitive dynamics within the tobacco industry. So far, it's hard to find much evidence of a dramatic impact on Altria's business, and some believe that the consolidation in the industry could help both companies enjoy more success. That's something that Philip Morris International can only wish for in its much less favorable competitive position worldwide, and as a result, investors who held onto their Altria shares might end up having the last laugh after all.
The article Altria Group Looks to Keep Earnings on the Rise originally appeared on Fool.com.
Dan Caplinger has no position in any stocks mentioned. The Motley Fool recommends Anheuser-Busch InBev NV. Try any of our Foolish newsletter services free for 30 days. We Fools may not all hold the same opinions, but we all believe that considering a diverse range of insights makes us better investors. The Motley Fool has a disclosure policy.
Copyright 1995 - 2016 The Motley Fool, LLC. All rights reserved. The Motley Fool has a disclosure policy.