Alphabet Is Ending Its Robotics Program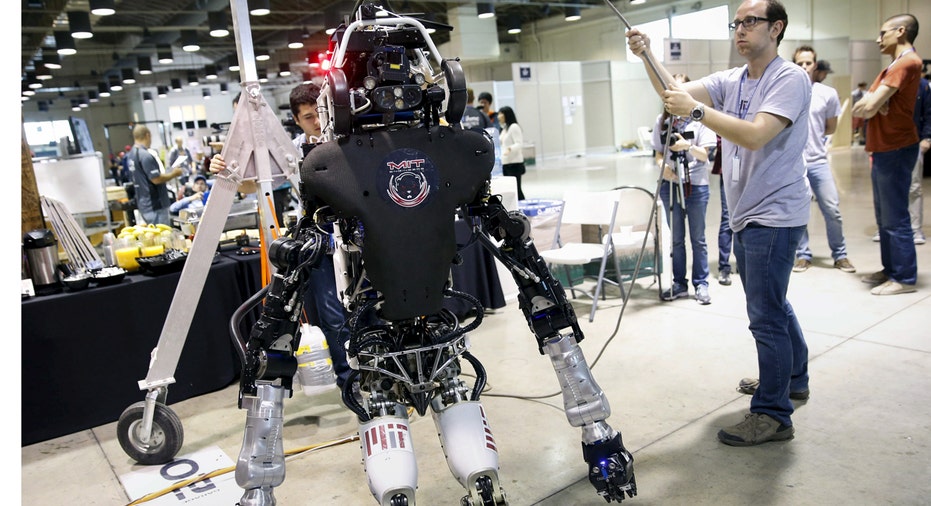 Google parent Alphabet. is dismantling its robotics effort after less than three years and aims to sell Boston Dynamics, the legged-robot maker that was the centerpiece of the program, according to people familiar with the matter.
The moves reflect internal disagreements about the direction of Boston Dynamics and concerns about Alphabet's ability to make money from robots as the company increases its scrutiny of costs, said the people familiar with the matter.
In addition to Boston Dynamics, Google bought at least six other robotics firms in 2013, combined them into a group dubbed Replicant -- a nod to the 1982 science-fiction movie "Blade Runner" -- and tapped Android co-founder Andy Rubin to run it.
Alphabet recently dissolved Replicant and assigned its employees to Alphabet's X division that works on long-term "moonshots," said X chief Astro Teller.
In an interview, Mr. Teller said the former Replicant employees are trying to repurpose their robotics work into new projects. He said he also told them to prioritize the problems they are trying to solve over developing technology.
"Having an identity that's about robots is like saying you all share that you have Apple computers. That's meaningless," Mr. Teller said.
He didn't confirm that the Boston Dynamics group was for sale, but he suggested the unit didn't join X because it is unwilling to abandon its humanoid robots. "The ethos they have and the ethos we have weren't super-compatible," Mr. Teller said. "They are some of the most talented roboticists in the world, but in order to be here . . . you have to sign up for our way of doing things."
Alphabet will continue to use robots -- such as self-driving cars and delivery drones -- but Mr. Teller said those devices are means to solving larger transportation or logistics problems.
Bloomberg previously reported Alphabet's plans to sell Boston Dynamics, a 24-year-old Waltham, Mass., company that began as a spinoff from the Massachusetts Institute of Technology.
Videos of Boston Dynamics' robots based on humans and animals have attracted more than 100 million views on YouTube.
The people familiar with the matter said Alphabet executives wanted Boston Dynamics to focus on a product that could make money within a few years. When Boston Dynamics executives resisted, Alphabet decided to pursue a sale, the people said.
Boston Dynamics didn't respond to requests for comment.
Colin Angle, chief executive of consumer-robot firm iRobot Corp., said Boston Dynamics was a poor fit for Alphabet because its robots' distinguishing feature -- their ability to walk on two or four legs -- is primarily useful to the military. But Google said it wouldn't sell Boston Dynamics robots for military purposes.
Last year, the company pulled the devices from a high-profile robotics challenge run by the U.S. Defense Department.
"Legged robots are valuable in some niche situations, like traversing through jungles and up the sides of mountains -- things that the military is interested in," but most companies aren't, Mr. Angle noted. "The idea that legged robots are key to a practical robot industry is a false notion. What they are is incredibly cool and incredibly difficult" to build.
Mr. Rubin's departure from Google in 2014 hurt the internal standing of the robotics group. He told the New York Times in late 2013 that the robotics program had "a 10-year vision."
Google executives had envisioned robots that cared for the elderly and loaded groceries into self-driving cars, but that shifted during the past two years. Mr. Rubin declined to comment for this article.
Mr. Rubin "left this asset without a clear mission and without someone of his reputation and vision to pull what effectively was [seven] different academically oriented robotics companies into something that would create a meaningful revenue source for Google," Mr. Angle said.
By Jack Nicas
Yoko Kubota contributed to this article.