Alphabet Inc's New Google Glass Is Bound to Be Another Flop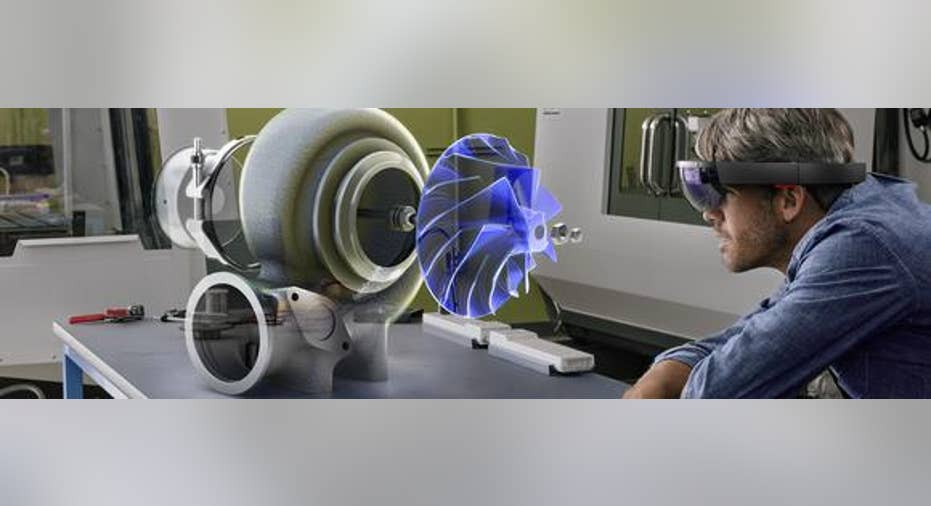 Alphabet launched Google Glass three years ago, but privacy concerns and its awkward appearance prevented it from gaining mainstream approval. Google stopped sellling the $1,500 device this January, and sent it back to the drawing board as a stand-alone project under Nest founder Tony Fadell.
Google Glass. Source: Google.
According to recent FCC filings and leaks, the new device should have a larger prism display, an Atom processor, support for both 2.4Ghz and 5Ghz wireless channels, and target the enterprise market instead of mainstream consumers. Google is also reportedly testing an external battery pack to extend its battery life, and a recent patent indicated that the new version could be a smaller "monocle" instead of a full pair of glasses. While the new device sounds more compact and powerful than the original, I doubt it will fare much better for three simple reasons.
1. Microsoft is ahead of the tech curveShortly after the company now called Alphabet pulled the plug on Glass, Microsoft unveiled HoloLens, an augmented reality headset that let users walk on Mars, play Minecraft on a coffee table, enhance Skype calls with virtual whiteboards, or design products with interactive holograms.
Simply put, the HoloLens leapfrogged over Glass and made its single-screen projection look archaic. Alphabet has invested in AR apps through Project Tango and Magic Leap, but these initiatives don't seem connected with Google Glass.
Microsoft will launch the development kit forHoloLens in the first quarter of 2016 for $3,000. That costs twice as much as Google Glass' "Explorer Edition," but many software developers could buy one to create next-gen holographic apps for Windows 10. The final price of the headset, which also targets the enterprise market, should be much lower. Unless Alphabet launches the devkit for the new Glass before Microsoft starts selling the one for HoloLens, it could be left behind the technological curve.
Microsoft's HoloLens. Source: Microsoft.
2. Enterprise weaknessAlphabet could also struggle with selling Glass to enterprise customers because it lacks a dominant user base on PCs and mobile devices. Various versions of Microsoft's Windows are installed on nearly 90% of PCs worldwide; 9% of all PCs already run Windows 10. On mobile devices, Apple leads enterprise activations. According to Good Technology's third-quarter Mobility Index report, iOS devices accounted for 66% of all enterprise device activations, compared to 31% for Android and 3% for Windows/Windows Phone devices.
Google tried to compete against Microsoft and Apple with several strategies. It targeted small and medium-sized businesses with cheap Chromebooks for Work. It added new enterprise-grade security features in Android 5.0 Lollipop to address claims that Android devices were more hackable than their iOS counterparts. But despite these improvements, Chrome simply can't compete against Windows' compatibility with legacy software and data, while Android still lagsbehind iOS in security due to hardware fragmentation. Without a firmly established base in either market, Google could struggle to sell AR headsets tethered to its own ecosystem.
3. Going mainstream won't workIf Google's enterprise push flops, falling back on the mainstream market again probably won't work due to the same two problems as its predecessor -- a protruding camera and an awkward appearance.
The original Glass flopped because Google didn't realize that taking pictures with smartphones, cameras, or action cameras in public was acceptable, but that wearing a camera on your face was creepy. Google attempted to make Glass fashionable with Diane von Furstenberg-designed frames, but it didn't understand that people who buy high-priced DVF glasses weren't necessarily interested in Glass' AR features.
Let's not jump to conclusionsWhile I doubt that the "new" Google Glass will fare much better than the original, we shouldn't jump to conclusions before Google officially announces the device. But if Google wants to market a new AR headset to enterprise customers, it could struggle to match the HoloLens' appeal without a firm foundation in enterprise PCs or mobile devices.
The article Alphabet Inc's New Google Glass Is Bound to Be Another Flop originally appeared on Fool.com.
Leo Sun has no position in any stocks mentioned. The Motley Fool owns shares of and recommends Alphabet (A shares), Alphabet (C shares), and Apple. Try any of our Foolish newsletter services free for 30 days. We Fools may not all hold the same opinions, but we all believe that considering a diverse range of insights makes us better investors. The Motley Fool has a disclosure policy.
Copyright 1995 - 2015 The Motley Fool, LLC. All rights reserved. The Motley Fool has a disclosure policy.