Alphabet, Inc. Boosts Buybacks After Another Great Quarter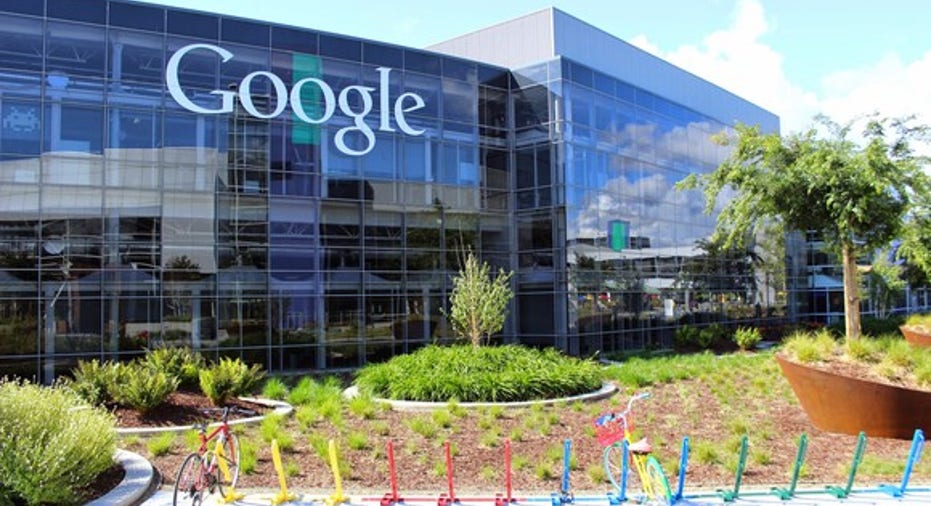 IMAGE SOURCE: ALPHABET, INC.
Google parentAlphabet(NASDAQ: GOOG)(NASDAQ: GOOGL) announced stronger-than-expected third-quarter 2016 results Thursday after the market close, marking its fourth report since shifting to a segment-based reporting model earlier this year. With Alphabet stock up 1% as of this writing afterbriefly touching a fresh all-time high, it's apparent the market is happy with what it had to say.
Let's take a closer look at how Alphabet kicked off the second half of the year.
The headline numbers
Consolidated quarterly revenue increased 20.2% year over year, to $22.45 billion, and would have increased 23% if it weren't for the effects of continued foreign-currency pressure. Based on generally accepted accounting principles (GAAP), consolidated operating income grew 22.5% year over year, to $5.77 billion, and net income rose 27.2%, to $5.06 billion. GAAP net income per share also increased 26.5%, to $7.25, for each of Alphabet's class A and B common shares and class C capital stock.
On an adjusted (non-GAAP) basis, which adds perspective by excluding items like stock-based compensation, operating income grew 24.2% year over year, to $7.63 billion, and net income rose 24%, to $6.33 billion. Adjusted net income per share grew 23.3% year over year, to $9.06. Keeping in mind that last quarter, Alphabet completed all share repurchases under its previous repurchase authorization, its board of directors also authorized a new repurchase program of up to $7,019,340,976.83 shares.
As an aside, Alphabet could have made its latest repurchase authorization an even $7 billion, but it would have sacrificed an opportunity to make another very Google-esque joke. Astute math geeks quickly figured out that 7019.34097683 is equivalent to 26 (the number of letters in thealphabet)to the power of "e," an important mathematical constant. And this replaces Google's previous authorization, which allowed repurchases of up to $5,099,019,513.59 -- which is the square root of 26 multiplied by $1 billion.
Getting back to the headline numbers, Google doesn't provide specific quarterly financial guidance. So for perspective -- and while we don't typically pay close attention to Wall Street's expectations -- analysts had predicted Google would report lower revenue of $18 billion and adjusted earnings of only $8.64 per share.
Alphabet CFO Ruth Porat called it a "great third quarter" adding, "Mobile search and video are powering our core advertising business and we're excited about the progress of newer businesses in Google and Other Bets."
Breaking it down
Alphabet once again offered color on its two primary operating segments, including Google and Other Bets.
| | Three Months Ended September 30, 2015 | Three Months Ended September 30, 2016 | Growth (YOY) |
| --- | --- | --- | --- |
| Google segment revenues | $18.534 billion | $22.254 billion | 20.1% |
| Google operating income | $5.807 billion | $6.778 billion | 16.7% |
| Other Bets revenues | $141 million | $197 million | 39.7% |
| Other Bets operating income (loss) | ($980 million) | ($865 million) | N/A |
DATA SOURCE: ALPHABET, INC.
On Other Bets
During the subsequent conference call, Porat was quick to offer the caveat that, "[W]e think it remains most instructive to look at financials for Other Bets over a longer-term horizon because, as you have seen, quarterly revenues and expenses can be lumpy [...]."After all, as I pointed out in my earnings preview earlier this week, the Other Bets segment consists primarily of early-stage, pre-revenue businesses that operate in a variety of different industries.
The majority of Other Bets' $197 million in revenue -- an increase of nearly 40% over the same year-ago period -- was generated as per usual by Nest (connected home products), Fiber (high-speed internet), and Verily (longevity solutions). And the segment remains consistentlyunprofitable, generating an operating loss this quarter of $865 million.
To Alphabet's credit, Other Bets' operating loss, excluding stock-based compensation (SBC), would have been "just" $665 million. And even accounting for SBC, this quarter's loss narrowed significantly from $980 million in the same year-ago period, even as capital expenditures dedicated to the segment rose 19.6% year over year, to $324 million, mostly reflecting continuing investments in the Fiber business. Finally, Other Bets' capital expenditures remain a small fraction of the $2.43 billion the company dedicated to its core Google business.
Speaking of which...
As a reminder, Google's segment businesses include Search, Android, Maps, Chrome, YouTube, Google Play, and Gmail, as well as Ads, Commerce, Apps, Cloud, and hardware products. But as expected, the main driver of revenue for most of Google's segments remains advertising.
Thankfully, that core revenue source continued to enjoy robust growth. Advertising revenue at Google increased 18.1% year over year, to $19.82 billion, representing 88.3% of Alphabet's total revenue, and down slightly from just over 89% last quarter. Within that, advertising revenue from Google's own websites grew 22.9%, to $16.09 billion, and ad revenue from Google Network Members' sites rose 1%, to $3.732 billion.
During the call, Google CEO Sundar Pichai stated that Google's advertising business is "thriving in a mobile world," thanks largely to its simple, resonating value proposition to marketers as enabled by Google's suite of vastly popular mobile properties from Search to YouTube, Maps, and Google Play.
"They are using our services because they want to actively watch something they are passionate about, or because they want to know, go, do, or buy something," added Pichai. "It's just like people used to be glued to their TV screen during prime time -- our services are prime time for the mobile world."
Growth in aggregate paid clicks accelerated to 33% year over year this quarter -- up from 29% last quarter -- including 42% growth in paid clicks on Google websites, and a 1% increase in paid clicks on Google Network Members' sites.On the other hand, aggregate cost-per-click -- which helps quantify how much Google makes per ad -- declined 11% year over year, including a 13% drop on Google sites, and a 14% decline on Google Network Members' sites. This includes a rapid increase in YouTube's TrueView impressions, which tend to reach consumers earlier in the purchase funnel, so generally monetize at lower rates than traditional web-based ads.
Even so, Google is working to make this up in volume. In addition to YouTube's inherent growth, the company recently announced expanded capabilities to show marketers how TV and YouTube campaigns increase online awareness of their brands. And early tests indicate that YouTube generates nearly twice as many Google and YouTube searches for their brands than comparable TV impressions.
Last but not least, we can't forget revenue from Google's non-advertising sources. Thanks to strong performances from both Google Play and Cloud, "Other" Google revenue grew 38.8% year over year, to $2.43 billion.
There were no big positive or negative surprises in this report. It's important, however, that the company's core ad business stays healthy, and that it continues to methodically invest in promising complementary growth opportunities.
More than anything, this represents the latest in a string of strong reports from Alphabet. All things considered, it's no surprise to see shares hovering near all-time highs right now.
A secret billion-dollar stock opportunity The world's biggest tech company forgot to show you something, but a few Wall Street analysts and the Fool didn't miss a beat: There's a small company that's powering their brand-new gadgets and the coming revolution in technology. And we think its stock price has nearly unlimited room to run for early in-the-know investors! To be one of them, just click here.
Suzanne Frey, an executive at Alphabet, is a member of The Motley Fool's board of directors. Steve Symington has no position in any stocks mentioned. The Motley Fool owns shares of and recommends Alphabet (A shares) and Alphabet (C shares). Try any of our Foolish newsletter services free for 30 days. We Fools may not all hold the same opinions, but we all believe that considering a diverse range of insights makes us better investors. The Motley Fool has a disclosure policy.