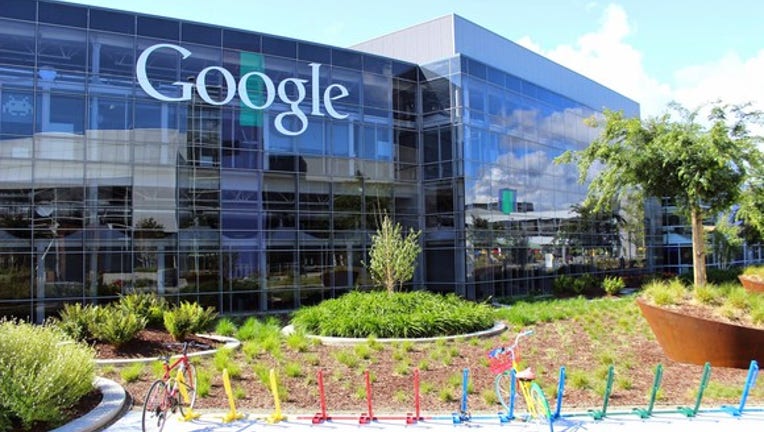 Shares of Alphabet Inc.(NASDAQ: GOOG)(NASDAQ: GOOGL)were down nearly 3% in Thursday's after-hours trading after the internet search giant released fourth-quarter 2016 results. But keeping in mind Alphabet stock opened the trading session at a fresh all-time high, as well as the fact that it doesn't provide specific quarterly financial guidance, the market's response isn't necessarily indicative of a disappointing quarter.
Let's take a closer look at what drove Alphabet's latest results.
Google's headquarters building. Image source: Alphabet, Inc.
Alphabet's headline numbers
Quarterly revenue climbed 22.2% year over year (24% at constant currency), to $26.064 million, and -- based on generally accepted accounting principles (GAAP) -- translated to 23.4% growth in operating income, to $6.639 billion, and 8.3% growth in GAAP net income, to $5.333 billion. GAAP net income per share grew 7.1%, to $7.56, for both Class A and Class B shares.
On an adjusted (non-GAAP) basis, which adds perspective by excluding items like stock-based compensation, operating income grew 24.5% year over year, to $8.485 billion, net income grew 9.1%, to $6.593 billion, and net income per share grew 8%, to $9.36. By comparison-- and though we don't usually pay close attention to Wall Street's quarterly demands -- analysts' consensus estimates called for higher adjusted earnings of $9.64 per share but more modest 18.3% growth in revenue, to $25.23 billion.
CFO Ruth Porat added:
More specifically, here's a broad look how Alphabet's two primary operating segments (Google and "other bets") fared:
| Metric | Three Months Ended Dec. 31, 2015 | Three Months Ended Dec. 31, 2016 | Year-Over-Year Growth |
| --- | --- | --- | --- |
| Google segment revenues | $21.179 billion | $25.802 billion | 21.8% |
| Google operating income | $6.744 billion | $7.883 billion | 16.9% |
| Other bets revenues | $150 million | $262 million | 74.7% |
| Other bets operating income (loss) | ($1.213 billion) | ($1.088 billion) | N/A |
DATA SOURCE: ALPHABET, INC.
On Google
Alphabet's core Google business -- which includes the likes of Search, Android, Maps, Chrome, YouTube, Google Play, and Gmail, as well as Ads, Commerce, Apps, Cloud, and hardware products -- predictably represented the bulk of the company's consolidated revenue.
Within that, advertising revenue climbed 17% year over year, to $22.4 billion, or roughly 85.9% of Alphabet's total revenue (down from 88.3% last quarter, and just over 89% two quarters ago). Breaking it down further, ad revenue from Google's own properties climbed 20% year over year, to $17.968 billion, and ad revenue from network members' properties rose 7%, to $4.431 billion.
Aggregate paid clicks increased 36% year over year, including 43% growth in paid clicks on Google properties, and 7% growth in paid clicks on Google network members' properties. Meanwhile, aggregate cost-per-click -- a key measure that helps show how much Google makes per ad -- declined 15%, including 16% and 19% declines on Google properties and network members' properties, respectively. As I noted in my earnings preview earlier this week, declines in aggregate cost-per-click continue to stem from outsized growth at YouTube, where TrueView ads tend to reach consumers earlier in the purchase funnel so monetize at lower rates.
Finally, other revenue within Google grew an impressive 62% year over year, to $3.403 billion, driven by broad strong growth in each of Google's hardware, Play, and Cloud subsegments.
On other bets
Speaking to Porat's mention of "strong progress in Other Bets," remember that this segment is primarily comprised of early-stage, pre-revenue businesses operating in several disparate industries. As such, growth and profitability of the other bets segment can vary widely from quarter to quarter so is best viewed through a long-term lens.
In the meantime, other bets achieved respectable 74.7% year-over-year growth in fourth-quarter revenue, to $262 million, almost completely attributable again to sales of Nest connected home products, Fiber high-speed internet, and Verily longevity solutions. Other bets continued to remain solidly unprofitable (for now), generating an operating loss of $1.088 billion, which was narrowed from a $1.213 billion operating loss in the same year-ago period. Even excluding stock-based compensation, other bets' operating loss would have been $927 million, compared to $1.082 billion excluding SBC in last year's fourth quarter.
Looking forward
Alphabet didn't offer specific forward financial guidance as per usual. But in a broader sense, management did suggest during the subsequent conference call that they plan to focus on not only continuing the momentum of their core advertising business in 2017 but also investing to further grow additional revenue streams as it works to diversify its business.
As Porat explained:
In the end, apart from Alphabet's slight bottom-line shortfall relative to Wall Street's expectations, this was another strong performance, with continued admirable top-line growth from the global tech juggernaut. And with shares only enduring a modest pullback right now from all-time highs, I think Alphabet investors should be more than pleased with where their company stands.
10 stocks we like better than Alphabet When investing geniuses David and Tom Gardner have a stock tip, it can pay to listen. After all, the newsletter they have run for over a decade, Motley Fool Stock Advisor, has tripled the market.*
David and Tom just revealed what they believe are the 10 best stocks for investors to buy right now... and Alphabet wasn't one of them! That's right -- they think these 10 stocks are even better buys.
Click here to learn about these picks!
*Stock Advisor returns as of January 4, 2017
Suzanne Frey, an executive at Alphabet, is a member of The Motley Fool's board of directors. Steve Symington has no position in any stocks mentioned. The Motley Fool owns shares of and recommends Alphabet (A shares) and Alphabet (C shares). The Motley Fool has a disclosure policy.