Alnylam Pharmaceuticals' Stock Picked Up Steam in November: Any Upside Remaining?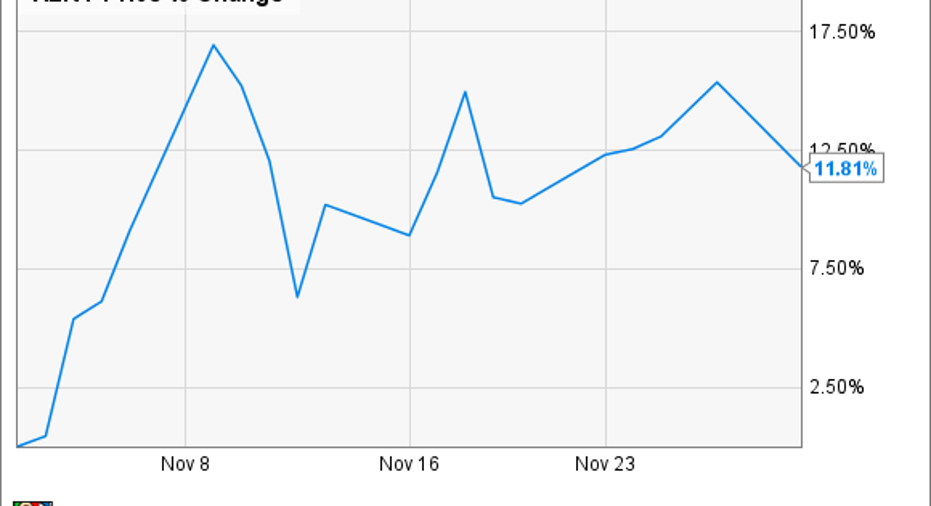 What: According to data provided byS&P Capital IQ, shares ofAlnylam Pharmaceuticals , a rare disease and RNAi therapeuticsspecialist,gained nearly 12% in November. The apparent catalyst behind Alnylam's strong month was a clinical update provided by management during the drugmaker's third-quarter earnings report.
Specifically, management noted that the late-stage study dubbed "APOLLO" assessing the experimental therapy patisiranas a potential treatment for the rare but fatal neurodegenerative disease known as Familial Amyloidotic Polyneuropathy, or FAP, is close to completing enrollment. Perhaps most significantly, the company thinks this pivotal trial could lead to a New Drug Application for patisiranby 2017.
So what: WithPfizer's EU-approved FAP treatmentVyndaqel in mind, some analysts covering this stock have suggested thatpatisiran could generate somewhere around $800 million in peak sales, if approved. In light of the fact that Alnylam only generated a little over $57 million in revenue in the past 12 months and the company sports a market cap in excess of $8 billion, the market's clearly banking onpatisiran's approval going forward.
Now what: Based on patisiran's encouraging midstage results, analysts have pegged the drug's probability of success in this ongoing late-stage trial at around 80%. The market seems to agree with this optimistic outlook based on the company's noteworthy market cap.
Having said that, I think investors may want to consider the possibility that this enthusiasm might be emanating, to some degree, from the fact that FAP is a fatal orphan indication. In short, investors often assume, sometimes incorrectly so, that drugs for these types of deadly conditions will face an easier review process from the FDA than more traditional drugs.
Pfizer's Vyndaqel, though, provides a powerful counterexample to this broadly held notion. Although the EU approved Vyndaqel, the FDA decided not to follow suit, asking the drugmaker for additional data on the drug's efficacy profile.
That's not to say thatpatisiran is destined to run into the same problems. After all, its midstage results have been truly impressive -- which is perhaps the main reason for the market's rosy outlook. Nevertheless, I think it's always a good idea to exercise caution when the market is clearly building in future revenues for an experimental product, regardless of the drug's emerging clinical profile.
The article Alnylam Pharmaceuticals' Stock Picked Up Steam in November: Any Upside Remaining? originally appeared on Fool.com.
George Budwell owns shares of Pfizer. The Motley Fool owns shares of and recommends Alnylam Pharmaceuticals. Try any of our Foolish newsletter services free for 30 days. We Fools may not all hold the same opinions, but we all believe that considering a diverse range of insights makes us better investors. The Motley Fool has a disclosure policy.
Copyright 1995 - 2015 The Motley Fool, LLC. All rights reserved. The Motley Fool has a disclosure policy.