Allergan CEO on the Hot Seat: Here's What He Had to Say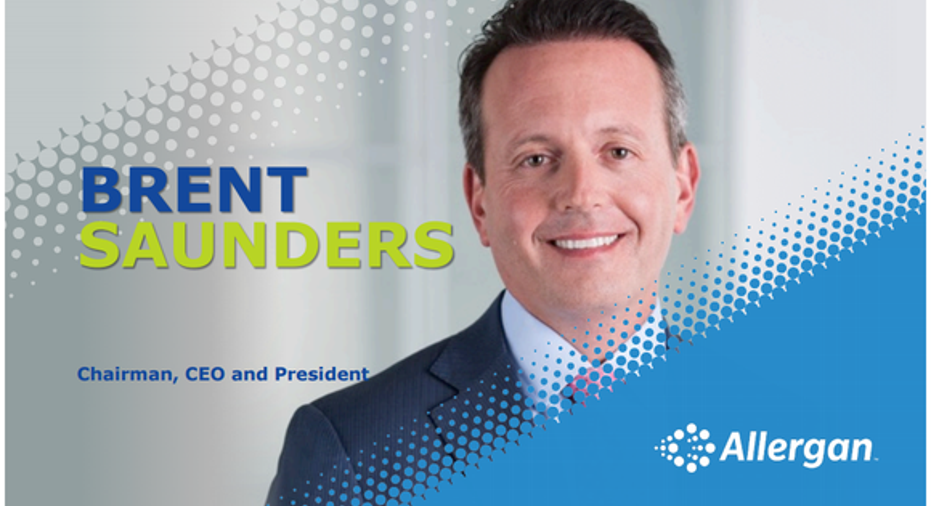 It's not easy being a CEO on the hot seat at a conference when your company's stock is down nearly 30% over the last 12 months. Allergan (NYSE: AGN) CEO Brent Saunders experienced that first-hand at the Goldman Sachs Healthcare CEOs Unscripted event on Thursday. Here's what Saunders had to say on several key topics.
Image source: Allergan.
Dismal stock performance
Brent Saunders readily acknowledged that 2016 was a difficult year for Allergan and for him personally. He admitted that "we did not do well for our shareholders" last year, adding that the stock performance was concerning to him.
However, Saunders stressed that there was a disconnect between Allergan's operational performance and its stock performance. He thinks the company "did a really good job" operationally, citing Allergan's high operating margins as evidence.
2017 revenue projections
Allergan provided preliminary comments on its outlook for 2017 in a press release prior to Saunders fielding questions on Thursday. The company expects revenue this year to grow by a mid-single-digit percentage.Saunders said the information in this press release was not guidance, but instead a framework for how Allergan views its prospects for the year.
He noted that the 2017 revenue growth outlook could be adjusted if underlying assumptions change. For example, Allergan expects sales for eye-care drug Restasis to remain stable, but sales for Namenda to drop in the face of the launch of its generic version of the dementia drug.
Margins
Saunders said Allergan remains committed to delivering top-tier profit margins, although he doesn't expect a dramatic change in 2017. He added that the company's high margins are "remarkable" considering its diverse portfolio, significant primary care capability, and heavy spending on direct-to-consumer marketing (second only to Pfizer (NYSE: PFE) among drugmakers).
Allergan squeezes the most out of every research and development dollar by "not chasing hopes and dreams," according to Saunders. He noted that the company killed the bottom 5% to 10% of its clinical programs in budgeting for 2017. As for sales, general, and administrative (SG&A) spending, Saunders didn't think there was much room to cut because Allergan's high marketing and physician training costs are worth the investment.
Deals
Allergan didn't make any truly transformational deals in 2016. Saunders said the company primarily sold off assets during the year rather than buying much, referring to the sale of itsgeneric pharmaceuticals business and the Anda Distribution business to Teva Pharmaceutical. The Teva deals generated nearly $34 billion for Allergan. He only briefly referenced the failed attempt by Pfizer to acquire Allergan earlier in the year.
However, Saunders sounded pleased with his company's two deals that put Allergan right in the thick of the race to develop non-alcoholic steatohepatitis (NASH) drugs. In September, Allergan bought Akarna Therapeutics and Tobira Therapeutics. Saunders predicts that Tobira'sCenicriviroc (CVC) will become "the bedrock of NASH treatment." He hinted that several other companies have approached Allergan about partnering with CVC.
Pipeline
Saunders said Allergan has sixor seven late-stage programs in 2017 that are potential "blockbuster game-changing innovations." The company's pipeline includes more than 65 programs overall.
Although Allergan is launching newer versions of several existing drugs and is especially focusing on launches of products outside of the U.S., Saunders said not to expect a lot from the pipeline in 2017. However, he predicts the company's pipeline will begin to pay off in 2018 and 2019.
Drug pricing
Allergan rolled out what it calls a "social contract with patients" in September. A key part of this social contract was to act responsibly with regards to pricing its drugs. The company recently announced price increases below 10%.Saunders affirmed Allergan's commitment to keeping its word, stating that no further price increases will be taken later in 2017.
What about others in the biopharmaceutical industry? Saunders thinks many companies are conforming to the principles in Allergan's social contract with patients without officially adopting similar policies. He thinks the industry in general is taking drug pricing more seriously, although there will always be outliers.
The Trump factor
As for how Allergan and other drugmakers might fare under a Trump Administration, Saunders said it's "completely within the industry's control on what happens." He thinks everyone should recognize that the U.S. will have a "pro-growth, pro-deregulation government" but will also have a populist president.
Going back to the drug pricing issue, Saunders said high drug prices are especially unpopular. He said Allergan didn't "want to stoke the fireby doing egregious things," and he urged other drugmakers to simply "do the right thing" when it comes to drug pricing.
Words of wisdom
Perhaps the wisest thing Brent Saunders said while on the hot seat was that the biopharmaceutical industry was "entering what could be a golden age" with advances including CRISPR genomic editing and personalized medicines. He added, "We can only shoot ourselves in the foot to ruin it."
I suspect Saunders is right on both counts.
10 stocks we like better than Allergan When investing geniuses David and Tom Gardner have a stock tip, it can pay to listen. After all, the newsletter they have run for over a decade, Motley Fool Stock Advisor, has tripled the market.*
David and Tom just revealed what they believe are the 10 best stocks for investors to buy right now...and Allergan wasn't one of them! That's right -- they think these 10 stocks are even better buys.
Click here to learn about these picks!
*Stock Advisor returns as of January 4, 2017.
Keith Speights has no position in any stocks mentioned. The Motley Fool recommends Teva Pharmaceutical Industries. The Motley Fool has a disclosure policy.