Alcoa in 2015: Why It's Fallen 39%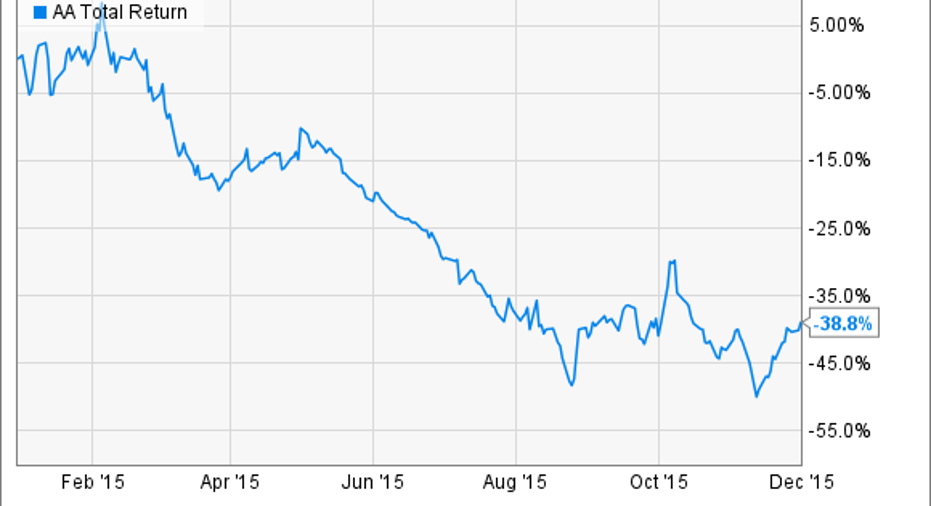 Rolled products play a vital role in the automotive sector. Image source: Alcoa.
Aluminum giant Alcoa has faced a tough road in recent years, with the former industrial giant having largely fallen from grace amid massive global competition in the commodity aluminum market. In response, Alcoa has reinvented itself, making massive acquisitions to broaden its scope to cover other lightweight metals like titanium and to penetrate more deeply into high-growth industries like aerospace and automotive. Yet even as cutting-edge innovations like Ford's high-strength aluminum body for its F-150 pickup truck have raised awareness of Alcoa's future prospects, the company has nevertheless seen its stock perform poorly this year. Let's take a closer look at why Alcoa has remained under pressure and whether its future strategic moves could make a difference going forward.
What has happened to Alcoa in 2015? Toward the beginning of the year, things actually looked fairly promising for Alcoa. The company's fourth-quarter results in January showed continued increases in sales, and despite sizable charges for its restructuring efforts, Alcoa posted solid earnings as well. Stronger margins for its value-add manufactured products helped bolster profitability, and cost-cutting measures in its primary metals and alumina segments also contributed to bottom-line performance.
Yet by mid-year, investors could see that the sluggishness in the global economy was holding Alcoa back despite its internal progress in revamping its operations. Second-quarter sales rose just 1%, and particular weakness in the upstream primary metals market showed the ongoing price pressure that the highly competitive commodity industry has imposed on Alcoa and its rivals. Productivity gains and huge increases in shipments of automotive-related materials, due in part to Ford's initiatives, weren't enough to offset the poor global market for aluminum entirely.
Alcoa's third-quarter results raised new concerns for the company. A double-digit percentage drop in revenue once again highlighted weak industry conditions, and a 70% drop in net income was a painful reminder that Alcoa has more work to do to improve its financial performance.
AA Total Return Price data by YCharts.
Yet the biggest issue that Alcoa investors have wrestled with for much of the year involves the company's decision to break itself into two separate parts. Going forward, Alcoa will give investors the choice of whether to invest in its value-add business or in its upstream alumina and primary metals division. Alcoa CEO Klaus Kleinfeld hopes that by doing so, the two stocks will get valued according to their own individual prospects while still retaining most of the synergies that Alcoa has enjoyed from being vertically integrated. Nevertheless, some fear that the move will leave an already-battered stock even more vulnerable to competitive pressures, especially if Alcoa doesn't do a good job of dividing up assets and liabilities to make both entities financially viable going forward.
Alcoa: Sales and earnings
Source: S&P Capital IQ.
What's next for Alcoa?Alcoa faces a mixed picture in its immediate future. The company sees continuing opportunities in its most important markets, with aerospace, automotive, and transportation-related applications expected to keep growing despite some major economic challenges in many parts of the world. Innovations like its Micromill technology and its recent investment in 3-D printing capabilities could further enhance Alcoa's ability to compete effectively going forward. Still, Alcoa also has to deal with competing aluminum producers that haven't always made rational moves to help the industry as a whole, and that could be particularly difficult for the upstream segment once it breaks off from the value-add business in the second half of next year.
Alcoa will never be the industrial behemoth it once was, but it has plenty of potential to remain a vital force in the production and manufacture of lightweight materials for the key industries within its customer base. If the long downturn in the global economy finally starts to turn around, then Alcoa could benefit greatly from the resulting rise in aluminum prices to complement the rising use of the lightweight metal from Ford and other customers.
The article Alcoa in 2015: Why It's Fallen 39% originally appeared on Fool.com.
Dan Caplinger owns shares of Ford, and The Motley Fool recommends the company. Try any of our Foolish newsletter services free for 30 days. We Fools may not all hold the same opinions, but we all believe that considering a diverse range of insights makes us better investors. The Motley Fool has a disclosure policy.
Copyright 1995 - 2015 The Motley Fool, LLC. All rights reserved. The Motley Fool has a disclosure policy.