Airlines Hit More Revenue Turbulence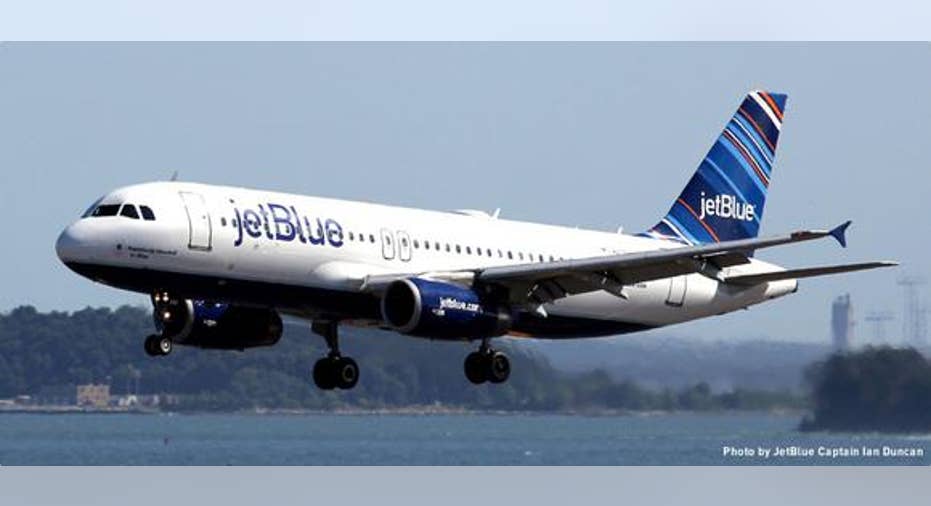 Most airline stocks performed relatively well during February. However, just as airlines' share prices were starting to recover from a weak January, unit revenue appears to have taken a turn for the worse.
In the past week, Delta Air Lines and JetBlue Airways -- the two largest airlines that still report unit revenue on a monthly basis -- both announced that unit revenue declined more than expected in February. What does this mean for airlines' efforts to stabilize their revenue?
Delta's unit revenue disappointsOn its most recent earnings call, Delta Air Lines projected that its passenger unit revenue would fall 2.5%-4.5% during Q1, with much of the decline caused by the strengthening dollar. It then reported a 3% passenger revenue decline for January, which seemed to put Delta on pace to exceed the midpoint of its unit revenue guidance.
Delta saw a drop in last-minute bookings in February.
However, Delta's unit revenue performance sagged in February. Last week, the carrier reported that passenger unit revenue fell 5.5% last month.
At an industry conference on Tuesday, Delta President -- and soon-to-be CEO -- Ed Bastian admitted that the February revenue performance was disappointing. He noted ongoing "choppiness" in domestic demand, particularly for pricey last-minute bookings. Bastian also stated that this pressure on close-in yields has continued into March.
Delta will get some offsetting benefits this month from the early Easter holiday. As a result, the company maintained its Q1 guidance range. Nevertheless, it expects to report Q1 unit revenue in the lower half of the range.
JetBlue hits a bigger bumpJetBlue's unit revenue is taking an even bigger hit from weak demand this quarter. For January, JetBlue reported a fairly respectable 3.5% year over year unit revenue decline. However, in an investor update released on Tuesday, the company stated that unit revenue likely plunged 10%-10.5% during February. As a result, it expects a 7%-8% unit revenue decline for the full quarter.
Speaking at the same industry conference, JetBlue CEO Robin Hayes acknowledged the poor unit revenue performance. Like Bastian, he pointed to lower demand for last-minute tickets, particularly around the key Presidents' Day holiday.
JetBlue reported an even steeper unit revenue decline for February. Image source: JetBlue Airways.
Hayes also noted that JetBlue's capacity growth is peaking this quarter -- and during February in particular. The company expects to increase Q1 capacity 13%-15% year over year. In February, capacity surged 19.6%, due to a big reduction in winter storm cancellations this year, as well as the impact of 2016 being a leap year. Faster capacity growth always tends to pressure unit revenue.
Predicting a quick comebackBoth Bastian and Hayes confidently predicted that unit revenue trends would strengthen later this year. Bastian pointed to Delta's capacity discipline during his presentation, highlighting its willingness to cut underperforming routes. He also said that the headwind from the strong dollar will moderate after Q1 and projected that Delta would return to unit revenue growth by the summer.
Meanwhile, Hayes told investors that JetBlue was starting to redeploy capacity from weaker markets like Colombia and Puerto Rico to stronger domestic markets like Denver. He predicted good results during the peak summer season, and hinted that JetBlue could reduce its capacity plans for the fall if demand continues to miss expectations.
Hayes also observed that JetBlue's capacity growth rate will naturally decline from the 13%-15% expected in Q1 to a mid-single digit rate by the end of the year, due to the timing of its aircraft deliveries. That should provide a natural boost to its unit revenue performance.
Naturally, many investors are nervous about the recent unit revenue weakness at Delta and JetBlue, both for its impact on those two carriers as well as its broader implications for the industry. Fortunately, both airlines appear to be addressing the current slowdown proactively. Unit revenue trends will likely strengthen as 2016 progresses, driving both stocks higher.
The article Airlines Hit More Revenue Turbulence originally appeared on Fool.com.
Adam Levine-Weinberg owns shares of JetBlue Airways and is long January 2017 $17 calls on JetBlue Airways and long January 2017 $40 calls on Delta Air Lines, The Motley Fool has no position in any of the stocks mentioned. Try any of our Foolish newsletter services free for 30 days. We Fools may not all hold the same opinions, but we all believe that considering a diverse range of insights makes us better investors. The Motley Fool has a disclosure policy.
Copyright 1995 - 2016 The Motley Fool, LLC. All rights reserved. The Motley Fool has a disclosure policy.