Airbnb Will Overcome its Latest Setback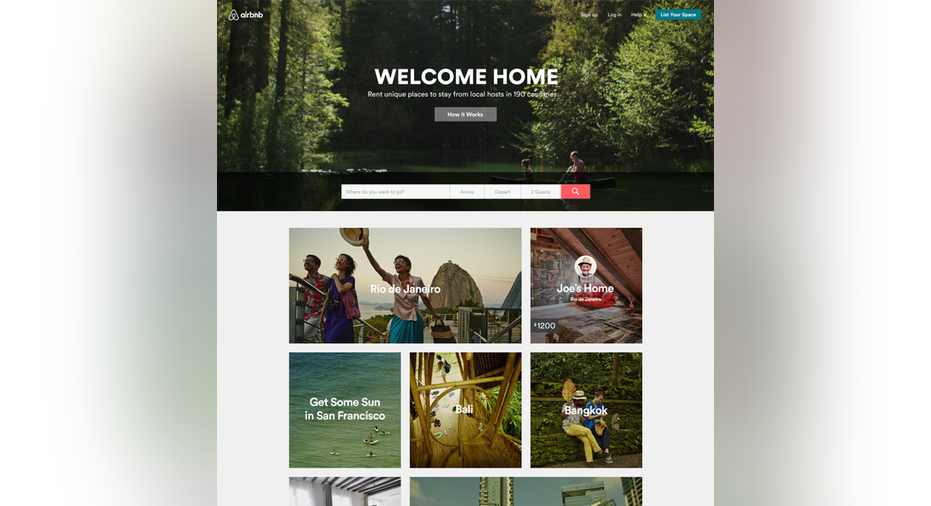 Image source: Airbnb.
A pioneer in the asset-sharing revolution is facing another hurdle on its way to success. The New York State Senate passed a bill late last week that would make online apartment listings for stays shorter than 30 days illegal.
It's up to Governor Andrew Cuomo now to either sign the bill into law or veto it. It's a pretty meaty decision for Airbnb, of course. It would prohibit New Yorkers form turning to the popular site to advertise entire unoccupied apartments for short-term rentals.The penalties will be stiff, hitting providers of short-term apartment rentals with fines of $1,000 for the first offense, ballooning to $7,500 by the third infraction.
This isn't the latest obstacle that Airbnb has faced in trying to level the playing field when it comes to allowing folks with vacant rooms or properties to rent them out. It's not even the first roadblock that Airbnb has faced this month.
Legislation was approved in San Francisco two weeks ago, requiring that Airbnb and its peers post rental listings only by residents that have registered their properties with the city. Any unregistered property owner could be hit with daily fines of as much as $1,000.
Just as Uber has bumped into regulatory resistance in cities and even some foreign countries, not everyone is comfortable with asset-sharing hubs that are creating cottage industries at the expense of more established players. Unfortunately for Airbnb we're talking about New York and San Francisco, two of the biggest lodging markets.
Checking out
Airbnb raised $1.5 billion last summer in a deal valuing the dot-com darling at a cool $25.5 billion. It may not last. Mutual fund operator and Airbnb stakeholder T. Rowe Price slashed its valuation of the company by 6% earlier this year.
Laws being proposed or carried out that make it harder for Airbnb to thrive will cap the upside, and that doesn't necessarily apply to some of its larger peers.Expedia's HomeAway has emerged as the leading traditionalvacation rental exchange operator, but it is unlikely to feel the same kind of sting. HomeAway -- acquired by Expedia in a $3.9 billion deal late last year -- leans largely on existing owners of vacation properties. It's not the masses with a room, basement, or garage apartment to spare that Airbnb attracts. Visitors to Expedia's HomeAway are there to seek out more space than conventional hotel resorts can offer. Visitors to Airbnb want bargains or unique experiences with local color.
Stricter rules may actually help Expedia, especially if it dries up the offerings on Airbnb. That is unlikely to happen. Airbnb has had its setbacks over the years. Renters have ransacked propertiesor in at least one case used a rental to conduct an illegal prostitution ring. The site's popularity to both renters and those with properties to rent continues to grow.
Bills may slow Airbnb, but they're not going to snuff out the inner desire for folks to cash in on their owned or rented properties. The asset-sharing revolution is real, and Airbnb has a room with a view to watch things as they play out.
The article Airbnb Will Overcome its Latest Setback originally appeared on Fool.com.
Rick Munarriz has no position in any stocks mentioned. The Motley Fool has no position in any of the stocks mentioned. Try any of our Foolish newsletter services free for 30 days. We Fools may not all hold the same opinions, but we all believe that considering a diverse range of insights makes us better investors. The Motley Fool has a disclosure policy.
Copyright 1995 - 2016 The Motley Fool, LLC. All rights reserved. The Motley Fool has a disclosure policy.