Air Force Reneges on A-10 Warthog Commitment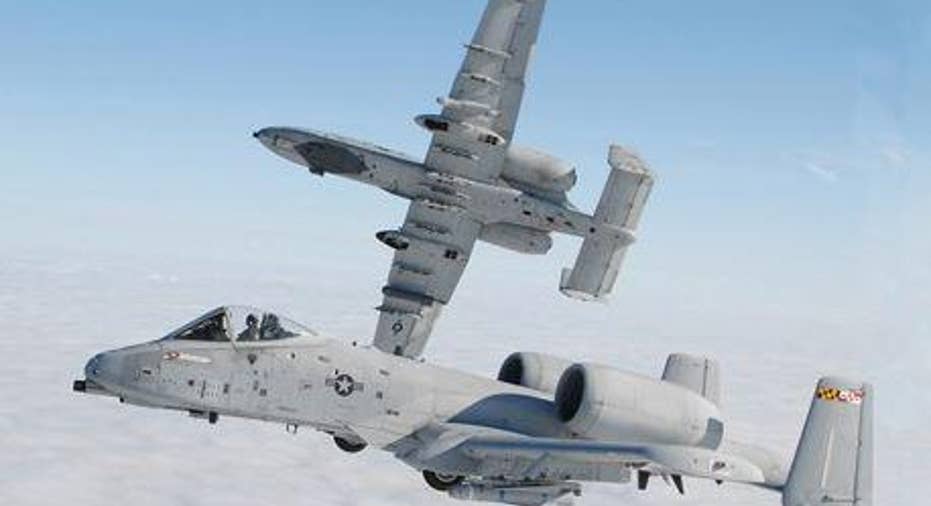 Two months ago, A-10 Warthog supporters were cheering. Now the cheers have fallen silent.
One by one, the Air Force keeps peeling off planes from the A-10 Warthog force. Image source: Northrop Grumman.
In a Feb. 2 speech in Washington, Secretary of Defense Ashton Carter committed the U.S. Air Force to postponing "final retirement" of the A-10 Warthog fighter-bomber "until 2022," putting an end to years of contentious debate over the future of the aircraft -- and that of the Lockheed Martin F-35 stealth fighter meant to replace it. As Carter explained, the A-10 will be replaced "with F-35 Joint Strike Fighters on a squadron-by-squadron basis, so we'll always have enough aircraft for today's conflicts."
Fans of the A-10 cheered Carter's announcement as a victory for the A-10, for common sense, and for economics. (The A-10 is one of the cheapest planes to operate in the U.S. arsenal.) But now it appears they may have celebrated too soon.
The seeds of a fiascoRep. Martha McSally, a well-known backer of the aircraft -- and a former A-10 pilot herself -- hailed the SecDef's decision, though she had gone one step further to insist in a Jan. 28 letter to him and the president: "The U.S. Air Force needs a next-generation A-10 before attempting to mothballanyfurther A-10s."
McSally's remark puts a finger on the most crucial word in Carter's concession: The A-10's retirement would be final in 2022. But retirement might begin much sooner.
This proviso became clear last month, when the Air Force made the shocking announcement that it will pull 49 A-10s from the fleet as early as 2018 -- then retire 49 more in 2019, and 64 in 2020. In 2021, the Air Force would consign 96 aircraft to the boneyard. Subtracted from the 291 A-10s reported to be in the USAF inventory at the start of this year, that would leave just 33 A-10s -- barely one squadron -- to "finally" retire in 2022.
Who benefits? It probably goes without saying that fans of the A-10 are hopping mad at the Air Force's apparent volte-face. Cynics, on the other hand, will recognize that this has been the Air Force's plan all along, to "stand down" A-10 squadrons as quickly as possible, diverting money and manpower to buying F-35 stealth fighters from Lockheed Martin instead. Viewed in that light, Carter's commitment to final retirement in 2022 was less a change in policy and more an exercise in PR.
At the same time, it's worth noting that for as long as the Air Force has tried to kill the A-10 Warthog, it's failed. Past plans to retire the A-10 have been consistently shot down by Congressional opposition to a plan that would deprive U.S. soldiers of "thebest CASplatform mankind has ever designed" -- and it's likely this latest plan will fare no better.
But what if it does?
Follow the moneyIf the A-10 Warthog is indeed retired in the mass numbers posited by the Air Force's latest plan, this would pose a sizable financial setback to two companies in particular. Northrop Grumman inherited the A-10 program from maker Fairchild Republic in 1987. In cooperation with Lockheed Martin (maker of the F-35), it forms the "A-10 Prime Team" responsible for keeping the A-10 flying and modernizing the aircraft as it ages.
The other big loser from an A-10 retirement is Boeing Company . In 2007, Boeingwas awarded a contract worth up to$2 billion to replace up to 242 sets of wingson older Air Force A-10s. (Actual orders come in periodically, with the latest installment being a 2013 contractfor 56 sets of wings valued at $212 million.) According to Boeing, the contract will come close to paying for itself by saving the Air Force $1.3 billion worth of maintenance costs over the next 30 years.
The new wings are designed to upgrade each plane and give it as much as 10,000 flight hours of new lifespan. But here's the thing: If you're planning to retire an airplane in 2022 or 2021 (or 2018!), then it doesn't make much sense to add 10,000 flight hours to its service life. (To put that in context, the average A-10 flew fewer than 300 hoursin 2014, according to a report from the U.S. Air Force that I obtained via a FOIA request. 10,000 flight hours would thus extend the life of the A-10 fleet by about 33 years per plane.)
In other words, if the Air Force's planned phase-out of the A-10 Warthog comes to pass, then Boeing's billion-dollar contract to upgrade the plane will almost certainly be grounded as well.
The article Air Force Reneges on A-10 Warthog Commitment originally appeared on Fool.com.
Rich Smithdoes not own shares of, nor is he short, any company named above. You can find him onMotley Fool CAPS, publicly pontificating under the handleTMFDitty, where he's currently ranked No. 283 out of more than 75,000 rated members.The Motley Fool has no position in any of the stocks mentioned. Try any of our Foolish newsletter services free for 30 days. We Fools may not all hold the same opinions, but we all believe that considering a diverse range of insights makes us better investors. The Motley Fool has a disclosure policy.
Copyright 1995 - 2016 The Motley Fool, LLC. All rights reserved. The Motley Fool has a disclosure policy.