Ahead of Model 3, Tesla Inc. to Double Its Supercharger Network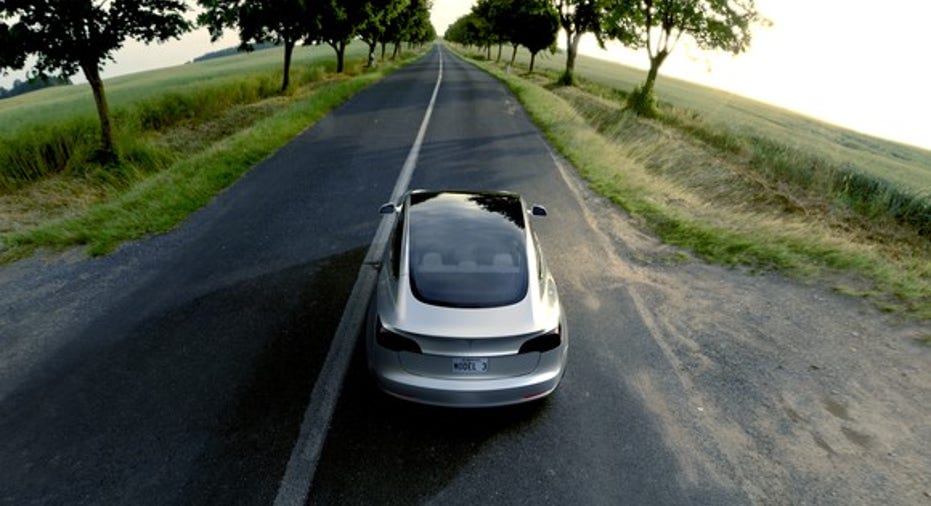 Transitioning from producing vehicles at a rate of about 100,000 units annually today to Tesla's (NASDAQ: TSLA) target to build 500,000 vehicles in 2018 alone is prone to come with some hitches, and an insufficient charging network could be one of them. But Tesla seems resolved to make sure this won't be a problem.
The electric-car maker announced Monday morning that it is expanding its current charging network from about 5,400 Superchargers today to more than 10,000 Superchargers by the end of 2017 -- up from about 5,000 Superchargers at the beginning of the year. The expansion adds to a number of recent strategic moves Tesla has made to revamp its Supercharger program ahead of its higher-volume, lower-cost Model 3 launch in July.
Tesla plans to add customer centers at some of its new big Supercharger sites. Image source: Tesla.
Getting to 10,000 Superchargers
"As Tesla prepares for our first mass-market vehicle and continues to increase our Model S and Model X fleet, we're making charging an even greater priority," Tesla said on Monday. "It is extremely important to us and our mission that charging is convenient, abundant, and reliable for all owners, current and future."
Increasing its total Superchargers from 5,400 to 10,000 globally will mark an unprecedented expansion rate for Tesla's charging network. After first launching its Supercharger network in 2012, it took Tesla nearly five years to build out its Supercharger network to 5,400 fast-charging connections. Its latest expansion plans call for 4,600 more connections in just over six months.
Notably, Tesla says it will increase its Superchargers in North America by 150% and add more than 1,000 Superchargers in California alone. The expansion plans also include new chargers in Asia Pacific and Europe. "We're moving full speed on site selection and many sites will soon enter construction to open in advance of the summer travel season," Tesla said.
Furthermore, Tesla also said the company will build some new larger sites along its busiest travel sites that will accommodate charging for several dozen vehicles and include customer centers.
Preparing for Model 3
Based on the approximately 400,000 deposit-backed reservations Tesla has accumulated for its lower-cost Model 3 vehicle while doing very little to market the new car, Tesla expects the vehicle's July launch to put much higher demands on its charging network next year. This expansion will help Tesla prepare an expected surge in its vehicle fleet size.
Model 3. Image source: Tesla.
But Tesla is preparing for this higher demand on its network in other ways, too. Namely, starting in 2017, Tesla announced new vehicles would only include about 1,000 miles of free charging for long-distance travel per year. Also, Tesla recently implemented an idling fee for vehicles that are plugged into Supercharger locations but are no longer charging.
Tesla's Supercharger network is an integral piece to the value proposition for Tesla customers. The company's aggressive expansion has essentially enabled long-distance travel anywhere in the United States and has facilitated convenient travel in other overseas markets like Western Europe and China. The charging stations provide about 170 miles in 30 minutes.
10 stocks we like better than TeslaWhen investing geniuses David and Tom Gardner have a stock tip, it can pay to listen. After all, the newsletter they have run for over a decade, Motley Fool Stock Advisor, has tripled the market.*
David and Tom just revealed what they believe are the 10 best stocks for investors to buy right now... and Tesla wasn't one of them! That's right -- they think these 10 stocks are even better buys.
Click here to learn about these picks!
*Stock Advisor returns as of April 3, 2017
Daniel Sparks owns shares of Tesla. The Motley Fool owns shares of and recommends Tesla. The Motley Fool has a disclosure policy.