AgroFresh Solutions Outlines a Growth Strategy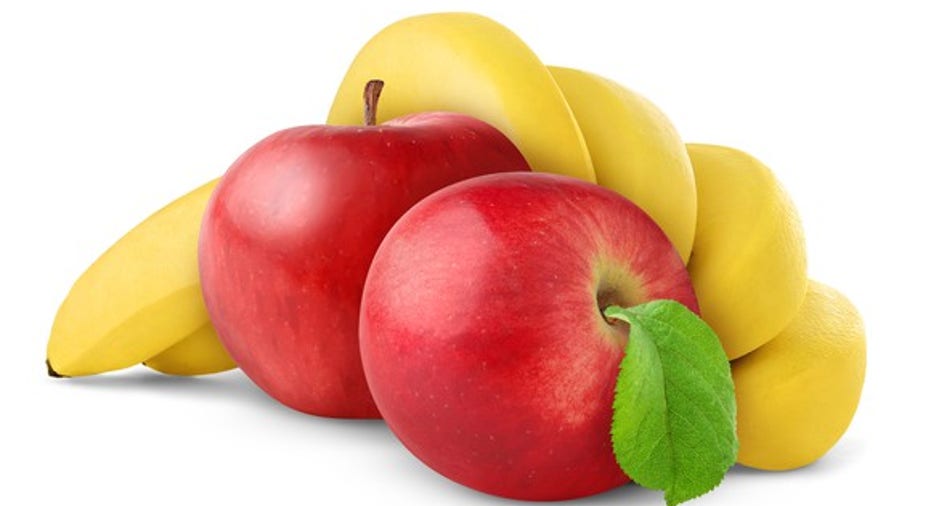 AgroFresh Solutions (NASDAQ: AGFS) needed to steady the ship after a difficult few quarters. After discussing increasing market competition for its core SmartFresh product and lowering its forecast for the U.S. apple harvest in 2016 on the third-quarter results presentation, management was under pressure to demonstrate it was back on track in the fourth quarter. The good news is that AgroFresh pretty much did that. In addition, management outlined some strategic actions taken to create growth. Let's analyze what happened in the quarter.
AgroFresh Solutions fourth quarter: The raw numbers
The headline numbers came in at the low end of guidance given in the third quarter:
Full-year sales of $159.7 million compared to previous guidance of $160 million to $165 million.
Full-year adjusted earnings before interest, tax, depreciation and amortization (EBITDA) of $77.5 million, compared to previous guidance of $77 million to $82 million.
It was a slightly disappointing set of results from a headline perspective, particularly so when you remember that the third-quarter guidance was also substantially lowered from the second quarter -- largely a consequence of the U.S. apple harvest (SmartFresh's core market) coming in lower than previous expectations.
Indeed, management disclosed it would use the "average of the past five years rather than follow the latest crop projections" as a basis for company guidance.
AgroFresh is trying to bring solutions into the banana market, too. Image source: Getty Images.
Guidance for 2017
CEO Jordi Ferre expects a slight decline in gross margin for 2017, but expects cash flow to be significant. Moreover, selling, general and administrative (SG&A) expenses are expected to decrease to a run rate of $11 million in the quarter. As one analyst pointed out, this implies $44 million in SG&A for the full year -- a significant reduction from the $61.8 million reported in 2016.
Given that adjusted EBITDA was only $77.5 million in 2016, this means EBITDA should rise substantially in 2017 simply on the basis of SG&A reductions and only a slight dip in gross margin.
Highlights from the quarter
SmartFresh maintained market share in North America despite growing competition, although the company did take pricing action.
Harvista (a technology that expands harvest windows and reduces fruit drop), which accounts for between 5% and 10% of total sales, increased sales by 54% in the quarter.
The company put in place a new organizational structure in December as part of its growth strategy.
What management said
Ferre spent a significant amount of time on the earnings call discussing the company's four-point growth strategy, which apparently included contributions from well-known strategic consulting firm McKinsey & Company. The plan involves strengthening its core post-harvest business while refining its pre-harvest strategy and acquiring new technologies along the way. The fourth point concerns the sales expansion of RipeLock (banana quality management).
In short, there is nothing in the growth plan that would surprise investors, but then again AgroFresh wouldn't be the first company to hire a strategic consulting firm to hear exactly what they already know.
No matter. Ferre plans to maximize profitability with SmartFresh by transforming it into a "complete quality system" by complementing its post-harvest solution with pre-harvest services -- which could include selling Harvista as part of the SmartFresh system. Meanwhile, AgroFresh's plans to expand SmartFresh sales into new crops and new geographies continue.
Looking ahead
Clearly, AgroFresh's management has its hands full in 2017 as it battles increasing competition in its core markets even as it tries to expand sales of its lesser-known products such as Harvista and RipeLock. That said, its sales are somewhat contingent on the apple harvest (particularly in the Northern Hemisphere), and investors will be hoping for a good crop this year. That would help AgroFresh boost cash flow in order to buy new technologies and expand marketing efforts with some of its newer products.
10 stocks we like better than AgroFresh SolutionsWhen investing geniuses David and Tom Gardner have a stock tip, it can pay to listen. After all, the newsletter they have run for over a decade, Motley Fool Stock Advisor, has tripled the market.*
David and Tom just revealed what they believe are the 10 best stocks for investors to buy right now... and AgroFresh Solutions wasn't one of them! That's right -- they think these 10 stocks are even better buys.
Click here to learn about these picks!
*Stock Advisor returns as of February 6, 2017
Lee Samaha has no position in any stocks mentioned. The Motley Fool recommends AgroFresh Solutions. The Motley Fool has a disclosure policy.