After Years of Being Pursued, T-Mobile Is Crushing It By Going Alone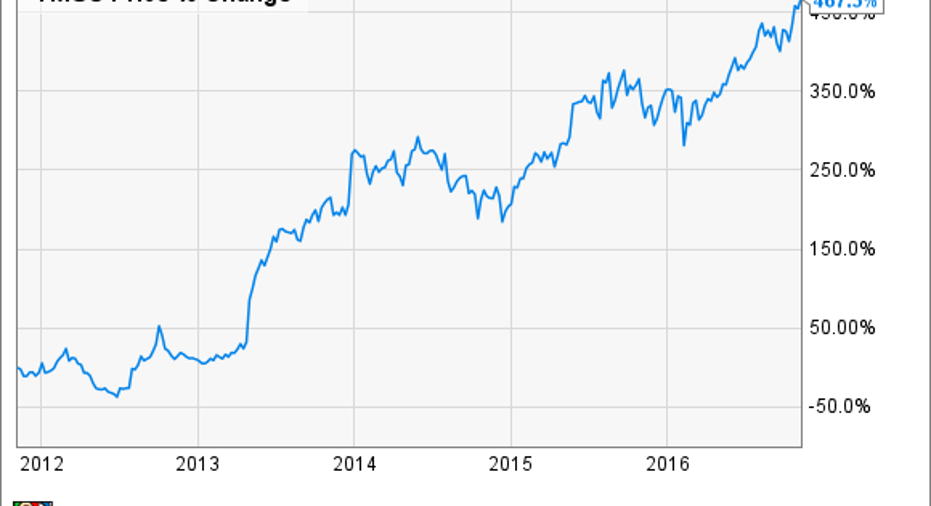 Image source: T-Mobile.
Having been aggressively pursued by two of its major competitors, T-Mobile (NASDAQ: TMUS) probably feels like the belle of the ball. The tech world moves quickly, so it might seem like ancient history when AT&T (NYSE: T) and Sprint (NYSE: S) each attempted to acquire T-Mobile.
A trip down memory lane
Ma Bell's shot was way back in 2011. At the time, T-Mobile had under 34 million subscribers -- less than half the number of subscribers it has today. But that didn't stop AT&T from making a bold $39 billion offer for the then-No. 4 domestic carrier. But the No. 2 carrier acquiring the No. 4 carrier to become the No. 1 carrier raised some obvious antitrust concerns in an already oligopolistic industry. Indeed, antitrust regulators stepped in to block the transaction, rightly arguing that the deal had greater potential to harm consumers and competition than to benefit anyone other than AT&T.
There's a scientific way to look at antitrust concerns. Specifically, the Herfindahl-Hirschman Index (HHI) is a way to measure market concentration. On a scale of 0 to 10,000, the index is derived by squaring the market shares of all competing companies within an industry and adding up the results. HHI increases rapidly if an industry consolidates and fewer players grab up more market share, while a highly competitive industry will have a very low HHI. Simply put, a low HHI indicates very high competition (good for consumers), while a high HHI indicates very low competition (bad for consumers).
In reviewing antitrust cases, the Department of Justice uses the HHI as part of its review. Generally, the DoJ considers an HHI of 1,500 to 2,500 to indicate a moderately concentrated industry, with an HHI above 2,500 representing a highly concentrated industry. The DoJ evaluated the AT&T deal using different geographical markets, calculating how the HHI would change across numerous markets. The results are included as an Appendix to the antitrust lawsuit that can be found here (link opens PDF). On a national level, the deal would have resulted in an HHI of over 3,100, an increase of approximately 700 points that crossed the important 2,500-threshold.
It's no surprise that the deal got blocked.
The second time was not the charm
Sprint's attempt was decidedly less star-crossed, even as it would inevitably suffer the same fate. The then-No. 3 carrier acquiring the then-No. 4 carrier to become an even-stronger No. 3 better capable of putting competitive pressure on the top two sounds like a decent pitch, but ultimately you kind of have to take the theoretically merged company's word for it that it will indeed compete aggressively if allowed to combine. But that's not binding, and a combined company could easily backtrack on its promises and choose not to play hardball, hurting consumers in the process.
While Sprint never made an official offer, it was an open secret that regulators hated the deal. Presumably in an effort to avoid doing more math, regulators preemptively voiced public opinions against the deal, which was a rare occurrence in itself. Sprint ended up backing down before putting anything in writing. Since the offer was never official, regulators didn't have to file a lawsuit to block the deal or calculate the impact to HHI.
The likelihood of blockage, combined with the $1 billion termination fee that Sprint likely would have had to pay, was enough to stop the proposal dead in its tracks. In contrast, AT&T paid a $6 billion termination fee, which included $3 billion worth of valuable spectrum licenses.
Back to the future
These days, T-Mobile is doing incredibly well on its own, in part thanks to what it received as a consolation prize from the failed AT&T deal, which actually helped the carrier eventually score the iPhone. Much like total subscribers, shares of T-Mobile now sit at all-time highs, and its subscriber growth continues to outpace all of its rivals.
Much of the Un-carrier's success can be attributed to John Legere, who was named CEO in September 2012. By taking a rather brash approach, Legere was able to differentiate T-Mobile's brand positioning while reassuring customers that he was on their side. All things considered, T-Mobile investors should be rather pleased with how things have played out over the past five years, particularly as they enjoy gains of nearly 470% over that time frame.
10 stocks we like better than T-Mobile US When investing geniuses David and Tom Gardner have a stock tip, it can pay to listen. After all, the newsletter they have run for over a decade, Motley Fool Stock Advisor, has tripled the market.*
David and Tom just revealed what they believe are the ten best stocks for investors to buy right now... and T-Mobile US wasn't one of them! That's right -- they think these 10 stocks are even better buys.
Click here to learn about these picks!
*Stock Advisor returns as of November 7, 2016
Evan Niu, CFA has no position in any stocks mentioned. The Motley Fool recommends T-Mobile US. Try any of our Foolish newsletter services free for 30 days. We Fools may not all hold the same opinions, but we all believe that considering a diverse range of insights makes us better investors. The Motley Fool has a disclosure policy.