After Nearly 39 Million Deaths, a Cure for HIV Could Be Just 3 Years Away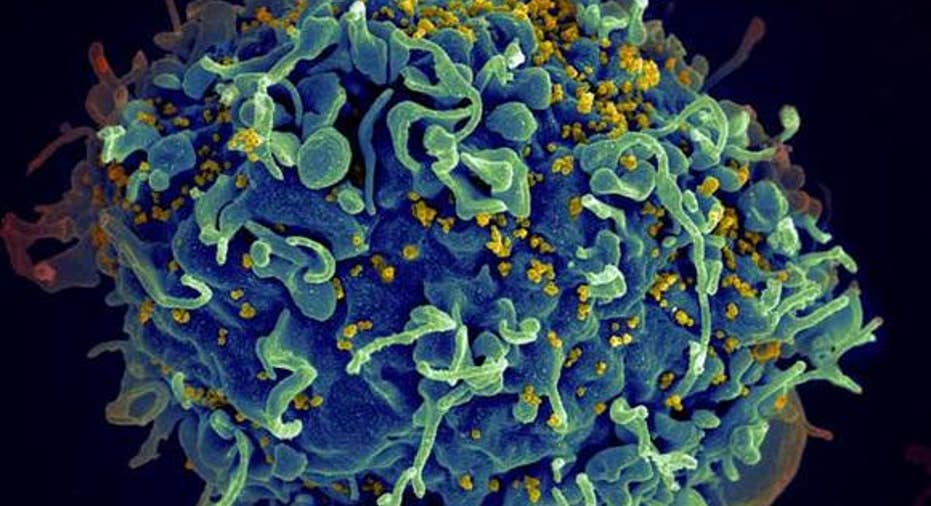 HIV (in yellow) infecting a human T-cell (in blue). Image source: NIH Image Gallery via Flickr.
Cancer might be the disease that gets the vast majority of attention these days, but infectious diseases are actually the biggest global killers.
As a perfect example, take human immunodeficiency virus (HIV), a disease that attacks the cells of the immune system and leaves a person vulnerable to infections. According to statistics from amfAR, the Foundation for AIDS Research, there are nearly 37 million people living with HIV today, and approximately 1.2 million people died from the disease in 2014. Since the disease was discovered, nearly 78 million people have contracted HIV, of which nearly half (39 million) have died from AIDS-related causes (HIV evolves into AIDS when the disease has progressed and few infection-fighting CD4+ white blood cells remain).
But there could be great news right around the corner for HIV/AIDS sufferers.
An HIV cure could be right around the corner Based on a report released a little over two weeks ago from researchers at the Lewis Katz School of Medicine at Temple University, and published in the journal Scientific Reports, scientists appear to have devised a way to eliminate HIV from the DNA of CD4+ T-cells.
The process, known as CRISPR/Cas9, works by targeting the genetic code of HIV that inserts into CD4+ T-cells. After taking blood from an infected patient, researchers genetically modify the Cas9 protein to seek out this genetic code. Once located, the Cas9 protein releases a nuclease enzyme, which in effect removes the HIV virus from the genetic code of the CD4+ T-cell and allows the loose ends of the T-cells' genome to repair themselves.
Image source: Pixabay.
Prior work from senior investigator Kamel Khalili, PhD, and his team of colleagues has demonstrated an ability to remove HIV code from human cell lines, but this study took things a bit further. This study was conducted in an ex vivo setting using infected patients' blood, with researchers determining that not only can they effectively snip HIV-1 out of infected T-cells, but they can protect these cells from re-infection with no toxic side effects.
As noted by Dr. Khalili,
The next step for researchers at Lewis Katz School of Medicine is to obtain funding to take their research to the next level. If researchers can get their desired funding and continue their work, a cure could prove to be as little as three short years away.
Big changes could await HIV drugmakersAssuming Dr. Khalili and his team do indeed have an effective cure for HIV, you might be wondering what would happen with today's HIV drugmakers: namely, Gilead Sciences and ViiV Healthcare, which is majority owned by GlaxoSmithKline and minority owned by Pfizer and Shionogi.
Image source: GlaxoSmithKline.
The likely answer is that Gilead's and GlaxoSmithKline's/Pfizer's/Shionogi's antiretroviral drugs would be used in conjunction with CRISPR/Cas9; but this is, of course, speculation at this point.
Gilead's Stribild and newly introduced Genvoya, and ViiV Healthcare's Triumeq, are therapies designed to dramatically slow or halt the replication process of HIV-1 in patients. Despite having disease control rates of 90% or higher in some instances, these treatments don't cure HIV. If consumers stopped taking these drugs, their disease would be expected to advance into AIDS.
Additionally, these are relatively expensive therapies that infected patients are required to take for the entirety of their lives. Gilead's Stribild has an approximate wholesale cost of $28,500 per year. Genvoya, which contains a newer formulation of tenofovir designed to increase its concentration within infected cells but reduce its concentration throughout the remainder of the bloodstream, has an annual wholesale cost of nearly $31,400. Triumeq priced out around $26,500 annually when it was approved in 2014, but its price may have adjusted higher since then.
Image source: Gilead Sciences.
However, if the method developed by Temple University can protect against cell reinfection, then once a patient is fully treated and tests as clear of the disease, antiretroviral medication would presumably no longer be needed. In other words, Stribild, Genvoya, Triumeq, and a host of other HIV medications could be operating on borrowed time.
Of course, development timelines really should be considered here as well.
For instance, human clinical results are, in a best case scenario, still three years away. Then there's the time it would take for Temple University's treatment to gain approval from the Food and Drug Administration, the time needed to expand its operations to scale to treat more than a few people at a time, and a world with nearly 37 million people infected with HIV -- some of whom don't even realize they have the disease. Even if a cure were to emerge, it could take beyond a decade to ensure people get treated and the disease is eliminated. Or in other words, antiretrovirals' days could be numbered; but probably not for another 15 or more years, assuming this cure works in humans.
The key point, though, is that we could be on the cusp of effectively eliminating another worldwide killer. In just a few short years the scientific community went from a coin flip cure with hepatitis C to an effective cure rate that's often higher than 90%. It's possible that before the decade is over the same might be said of HIV.
The article After Nearly 39 Million Deaths, a Cure for HIV Could Be Just 3 Years Away originally appeared on Fool.com.
Sean Williamshas no material interest in any companies mentioned in this article. You can follow him on CAPS under the screen nameTMFUltraLong, track every pick he makes under the screen name TrackUltraLong, and check him out on Twitter, where he goes by the handle@TMFUltraLong.The Motley Fool owns shares of and recommends Gilead Sciences. Try any of our Foolish newsletter services free for 30 days. We Fools may not all hold the same opinions, but we all believe that considering a diverse range of insights makes us better investors. The Motley Fool has a disclosure policy.
Copyright 1995 - 2016 The Motley Fool, LLC. All rights reserved. The Motley Fool has a disclosure policy.