After Model 3, Tesla Motors Will Make an Even More Affordable Car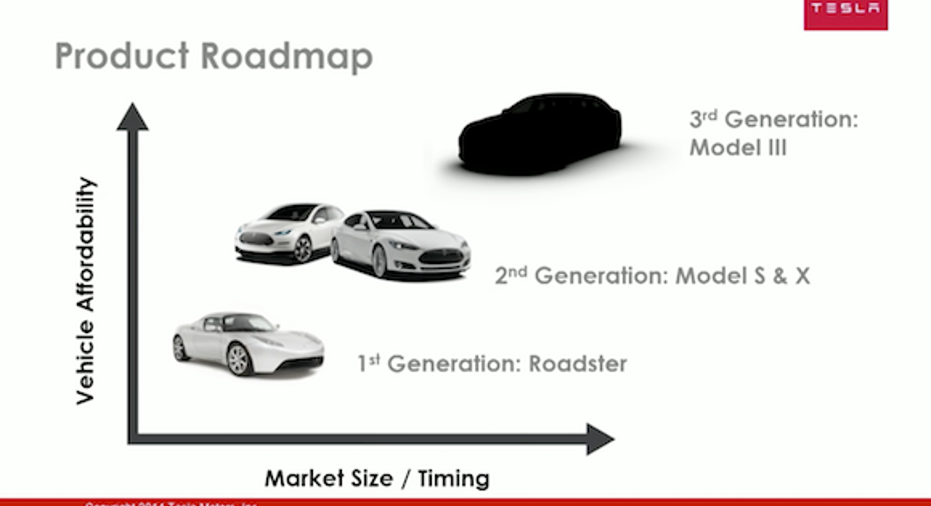 Image source: Tesla.
Right now, all eyes are focused on Tesla's Model 3, which has always been the end goal of Tesla's grand plan. Starting at $35,000 before incentives, Model 3 has always promised to be the electric automaker's mainstream EV that appeals to the mass market. For context, the average transaction price before incentives in March for a new vehicle in the U.S. was $33,666, according to Kelley Blue Book.
But there are still plenty of consumers that can't or won't pay that much for a new vehicle. Tesla has a plan for that market segment, too.
Fourth time's the charmTesla's product roadmap has always consisted of three vehicle platforms. The first was the Roadster, although those were built by hand so there wasn't an actual manufacturing platform. The second includes Model S and Model X, and Model 3 will be built on the third-generation platform. After Model 3 will come Model Y, also built on the same third-generation platform (even though Tesla doesn't really talk about Model Y much these days).
Image source: Tesla.
It turns out that the company is already planning its fourth-generation platform. Tesla CEO Elon Musk recently attended the Future Transport Solutions conference in Norway, and Musk sat down with Norway's minister of transport and communications for a brief discussion. This was also where Musk dropped other hints about a potential future Tesla mobility service. Here's how he referred to the fourth-generation platform:
Musk didn't elaborate any further in terms of specifications or pricing, but you can imagine Tesla potentially targeting a price point in the neighborhood of $20,000 next. That would be a strong offering and would dramatically accelerate EV adoption even more. Meanwhile, we already know that Musk wants to do an electric truck at some point.
Between Model 3, Model Y, an electric truck, and a fourth-generation EV, Tesla will have its hands full for quite some time.
The article After Model 3, Tesla Motors Will Make an Even More Affordable Car originally appeared on Fool.com.
Evan Niu, CFA owns shares of Tesla Motors, andhas the following options: long January 2018 $180 calls on Tesla Motors. The Motley Fool owns shares of and recommends Tesla Motors. Try any of our Foolish newsletter services free for 30 days. We Fools may not all hold the same opinions, but we all believe that considering a diverse range of insights makes us better investors. The Motley Fool has a disclosure policy.
Copyright 1995 - 2016 The Motley Fool, LLC. All rights reserved. The Motley Fool has a disclosure policy.