After Coming Within One Point, Dow Misses 20K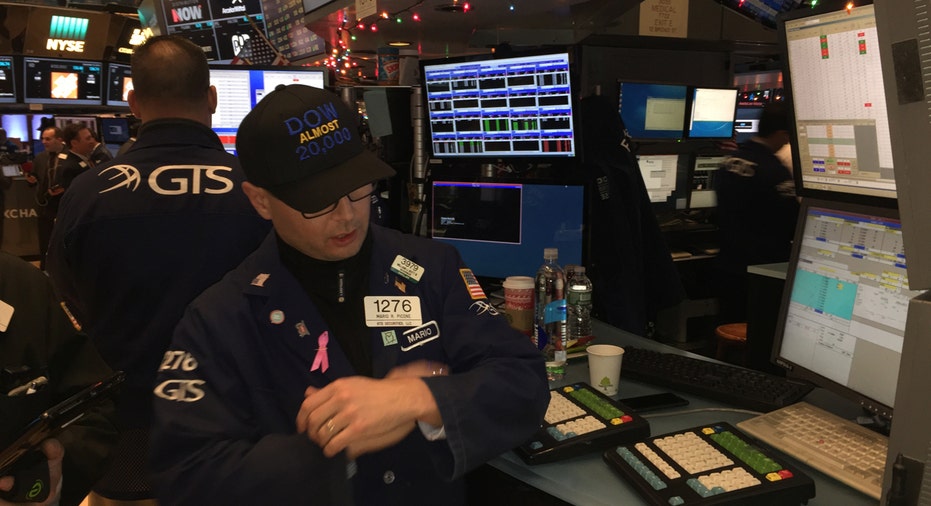 Missed it by that much.
The Dow Jones Industrial Average teased investors Friday by coming within a fraction of a point  of the much-anticipated 20000 milestone for the first time ever. But the blue-chip average lost momentum in the final hour of trade, ending the session down 0.32% to close at 19963. The temporary momentum came on the heels of the December jobs report, which showed wages popped in 2016 and bolstered hopes for stronger economic growth in the new year.
Helping that sentiment was minutes from the Federal Reserve's December meeting, out on Wednesday, which showed central bankers were closely eyeing fiscal policies outlined by President-elect Donald Trump's incoming administration. A combination of lower taxes, less Wall Street regulation, and more spending on the nation's infrastructure are viewed as helping the economy remain on its growth path, and helped push the Fed to increase its 2017 rate-hike forecast to three increases from a previously-projected two.
While Wall Street continues to throw confetti over Trump's proposed plans, Wells Fargo Investment Institute Senior Global Equity Strategist Scott Wren said the rally might not be entirely due to exuberance over the president-elect.
"We are inside the target range that we set for 2016. I would make the argument that we would be close to where we are now no matter who was elected," he said, citing continued U.S. economic improvement in many areas including employment, wages, and home prices.
What's more, he warned forward-looking stock markets could be getting a bit ahead of themselves since Trump's policy ideas are far from a done deal, and no one is certain quite yet what the magnitude of his proposals will be.
"There are plenty of Republicans who disagree with the things Trump is promoting. These proposals will need to be presented in detail, debated, and implemented. And after all that, it'll be six to nine months before you see the effects in the economy…it's more of a 2018 or 2019 story," Wren said.
Still, investors haven't pushed the pause button on the rally just yet. Alongside a run up in equities, which has been slightly more subdued on the broader S&P 500 index – a 6.5% increase since Election Day compared to the Dow's 9% gain, has been a run up in bond yields. The 10-year note recently hit its highest yield since September 2014, while the 30-year yield notched its highest point since July 2015 on confidence in inflation expectations as the economy continues to hum along in 2017.
"Moves in equity markets [are not] the only important measure of sentiment," said David Joy, chief market strategist at Ameriprise Financial (NYSE:AMP) pointing not only to the U.S. election, but to similar moves in Europe after the unexpected Brexit vote in June and last week's Italian constitutional-reform referendum. "At least for the present, investors are saying we want change and are pleased with the outcome of these three events."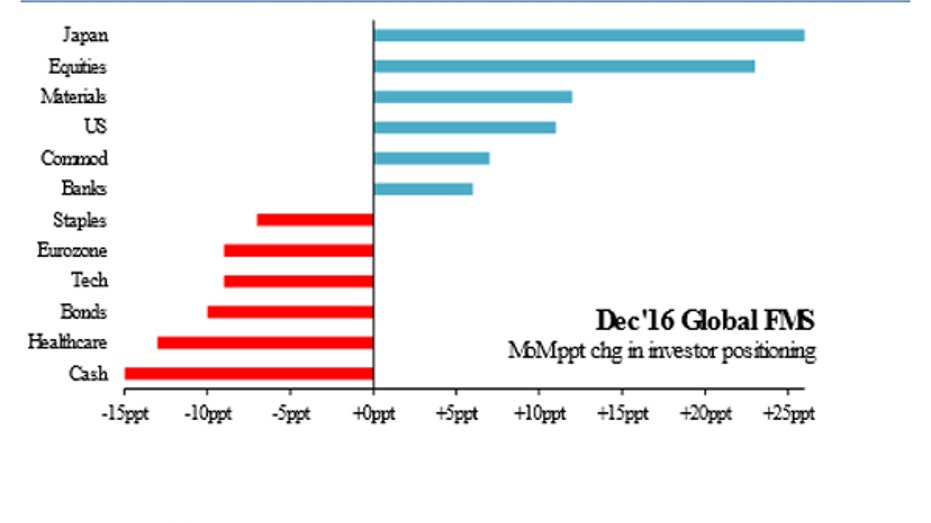 Indeed, data collected on fund-manager sentiment from Bank of America Merrill Lynch (NYSE:BAC) showed global profit expectations have hit six-year highs while cash levels have dropped to 4.8% from 5% in November as investors rotated out of cash, health care, bonds and tech, and into equities including materials and banks.
"With expectations of growth, inflation, and corporate profits at multi-year highs, Wall Street is sending a strong signal that it is bullish," said Michael Hartnett, BAML chief investment strategist.