Affordable EVs for the Masses Are Already Here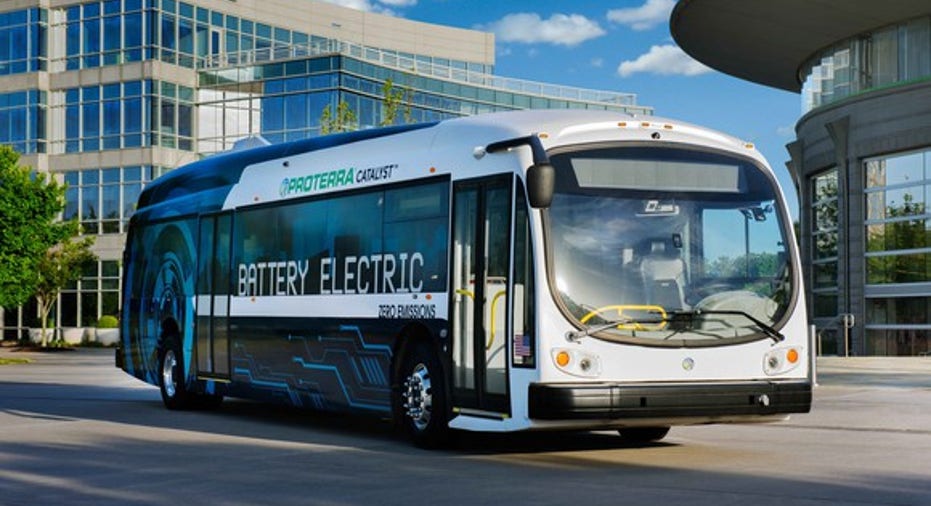 Electric vehicles have been a big topic of conversation in the auto industry over the last few years, whether you're looking at the disruption Telsa (NASDAQ: TSLA) has created or the inroads the big automakers are trying to make into the EV market. Still, with most EVs costing well over $30,000, they aren't an option for most Americans.
However, millions of Americans might soon be riding the streets in electric vehicles every day -- just not the way you might expect based on the media hype. It's electric buses that could soon be taking millions of people to their destinations.
Proterra electric bus. Image source: Proterra.
Why electric buses make sense
Electric transportation doesn't make sense for all situations, but in those cases where there's a known range requirement and sufficient time for recharging at night or between uses, there's a big opportunity. That fits the bus market perfectly, given the local nature of most municipal bus programs.
The challenges to making the switch have always been the cost and availability of electric buses, but those challenges are receding. Proterra is leading the charge, and it's making a strong case to cities across the country. The company can manufacture buses with single-charge ranges from 49 to 350 miles, depending on the model. For short-range buses, the charge time is as little as 10 minutes, while larger battery packs could take three and a half to five hours to get powered up for 251 to 350 miles of driving. Those range options will fit the needs of most municipal bus routes.
The bodies of Proterra's buses are made from a carbon-fiber-reinforced composite material, so they're lightweight, and the company says they can save their owners a small fortune. According to Proterra, they'll cost $237,000 less over their lifetimes on maintenance because what's under the hood is so much simpler than in an ordinary bus -- essentially, just an electric motor and a two-speed transmission. Better yet, at $0.19 per mile, an electric bus beats $0.63 per mile for a hybrid fuel vehicle and $0.84 per mile for diesel.
Image source: Proterra.
Purchase prices are plunging for electric buses
The cost of an electric bus is still about $750,000, which is well over the $450,000 or so that it costs to buy a diesel bus. But when you look at the savings described above, the overall cost case can already be made for switching to electric. And more progress on that front is coming.
Batteries account for a huge percentage of the cost of electric buses, so the industry will be able to ride the cost curve down along with automakers. Battery costs are held close to the vest, but McKinsey & Company has said battery costs for EVs fell from $1,000/kWh in 2010 to $227/kWh in 2016. At that price, a 660 kWh battery pack would cost $149,820. But some analysts project that costs will fall below $100 per kWh by 2030, and many industry experts expect them to drop even faster. At that point, that660 kWh battery pack would cost $66,000 -- still a sizable chunk of money, but creating conditions under which the overall cost of an EV bus could be lower than a fossil-fuel model.
The transition in this segment is progressing quickly. On the Energy Gang Podcast, Proterra CEO Ryan Popple predicted that by 2020, one-third of new buses in the U.S. will be EVs, and by 2030, 100% will be electric. And a lot of the capability needed to make that change is being built in-house, given the fact that Proterra designs and manufactures its own battery packs, just like Tesla does. The sea change in industry trajectory and the supply chain has ramifications for everyone from battery makers to competitors in the bus market.
This isn't a transition that's just the dream of one bus manufacturer, it's already taking place in cities across the country. Philadelphia has 25 electric buses in its fleet, there are 10 corporate shuttle buses run by JLL in Chicago, Park City Transit in Utah runs 6 electric buses, and there are dozens of others operating electric buses across the country, with more on the way. The transition really is taking hold in the bus market.
Who could be in trouble
I've focused on the upside for electric buses and companies like Proterra, which counts Exelon (NYSE: EXC), General Motors (NYSE: GM), and Edison International (NYSE: EIX) among its investors. But the real story here could be the loss of business for other bus manufacturers and suppliers.
Cummins (NYSE: CMI) is a manufacturer of large engines and a major supplier to the bus market. It's already seen revenue stagnate and net income shrink over the past five years, so the loss of a major market could push its business into an overall decline.
New Flyer Industries, Daimler, Hyundai, and Mitsubishi are also big bus manufacturers that could take a hit in demand if electric buses start grabbing big market share. New Flyer is the biggest of these players, and it's trying to move into electric buses. But its development in that arena has been slower than Proterra's, and it's still developing hydrogen-fueled options, which could be a distraction in the long term.
This could be an industry more ready for disruption than the consumer vehicle market. There's financial justification for going electric, and municipalities looking to cut costs will see the savings potential as attractive. It may turn out that the way millions of Americans take their first rides in EVs will be when they climb on board a city bus -- which wouldn't be a bad thing for the EV industry as a whole.
10 stocks we like better thanWal-MartWhen investing geniuses David and TomGardner have a stock tip, it can pay to listen. After all, the newsletter theyhave run for over a decade, the Motley Fool Stock Advisor, has tripled the market.*
David and Tomjust revealed what they believe are theten best stocksfor investors to buy right now... and Wal-Mart wasn't one of them! That's right -- theythink these 10 stocks are even better buys.
Click hereto learn about these picks!
*StockAdvisor returns as of March 6, 2017The author(s) may have a position in any stocks mentioned.
Travis Hoium has no position in any stocks mentioned. The Motley Fool owns shares of and recommends Cummins and Tesla. The Motley Fool has a disclosure policy.