Affiliated Managers Group Takes a Big Revenue Hit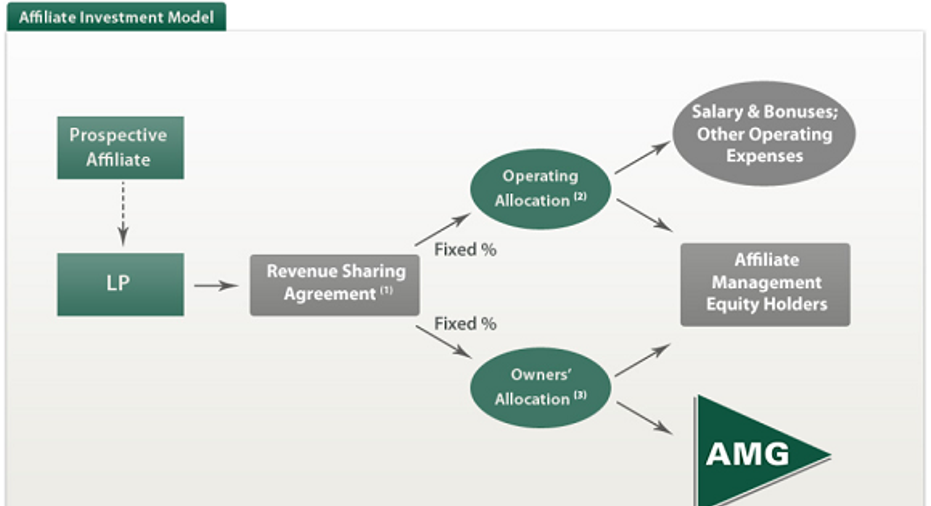 Image source: AMG.
The first quarter was a rocky one for the stock market, and investment management firm Affiliated Managers Group had to do its best to weather the storm and position itself to ride out ongoing volatility. Investors were already nervous about the potential impact of the stock market's correction in January and February on the company, and coming into Affiliated Managers Group's first-quarter financial report, shareholders were prepared for a drop in revenue and flat earnings from year-ago levels. In its report, Affiliated Managers Group did a good job of protecting its bottom line, but investors are still nervous about what might be yet to come for the company. Let's look more closely at what Affiliated Managers Group said and whether it can bounce back in the months to come.
Dealing with volatile marketsAffiliated Managers Group's first-quarter results reflected the uncertain conditions in the financial markets. Revenue dropped more than 14% to $545.4 million, which was far worse than the 8% decline that most investors were predicting. GAAP net income fell by almost 20%, but the company's preferred economic net income figure was down just 1% to $159.9 million. That produced economic earnings per share of $2.94, which was $0.02 better than the consensus forecast among investors and actually up from year-ago levels because of a drop in outstanding share count.
Taking a closer look at its results, market conditions still weighed on Affiliated Managers Group's business, but not to the same extent as in the fourth quarter of 2015. Perhaps the most promising news from the report was that AMG reported net inflows for the quarter totaling $5.1 billion, reversing the $6.8 billion in outflows from the fourth quarter. The mutual fund segment was responsible for about two-thirds of those inflows, showing the rise in confidence among rank-and-file investors as the quarter progressed and the markets rebounded from their worst levels of near the beginning of the year. Institutional flows were roughly flat, but high-net-worth individuals also posted decent gains. Market changes helped boost overall assets, and even foreign-exchange considerations worked in the company's favor. On the whole, total assets under management rose to $642 billion, up 5% since the end of 2015.
Affiliated Managers Group has also worked hard to make sure it keeps costs under control. Compensation cost cuts of 10% helped bolster the bottom line, and general overhead fell at an even steeper 12% pace.
CEO Sean Healey set the tone for the report positively. "Notwithstanding a challenging market environment," Healey said, "AMG generated strong results in the first quarter," and the CEO pointed to the gain in economic earnings per share "in spite of declines in global indices over the period" as a sign of success.
What's ahead for AMG?Affiliated Managers Group was also excited about what the future could bring. In Healey's words, "Given our continuing asset growth, the quality of our Affiliates and their long-term performance track records, and the ongoing success of our strategy to partner with the highest-quality boutiques worldwide, AMG is positioned to generate further earnings growth ahead."
In particular, AMG sees potential for its actively managed products. At times, market downturns can actually lead to an increase in assets under management for active managers that aim at investors who are unhappy with their own results. Given the upsurge in the appetite for exchange-traded funds and other passive investment strategies, being able to market strategies that can protect investors from market downturns more effectively is sometimes a smart strategy to follow. By setting itself up as a top-class partner to boutique financial firms around the world, AMG is finding new ways to grow.
Yet investors in Affiliated Managers Group didn't necessarily see it that way, and the stock fell nearly 4% at midday following the announcement. In order to reassure shareholders of its tenacity in the face of turbulent markets, AMG will likely have to keep delivering strong performance and find more ways to counteract the potential negative impacts of investor fear.
The article Affiliated Managers Group Takes a Big Revenue Hit originally appeared on Fool.com.
Dan Caplinger has no position in any stocks mentioned. The Motley Fool recommends Affiliated Managers Group. Try any of our Foolish newsletter services free for 30 days. We Fools may not all hold the same opinions, but we all believe that considering a diverse range of insights makes us better investors. The Motley Fool has a disclosure policy.
Copyright 1995 - 2016 The Motley Fool, LLC. All rights reserved. The Motley Fool has a disclosure policy.