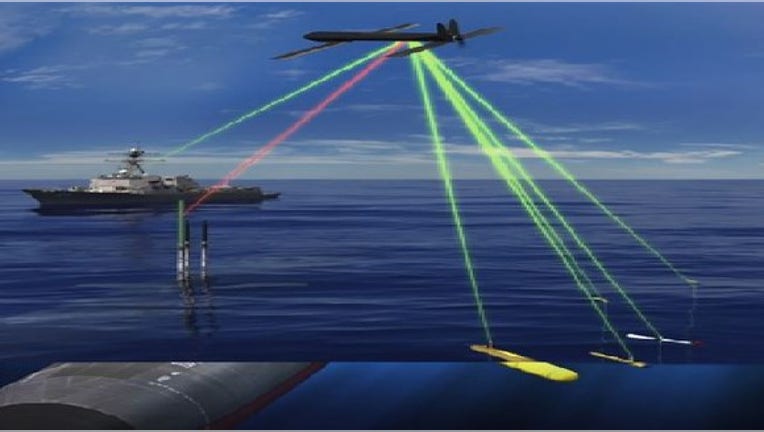 Blackwing: AeroVironment's latest eye in the sky. Image source: AeroVironment.
August was not a kind month to unmanned aerial vehicle maker AeroVironment (NASDAQ: AVAV). News that the company's revenues had declined 23% in fiscal Q1, while losses swelled 66%, sent AeroVironment's shares into a tailspin -- down 19% in a single day.
But fear not, says AeroVironment. There's better news on the way -- and you can thank the U.S. Navy for it.
Eyes in the sky
Last week, AeroVironment announcedthe successful completion of a run of tests it conducted with the Naval Undersea Warfare Center. These tests showed how U.S. navy submarines can use AeroVironment Blackwing unmanned aircraft vehicles (UAVs) to communicate with "swarms" of drone submarines (called unmanned underwater vehicles, or UUVs).
"Using an open-architecture communication system," says AV, Navy subs of the future will be able to communicate with and "control ... multiple unmanned vehicles over long distances."
And there's more. At the same time they're helping sub-drivers to control "a swarm of unmanned undersea vehicles" wirelessly, these same Blackwings serve another purpose: As aerial eyes in the sky, they can beam down "unique intelligence, surveillance and reconnaissance (ISR) capability to submarine commanders."
"Swarms"? Do we even have "swarms"?
Now, if you've been following news in the world of underwater military robots, you know that the Navy does not actually possess literal "swarms" of UUVs for Blackwing to talk with. It's got "a handful" at best.
Boeing (NYSE: BA) , Lockheed Martin (NYSE: LMT), General Dynamics (NYSE: GD), and Huntington Ingalls (NYSE: HII) all have prototype UUVs in development. And presumably, these are the "multiple UUVs" that Blackwing was communicating with during the Navy's Annual Naval Technology Exercise on August 16, where Blackwing was tested.
(In fact, if you squint, you can probably just make out depictions of Boeing's Echo Ranger, General Dynamics' Knifefish, and what might be either Huntington Ingalls' Proteus or Lockheed Martin's troubled "RMMV" drone submarines in AeroVironment's illustration of the Blackwing in action, up above).
What it means for investors
But that's not the point. Even if AeroVironment perhaps stretched the definition of "swarms" a bit, the major thesis of its argument rings true. Earlier this year, AV confirmedU.S. Navy plans in place to deploy its Blackwing across its fleet of attack and guided missile submarines. That fleet currently boasts 70 boats, with more on the way.
As I've stated before, my best guess at the value of deploying Blackwing across this fleet is that it's worth roughly $5 million in revenues to AeroVironment, times the number of Blackwings deployed per submarine. I also assume that each sub would carry multiple Blackwings -- and now we're learning there may be more revenues in play, as Blackwing gains new capability in commanding and controlling remotely operated drone subs.
Notorious for holding the price of its wares close to the vest, it's hard to say at this point precisely how big of a revenue opportunity this is for AeroVironment. But for a small defense contractor like AV, it sure does sound like a sizable opportunity.
One more thing: In its press release describing Blackwing, AeroVironment also disclosed that it has partnered with Sparton Corporation (NYSE: SPA) on the project. Smaller in size than General Dynamics or Huntington, and far smaller than Boeing and Lockheed, Sparton boasts a revenue stream 65% greater than AeroVironment's own -- but a market cap less than half AV's size. If you think AeroVironment is worth investing in on the prospect that Blackwing will take off, Sparton Corp may make for an even more promising opportunity.
A secret billion-dollar stock opportunity The world's biggest tech company forgot to show you something, but a few Wall Street analysts and the Fool didn't miss a beat: There's a small company that's powering their brand-new gadgets and the coming revolution in technology. And we think its stock price has nearly unlimited room to run for early in-the-know investors! To be one of them, just click here.
Fool contributorRich Smithdoes not own shares of, nor is he short, any company named above. You can find him on CAPS, publicly pontificating under the handleTMFDitty, where he's currently ranked No. 281 out of more than 75,000 rated members.
The Motley Fool recommends AeroVironment. Try any of our Foolish newsletter services free for 30 days. We Fools may not all hold the same opinions, but we all believe that considering a diverse range of insights makes us better investors. The Motley Fool has a disclosure policy.