AeroVironment and Hyundai: Together at Last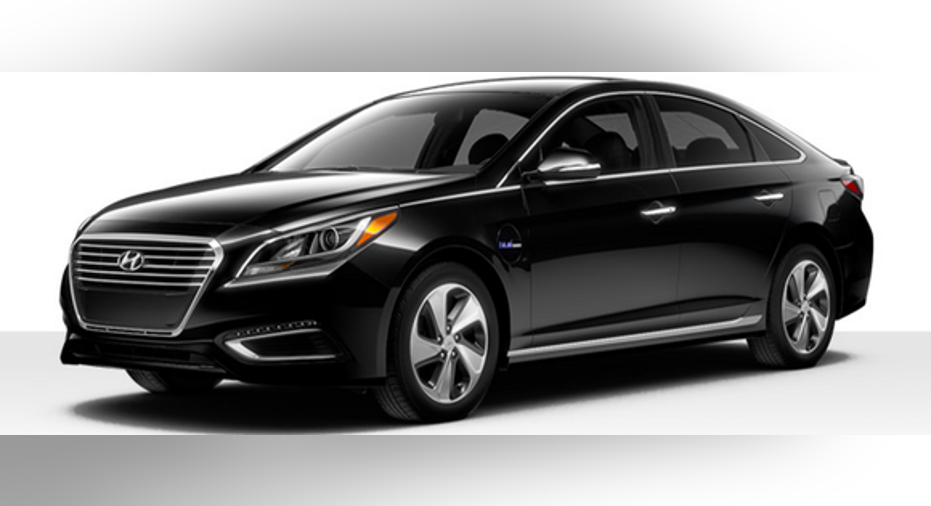 Meet the newest member of team AeroVironment. Image source: Hyundai Motor Company.
BMW,Fiat,Ford,Mitsubishi, Nissan,Volvo.
During the past five years, the weird conglomeration of drones-and-battery-charging technology that is AeroVironment has piled up six major automotive partners for its business recharging battery-powered electric cars. (Toyota, which might have been a seventh, is so far only cooperating with AV on recharging its industrial forklifts.)
This week, AeroVironment landed yet another big fish: Hyundai .
Last week, AeroVironment and Hyundai announced that the latter has picked the former as its "preferred provider for charging system installation at its dealerships across North America." As detailed in a press release, buyers of the new 2016 Hyundai Sonata Plug-in Hybrid sedan will be given the option, when purchasing their vehicles, to simultaneously buy an AeroVironment EVSE-RS charging station and 240-volt TurboCord charter.
AeroVironment will provide certified, licensed electricians to install the charging station in a buyer's home. And assuming this deal is like others AV has announced in the past, buyers will be able to bundle the cost of the charging station and its installation into their car loans -- instead of having to pay up front and out of pocket.
What does it mean to investors?How big of a deal is Hyundai to AeroVironment? It's hard to say. On one hand, last month, Hyundai reported that September marked its eight month in a row of selling more than 60,000 cars in the U.S. The company's on pace to make 2015 potentially its best year ever selling cars in the U.S.And globally, Hyundai ranks in the top 10 of automakers that industry execs think will expand their market share during the next five years.
On the other hand, Hyundai still isn't anywhere near the first brand you think of when you hear the phrase "electric car." Nissan, Ford, Honda -- those are still the EV car brands in the forefront of most car buyers' minds. As for Hyundai... well, even Hyundai admits there "is not a great market demand for these (alternative fuel) cars."
Still, two out of three isn't bad -- and AeroVironment does have Nissan and Ford on board. Adding Hyundai to its stable of partners, AeroVironment is getting close to sweeping the field, widening its moat, and making it harder for new competitors to enter the market.
Whether that will be enough to help AV reverse the trend of declining revenues in its Efficient Energy Systems business -- where sales have slid steadily for three years running, according to data from S&P Capital IQ-- remains to be seen.
The article AeroVironment and Hyundai: Together at Last originally appeared on Fool.com.
Rich Smithdoes not own shares of, nor is he short, any company named above. You can find him onMotley Fool CAPS, publicly pontificating under the handleTMFDitty, where he's currently ranked No. 308 out of more than 75,000 rated members.The Motley Fool owns shares of and recommends AeroVironment. The Motley Fool recommends Ford. Try any of our Foolish newsletter services free for 30 days. We Fools may not all hold the same opinions, but we all believe that considering a diverse range of insights makes us better investors. The Motley Fool has a disclosure policy.
Copyright 1995 - 2015 The Motley Fool, LLC. All rights reserved. The Motley Fool has a disclosure policy.