Aerojet Rocketdyne Trades a Loss for a Profit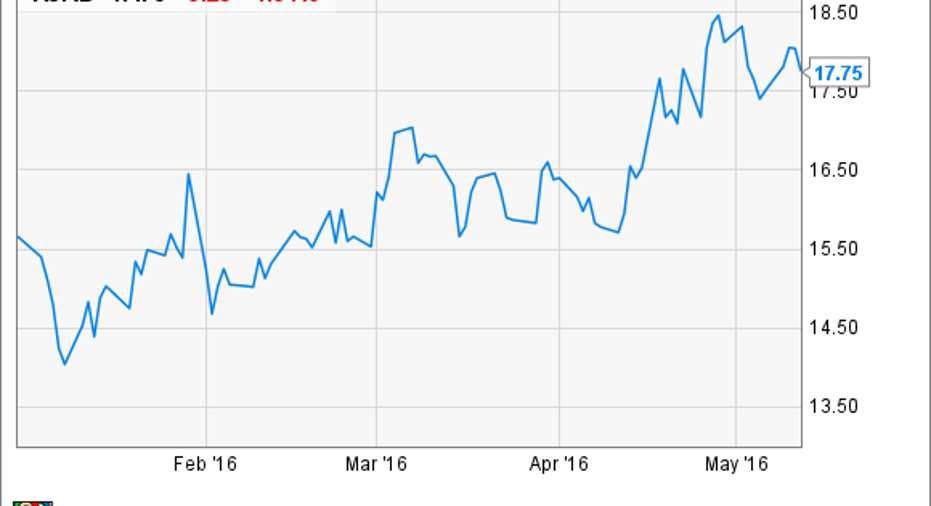 Aerojet Rocketdyne stock has risen nicely so far this year. But does it deserve to?AJRD data by YCharts.
Aerojet Rocketdyne stock is back in the black. (But does it matter?)
About this time of year, one year ago, the rocket-motor maker was trudging up to the podium to report that it had just lost $0.06 per share. This time around, Aerojet Rocketdyne had much happier news to report to its investors: a $0.08-per-share profit. Here's how the rest of the quarter went down.
The news
In fiscal Q1 2016, Aerojet Rocketdyne:
Grew its revenue 10.5% to $355.3 million.
Expanded its operating profit margin by 430 basis points, to 5.5%.
Quadrupled operating profits to $19.6 million.
Burned slightly less cash (negative free cash flow of $39.4 million, $500,000 less than last year).
As already mentioned, turned its year-ago net loss into a quarterly profit of $0.08 per share.
What made that last bit an even neater feat was the fact that Aerojet grew its share count by 7%, thus diluting the profits its investors would have earned had that not taken place. In other words, had they not issued all of those new shares, investors' profits would have been closer to $0.09 per share. (Hint: Share dilution is rarely a good thing for existing shareholders.)
Backlog
Sadly, that wasn't the only bad news in Aerojet's report. Funded backlog at the company declined modestly to $2.3 billion (from $2.4 billion last quarter). Unfunded backlog (for which Congress has not appropriated funds) also declined by $100 million, to $1.6 million. The total shrinkage in backlog therefore amounts to about $200 million -- a 5% decline from the end of last year.
AR1 -- Aerojet's new hope
On the plus side, Aerojet CEO Eileen Drake noted that Aerojet continues to "move forward with the development of our newest liquid booster engine, the AR1, with the announcement in February 2016 of the U.S. Air Force's selection of Aerojet Rocketdyne to share in a public-private partnership to develop jointly the AR1 engine." As you may recall, in March of this year, the Air Force awarded $46.6 million in funding to Boeing and Lockheed Martin's United Launch Alliance joint venture to help cover the costs of developing Blue Origin's BE-4 engine for their new Vulcan rocket.
Simultaneously with that award, though, the Air Force awarded Aerojet $115.3 million -- twice ULA's grant -- to continue development of AR1 as a backup engine in case Blue Origin's offering doesn't pan out.
Aerojet noted in its earnings release that the total cost of developing AR1 is expected to reach $804 million, of which the Air Force (i.e., taxpayers) will pay $536 million, with Aerojet footing the bill on the balance. That means that, while Boeing and Lockheed Martin have made clear their preference for Blue Origin's engine, there's still a whole lot more government money coming Aerojet's way. The $115.3 million the Air Force paid in March? That's just the first installment.
What it all means to investors
Where does this leave Aerojet Rocketdyne shareholders, post-earnings? Valuation-wise, the picture remains bleak.
You can't value the company on earnings, because net income for the past 12 months remains negative despite the Q1 profit. And valued on free cash flow, the picture isn't much better.
Free cash flow generation has improved marginally, to about $28.8 million over the past 12 months. Weighed against the company's $1.1 billion market capitalization, that works out to a price-to-free cash flow ratio of nearly 40 times. (And that's not even counting the company's long-term debt, which amounts to $620 million -- or $1.2 billion including pension obligations.)
Long story short, Q1's improved profitability, and evidence of financial support from the U.S. government, are both positive developments in Aerojet's story. But they're not the most important story. That would be valuation -- and I fear that story may not have a happy ending for owners of Aerojet Rocketdyne stock.
The article Aerojet Rocketdyne Trades a Loss for a Profit originally appeared on Fool.com.
Rich Smithdoes not own shares of, nor is he short, any company named above. You can find him onMotley Fool CAPS, publicly pontificating under the handleTMFDitty, where he's currently ranked No. 291 out of more than 75,000 rated members.The Motley Fool has no position in any of the stocks mentioned. Try any of our Foolish newsletter services free for 30 days. We Fools may not all hold the same opinions, but we all believe that considering a diverse range of insights makes us better investors. The Motley Fool has a disclosure policy.
Copyright 1995 - 2016 The Motley Fool, LLC. All rights reserved. The Motley Fool has a disclosure policy.