Aerojet Rocketdyne Books Another Massive Earnings Miss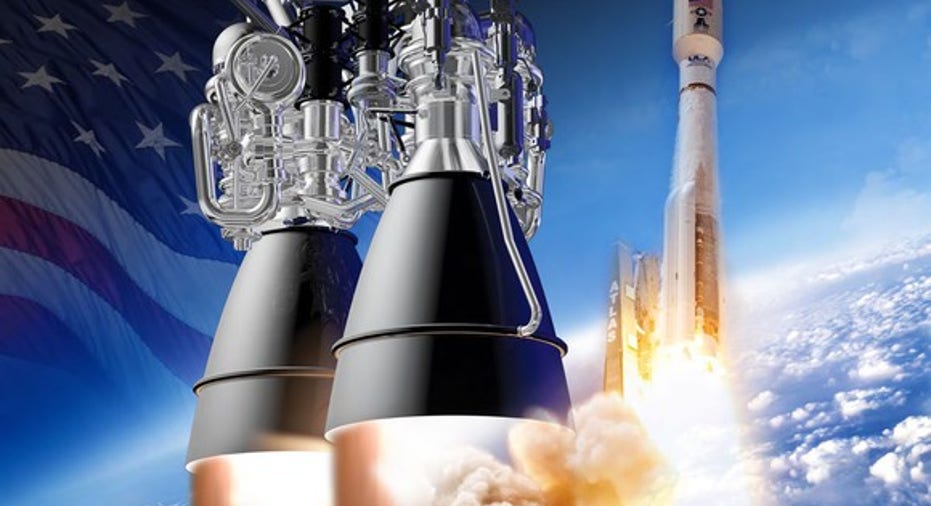 Well, the earnings are out, and now it's official: For the fourth time in a row, Aerojet Rocketdyne (NYSE: AJRD) has missed on earnings -- big time.
Reporting financial resultsfor its fiscal first quarter 2017, Aerojet Rocketdyne confirmed on Monday that it grew quarterly sales 13% year over year to $405.3 million. Operating profit margin on this revenue, however, plunged 150 basis points to just 4%.
Aerojet Rocketdyne is building a new rocket engine dubbed the AR-1 -- but will it arrive in time to save the stock? Image source: Aerojet Rocketdyne.
Although its improved revenue permitted Aerojet to grow its net profit to $5.9 million in the quarter, significant levels of stock dilution (14.5%) spread out the increased profits among a greater number of shares. As a result, bottom-line profits showed no improvement whatsoever, and Aerojet earned just $0.08 per share -- precisely what it earned one year ago.
Investors were disappointed with the result, bidding down Aerojet shares by more than 5% from their pre-earnings price. Analysts had been estimating that Aerojet would earn $0.14 per share in Q1, but Aerojet fell far short of that mark -- just as it had "missed earnings" in the previous three quarters. Tic-tac-toe -- oh no! That makes four misses in a rowfor Aerojet Rocketdyne.
At the same time, backlog at the company declined by $300 million (to $4.2 billion), which may foreshadow declines in revenue somewhere down the line. Finally, the company reported negative free cash flow for Q1.
Pluses and minuses
There was some good news to report, too. Although Aerojet Rocketdyne burned cash in Q1 (despite reporting positive GAAP profits, free cash flow ran negative to the tune of $5.8 million), it burned far less cash in Q1 2017 than it had in Q1 2016 (when FCF was a much more disturbing negative $39.4 million).
So what does all this mean for investors?
That may depend on which numbers you choose to focus on. If GAAP financials are your bag, then the $18.8 million in trailing-12-month profits that Aerojet has recorded look pretty meager relative to the stock's $1.56 billion market capitalization. Valued on GAAP profits, Aerojet stock sells for a whopping 83 times earnings -- and is no bargain at all.
On the other hand, thanks to Aerojet's more muted cash-burn in Q1 2017, the company's trailing free cash flow number looks a whole lot healthier than we've seen in some years. Currently, Aerojet's trailing FCF comes to an impressive $144.4 million, and that works out to a price-to-free cash flow ratio of just 10.8 on Aerojet Rocketdyne stock -- a much more attractive proposition for value investors.
That said, current analyst estimates, as quoted on S&P Global Market Intelligence, call for annualized profits growth of only 8% at Aerojet over the next five years. At that slow pace of growth, even 10.8 times FCF may be no bargain price -- and on 8% growth, the stock's 83 times earnings valuation is downright frightening.
Thus, with its valuation ranging from mildly unattractive to utterly terrifying, I fear the best advice I can give to would-be Aerojet investors right now is: Stay away. This rocket stock could burn you.
10 stocks we like better than Aerojet Rocketdyne When investing geniuses David and Tom Gardner have a stock tip, it can pay to listen. After all, the newsletter they have run for over a decade, Motley Fool Stock Advisor, has tripled the market.*
David and Tom just revealed what they believe are the 10 best stocks for investors to buy right now... and Aerojet Rocketdyne wasn't one of them! That's right -- they think these 10 stocks are even better buys.
Click here to learn about these picks!
*Stock Advisor returns as of May 1, 2017
Rich Smith has no position in any stocks mentioned. The Motley Fool has no position in any of the stocks mentioned. The Motley Fool has a disclosure policy.