Advanced Micro Devices, Inc.'s Best Product in 2015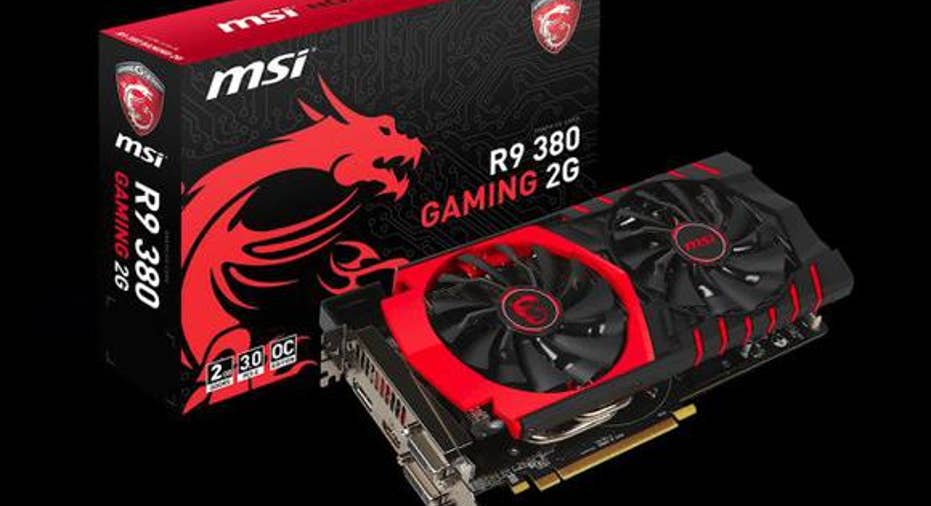 AMD RADEON R9 380. SOURCE: MSI
2015 was volatile for AMD . Shares of the beleaguered chip giantinitially surged to start the year, only to tumble heading into the fall. But then, in the fourth quarter, AMD began a steady rally higher, and closed the year up roughly 10%.
The company's business has been similarly shaky. While it continues to lag behind its chief rival, Intel, in PC processors and struggles to remain competitive withNVIDIA in the graphics market, a new PC architecture coming next year (Zen) and the long-term potential of a new graphics architecture both offer hope for a better future.
Unfortunately, few of AMD's 2015 products stood out. But one in particular offered solid value. The Radeon R9 380X, launched in November, offers buyers solid performance at an attractive price.
Doing what AMD does bestIn recent years, AMD has struggled to match NVIDIA's high-end graphics processors in terms of pure performance, instead competing on value, offering quality cards at more affordable prices. But in 2015 it came close to dethroning NVIDIA. Announced in June, the Radeon Fury X is AMD's new high-end card, running on its Fiji architecture. However, while it initially appeared promising, final reviews proved less than satisfactory. Priced roughly the same as NVIDIA's competing 980 Ti, the Fury X comes close, but can't quite stand up to NVIDIA's card.
Instead, it's in the middle of the market where AMD excels. Retailing for around $230, the Radeon R9 380X occupies a niche between NVIDIA's roughly $200 GTX 960 and the more than $300 GTX 970. The Radeon R9 380X outperforms the GTX 960 for just a few dollars more, and while it can't quite match the GTX 970, it's much less expensive.
"The GTX 970 [is] quite a bit faster but also quite a bit more expensive then the R9 380X -- though still a bit of an overall spoiler like the R9 390 -- while the R9 380X will pass the 2GB GTX 960, albeit with a price premium of its own. At this point it's safe to say that AMD holds a distinct edge on performance for the price, as they often do, though as has been the case all this generation they aren't going to match NVIDIA's power efficiency," wrote Ryan Smith in his review for AnandTech.
An almost 80-20 splitThe R9 380X has only been on sale for a little more than a month, so it's hard to say whether it will help AMD claw back significant share from NVIDIA. Over the last several years, AMD has lost a sizable share of the graphics card market to NVIDIA, which now accounts for about 80% of the market. In the third quarter, AMD's market share rose slightly, but only to 18.8%. NVIDIA accounted for almost all of the remaining sales.
Still, AMD's graphics business remains intriguing, especially on the eve of what could be a revolutionary technology. Both HTC and Facebook are set to launch virtual reality headsets aimed at PC gamers in the first half of 2016. In order to take advantage, would-be virtual reality users will need PCs equipped with powerful graphics cards. Unfortunately, it's not clear if the R9 380X will be enough for those headsets. But AMD will undoubtedly refresh its lineup in the months and years ahead. If it can continue to own that mid-range niche, its cards could emerge as the affordable entry point to experiencing immersive virtual reality.
The article Advanced Micro Devices, Inc.'s Best Product in 2015 originally appeared on Fool.com.
Sam Mattera has no position in any stocks mentioned. The Motley Fool owns shares of and recommends Facebook. The Motley Fool recommends Intel and Nvidia. Try any of our Foolish newsletter services free for 30 days. We Fools may not all hold the same opinions, but we all believe that considering a diverse range of insights makes us better investors. The Motley Fool has a disclosure policy.
Copyright 1995 - 2016 The Motley Fool, LLC. All rights reserved. The Motley Fool has a disclosure policy.