Adobe Remains on Track for a Solid Year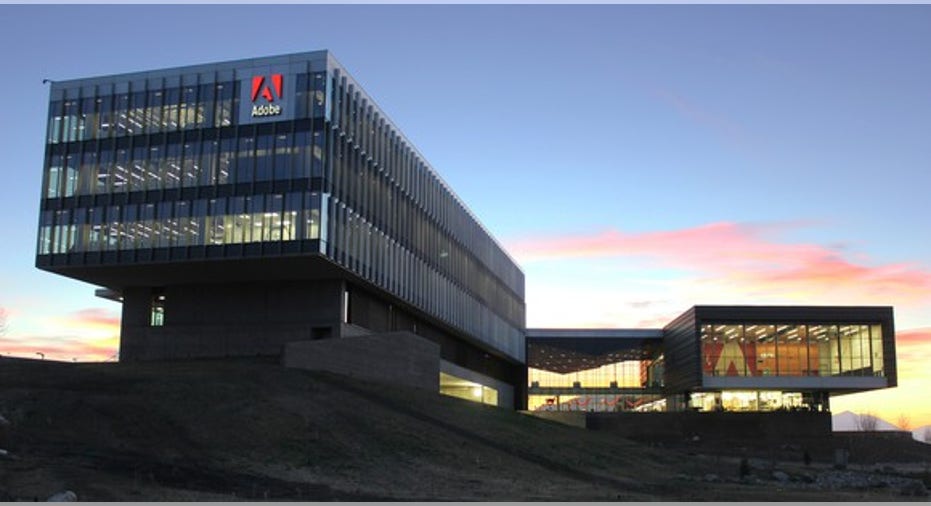 Image source: Adobe Systems Incorporated.
Adobe Systems Incorporatedannounced fiscal second-quarter 2016 results Tuesday after the market close, and the stock is down around 4% in after-hours trading as of this writing. But keeping in mind that shares of the creative-software company touched a fresh 52-week high just ahead of the report, investors shouldn't be disappointed with the performance. Let's take a closer look at how Adobe fared in its latest quarter.
Adobe Systems results: The raw numbers
| Metric | Fiscal Q2 2016 Actuals | Fiscal Q2 2015 Actuals | Growth (YOY) |
| --- | --- | --- | --- |
| Revenue | $1.40 billion | $1.16 billion | 20.4% |
| GAAP net income | $244.1 million | $147.5 million | 65.5% |
| GAAP earnings per share (diluted) | $0.48 | $0.29 | 65.5% |
DATA SOURCE: ADOBE SYSTEMS INCORPORATED.
What happened with Adobe Systems this quarter?
Excluding one-time items (including stock-based compensation, amortization of intangibles, and restructuring charges), adjusted (non-GAAP) net income climbed 47.7% year over year, to $357.4 million, or $0.71 per diluted share.
Both the top and bottom lines were above the midpoints of Adobe's respective guidance rangesprovided in March, which called for revenue of $1.365 billion to $1.415 billion, GAAP earnings per share of $0.42 to $0.48, and adjusted earnings per share of $0.64 to $0.70.
Digital media segment revenue grew 26% year over year, to a company-record $943 million, including a 37% increase in creative revenue, to $755 million.
Digital media annualized recurring revenue increased $285 million from last quarter, to $3.41 billion, exiting the quarter, driven by continued strong adoption of both Creative Cloud and Document Cloud.
Adobe marketing cloud revenue increased 18% year over year, to $385 million, setting another company record.
Cash flow from operations was $489 million.
Deferred revenue increased to a company-record $1.68 billion, up from $1.61 billion last quarter.
Adobe repurchased 2.2 million shares for $205 million during the quarter, leaving roughly $1.2 billion remaining under its current repurchase authorization.
What management had to say
"Adobe's cloud solutions are powering digital transformation at the world's biggest brands, educational institutions and government agencies,"Adobe CEO Shantanu Narayen said. "Our record revenue reflects our market leadership and the exploding demand for digital experience solutions."
Adobe CFO Mark Garrett added: "Record revenue with strong profit and cash flow highlight our second-quarter results. Based on our first-half performance and momentum, we're on track to meet or exceed all of our annual fiscal-year 2016 targets."
Looking forward
For perspective on those targets, last quarter Adobe increased its goal to achieve digital-media annual recurring revenue of $4 billion exiting fiscal 2016. In addition, Adobe called for full fiscal-year revenue of $5.8 billion, GAAP net income of $2.00 per share, and adjusted net income of $2.80 per share.
For the current fiscal third quarter of 2016, Adobe anticipates revenue of $1.42 billion to $1.47 billion, GAAP earnings per share of $0.46 to $0.52, and adjusted EPS of $0.69 to $0.75.
In the end, though the market's reaction may not show it in light of Adobe's recent rise, this was an admirable performance as Adobe continues to successfully implement its cloud-based future. With Adobe on track to meet or beat the encouraging guidance it laid out three months ago, I think investors should be more than pleased with where it stands today.
The article Adobe Remains on Track for a Solid Year originally appeared on Fool.com.
Steve Symington has no position in any stocks mentioned. The Motley Fool recommends Adobe Systems. Try any of our Foolish newsletter services free for 30 days. We Fools may not all hold the same opinions, but we all believe that considering a diverse range of insights makes us better investors. The Motley Fool has a disclosure policy.
Copyright 1995 - 2016 The Motley Fool, LLC. All rights reserved. The Motley Fool has a disclosure policy.