Adele Dominates the 59th Annual Grammy Awards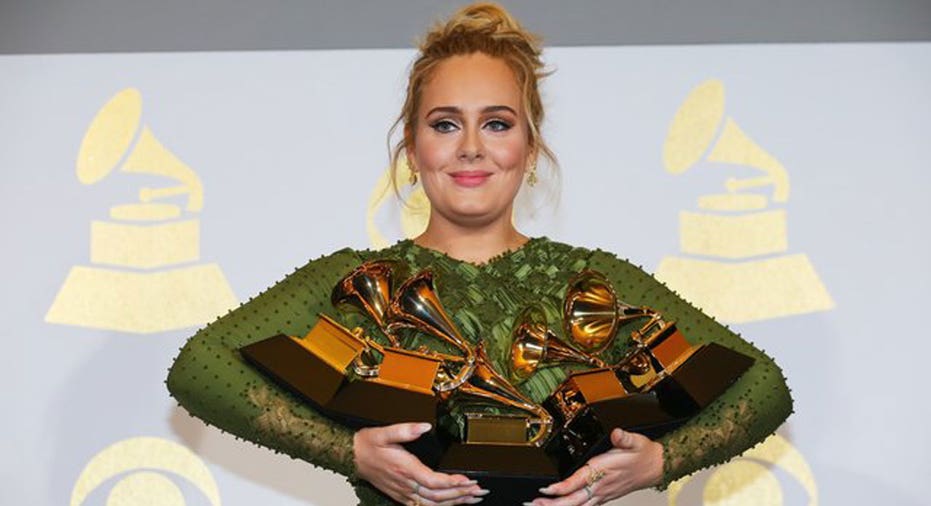 British megastar Adele swept the 59th annual Grammy Awards, winning three of the top prizes with her album "25" and its hit single "Hello."
Organized by the Recording Academy and emceed by "Late, Late Show" host James Corden, the politically charged show opened simply with the 28-year old chanteuse singing "Hello," which won the prizes for song of the year and record of the year. Her "25" was named album of the year, having sold 8.5 million copies to date in the U.S., according to BuzzAngle Music.
Her rival in the top three categories, R&B queen Beyoncé, flaunted her pregnant belly in a sheer, sparkling gold gown and a halo-like headdress as she performed an ode to motherhood. Introduced by her own mother, the 35-year-old pop singer, who recently announced that she is expecting twins, sang two slower cuts from last year's album "Lemonade," and took home awards for best urban contemporary album and best music video.
Adele said in one of her acceptance speeches that Beyoncé was her idol.
"I want you to be my mommy," she said.
The show grew more politically charged as the night progressed, with rapper Busta Rhymes thanking "President Agent Orange" for his "unsuccessful attempt at the Muslim ban," while performers knocked down a wall chanting "we the people." At the end of the hip-hop collaboration, A Tribe Called Quest frontman Q-Tip called on the crowd to "resist," a word that also appeared on an armband worn by pop star Katy Perry.
Spotlighting the growth of streaming services, Chance the Rapper was named best new artist, while his mixtape "Coloring Book," was awarded the best rap album prize, even though it was first released only on Apple Inc.'s streaming service Apple Music and still isn't for sale as a CD or even a download in Apple's iTunes Store. The 23-year-old hip-hop artist's mixtape beat competitors including Kanye West's "The Life of Pablo," which isn't for sale as a CD, either. That collection was first released only on Jay Z's streaming service Tidal, and Mr. West continued reworking some of the album's music for weeks after it was first issued last February.
The awards show's recognition of such modern releases could raise awareness of subscription streaming services and potentially drive subscriptions, said Nielsen Music analyst Dave Bakula. That would help the music industry, which is counting on $10-a-month streaming services such as Apple Music and Spotify AB to sustain its recent growth as CD and download sales continue their yearslong declines.
"If I'm not an Apple Music subscriber, I'm probably not even aware of this record," said Mr. Bakula, referring to "Coloring Book." The Grammy telecast, he added, might spark an "awakening for fans" because "they're not going to be able to buy it."
An array of stars used the night to make political statements, with Mr. Corden -- known for "Carpool Karaoke," in which he drives around with musicians as they belt out tunes -- performing a rap that included the line: "with President Trump we don't know what comes next."
Singer-actress Jennifer Lopez also told the crowd not to succumb to fear or self pity, quoting the writer Toni Morrison on now being a "time when artists must go to work." Paris Jackson, daughter of the late pop star Michael Jackson, told the audience that the world could "really use this type of excitement at a pipeline protest," a reference to demonstrations by Native American tribes and environmental groups against the Dakota Access Pipeline.
Recording Academy President Neil Portnow called on Congress to update music laws and renew "America's commitment to the arts." In his speech, Mr. Portnow said one of the country's most important exports was "American music."
Write to Hannah Karp at hannah.karp@wsj.com and Neil Shah at neil.shah@wsj.com