Ad firm worked for Cordray's agency, then governor campaign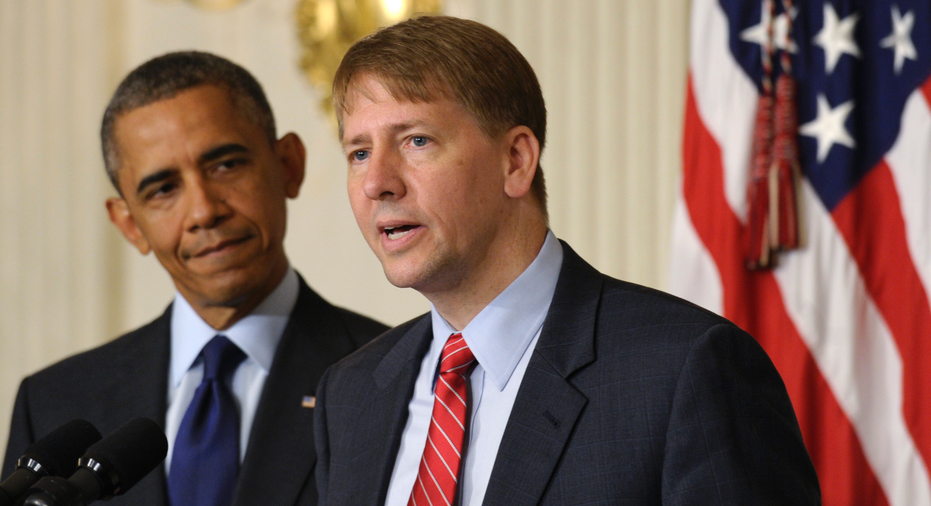 An advertising and media firm to which Ohio gubernatorial candidate Richard Cordray's agency gave government work while he was a federal official is now doing political work for him.
Washington-based GMMB has been making Ohio ad buys for Democrat Cordray's gubernatorial campaign against Republican Attorney General Mike DeWine, according to records reviewed by The Associated Press. The two are locked in a high-profile fight for the office Republican Gov. John Kasich vacates in January because of term limits.
GMMB's political work for Cordray, former director of the Consumer Financial Protection Bureau, follows Republican criticism that the bureau's decision to hire the firm under Cordray's watch was politically questionable.
GMMB was the lead advertising agency for the successful presidential bids of Democrat Barack Obama in 2008 and 2012. Obama is campaigning for Cordray in Cleveland on Thursday.
"The whole thing is peculiar," said Matthew Henderson, a spokesman for U.S. Rep. Warren Davidson, an Ohio Republican who questioned the contract during a hearing in April. "Why was former director Cordray spending so much on a PR firm he would eventually hire to run his campaign for governor? And why was a government agency that was created to protect consumers and prosecute fraud spending a higher percentage on PR than a car brand like Chevy?"
Cordray's campaign said there's nothing improper about the firm's work for the government or the campaign. At the time it was hired by the federal consumer bureau, the agency was working to raise a new federal agency's pro-consumer profile among Americans.
"Rich Cordray is proud of the work he did at the CFPB to take on predatory lenders and put $12 billion back into the pockets of 30 million Americans who had been cheated or mistreated," said spokesman Mike Gwin. "It's unsurprising that those same powerful interests are now using bogus and debunked smears to try to misrepresent Rich's record of standing up for middle class families."
The Office of Inspector General reported in June that costs tied to GMMB's contract with the consumer bureau grew from the original estimated value of $11.5 million to $43.8 million from August 2013 to February 2018. The office found the bureau could have better managed the contract and urged stronger controls.
Mick Mulvaney, appointed by Republican President Donald Trump to succeed Cordray as bureau director, said during the April hearing that he planned to cancel the contract.
Besides Obama's campaigns, GMMB has served Democrat-aligned clients including Emily's List, the Democratic Governors Association and the League of Conservation Voters, according to its website. It also did government work pitching the benefits of the Affordable Care Act.
GMMB has worked for Democratic and Republican administrations, including Trump's. The inspector general said the firm was selected by the consumer bureau through an open competitive process.
Catherine Turcer, executive director of Common Cause Ohio, a nonpartisan watchdog group, said the Cordray campaign may have looked at GMMB's successful work for Obama and felt it was a good fit — but such relationships should still be approached with caution.
"The problem is, of course, that elections now are so closely tied to governing that it makes voters concerned because everything's so embedded and intertwined," she said. "It at least deserves a conversation."
A spokesperson for GMMB said the firm was "honored to have worked with the CFPB to advance its mission to educate and protect consumers in the financial marketplace."
A spokeswoman for DeWine's campaign said the relationship "presents a major trust issue with voters."