Activision Blizzard Crushes Estimates, Sees Big Future in E-Sports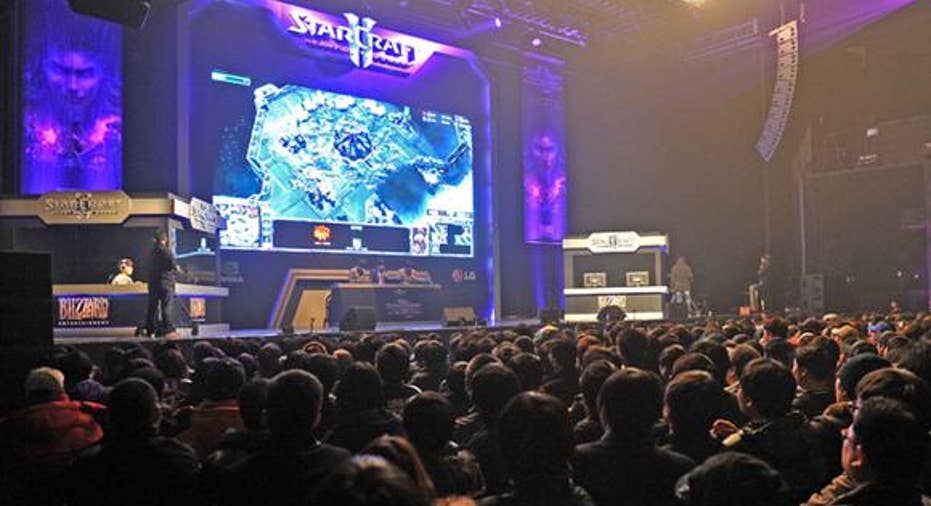 E-sports may be the future for Activision Blizzard. Image source: Activision Blizzard.
The video game industry hasn't always been a stable one for companies or investors, but Activision Blizzard seems to have cracked the code for how to make money creating games long term. And the first-quarter 2016 results it released after the market closed on Thursday showed the game market was even better than expected. Here's what you need to know.
Activision Blizzard results: The raw numbers
| Metric | Company Q1 2016 Guidance | Q1 2016 Actuals | Growth (YOY) |
| --- | --- | --- | --- |
| GAAP revenue | $1.26 billion | $1.46 billion | 13.8% |
| GAAP EPS | $0.21 | $0.45 | (15.1%) |
| Non-GAAP revenue | $800 million | $908 million | 29.2% |
| Non-GAAP EPS | $0.11 | $0.23 | 43.8% |
YOY = year over year. Data source: Company earnings release.
What happened with Activision Blizzard this quarter? By all indications, it was a great quarter for Activision Blizzard and it's set up to be a great year. Better-than-expected revenue and earnings were driven by the King Digital acquisition, which showed some sequential growth as well. After paying $5.9 billionfor the company in February, the biggest worry has to be that game play will slow down at the company. But that doesn't appear to be the case, for now. Here are some other highlights from the quarter.
More than 10 billion hours were spent playing Activision Blizzard games in the first quarter and 42 billion hours in the past year. It's that engagement that drives the entire business model, so this is a huge advantage for the company.
Monthly active users grew 10% to 55 million at Activision, 23% to 26 million at Blizzard, and 3% sequentially to 463 million at King Digital.
Activision Blizzard doesn't break out a lot of specifics on where revenue comes from, but e-sports is a big potential market for the company. Valve's CounterStrike: GO Major event delivered 45 million hours of viewership and the Call of Duty World League has concluded Stage 1 of a championship with a $3 million prize pool. As more people watch e-sports, more people will play games, creating a virtuous cycle for the company's games.
Cash on hand jumped over $1 billion to $2.9 billion, offset by $5.8 billion in long-term debt.
Full-year non-GAAP guidance was raised slightly with revenue now expected to be $6.275 billion and earnings per share of $1.78.
Management sees a big future in e-sports A significant chunk of the conference call was dedicated to how the Activision Blizzard business model is based around the social aspect of gaming and e-sports. I think that's a key takeaway from the last year in the gaming industry. Gamers are increasingly looking at games as a way to connect with people, whether they know them or not, and that creates a deep relationship with games. The company then keeps them engaged with regular updates and expansions.
This also gets to why e-sports will be such a big deal in the future. Tournaments are growing in popularity and people are willing to watch hours and hours of content. This can lead to many new revenue sources, like advertising, that haven't begun to be meaningful to the company yet.
Looking forward Given the active engagement users have with games and the increasing number of ways Activision Blizzard has to monetize that engagement, I think the company is set up for a good year. The increase in guidance wasn't nearly as big as it could have been given the fact the company was $108 million ahead of revenue guidance and $0.12 ahead of bottom-line guidance. But that may just be a conservative move by management.
What will be interesting to watch going forward is how e-sports plays a role in the company's future. It's a big opportunity and if done right it could be a major business segment all by itself, something that seems crazy given how young the concept of e-sports is.
The article Activision Blizzard Crushes Estimates, Sees Big Future in E-Sports originally appeared on Fool.com.
Travis Hoium has no position in any stocks mentioned. The Motley Fool owns shares of and recommends Activision Blizzard. Try any of our Foolish newsletter services free for 30 days. We Fools may not all hold the same opinions, but we all believe that considering a diverse range of insights makes us better investors. The Motley Fool has a disclosure policy.
Copyright 1995 - 2016 The Motley Fool, LLC. All rights reserved. The Motley Fool has a disclosure policy.