ACADIA Pharmaceuticals Inc.'s Shareholders Are Having a Crazy Year. Here's Why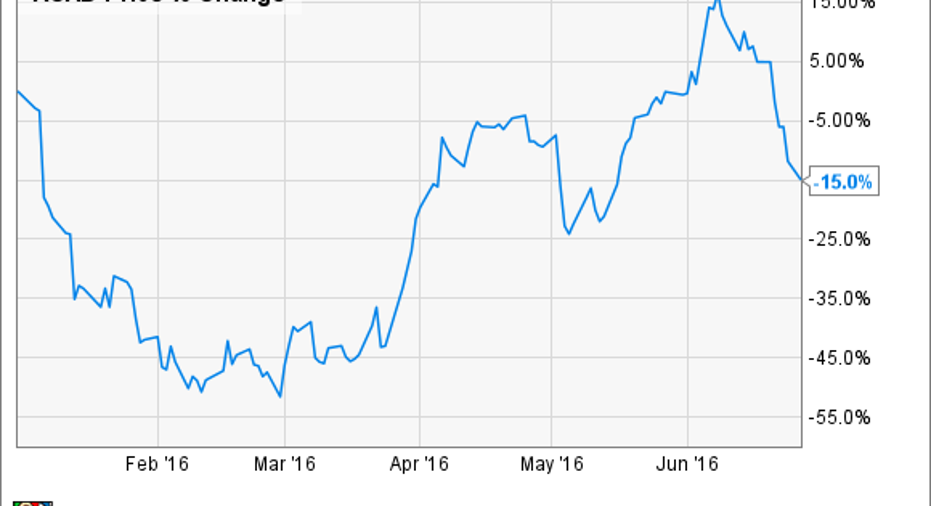 Image source: AcadiaPharmaceuticals.
What:It's been a wild year for shareholders of Acadia Pharmaceuticals , a commercial-stage biopharma focused on diseases of the central nervous system. Shares plunged more than 50% from Jan. 1 through the middle of March, but they've come roaring back to life in recent months, and were even up more than 15% at the high point. They are currently down 15% since the start of the year.
So what:What caused the plunge and the follow-on recovery? Here's a review of the key developments that have taken place this year:
In January, Acadia raised $300 million through a common share offering, selling just over 10 million shares for $29 each. That move caught the markets off guard, as the company's balance sheet contained more than $240 million in cash at the time of the announcement. Combine that with the general biotech sell-off, and shares cratered to start the year.
Shares jumped in March after an FDA advisory committeerecommended that Nuplazid -- Acadia's experimental treatment for Parkinson's disease psychosis -- should be given the green light.
The FDA decided to follow the committee's recommendation and officiallyapprove Nupalzid for sale on April 29.
Nuplazid was launched for sale on May 31 at anannual wholesale price of $23,400, which was a higher price than many analysts were expecting.
The rumor mill kicked into high gear, with reportsswirling that pharma giant AstraZeneca was interested in buying Acadia outright. A report from theDaily Mailclaimed that Acadia would not even consider selling for less than $60 per share, which represents almost 100% upside from today's share price.
Unfortunately, those rumors never turned into a publicly announced offer, so traders' enthusiasm for Acadia's stock started to wane in the days following the report. That brings us to where the stock sits today.
Now what:AstraZeneca is facing some big revenue challenges over the next few years (which is a big reason it has become one of thehighest-yielding big pharma stocks out there), so it's not out of the question that a bid may ultimately surface for Acadia. After all, AstraZeneca does have a recent history of buying small biopharma companies, especially those close to launching interesting new drugs. Last year, the company spent $2.7 billion to buy out ZS Pharma to get its hands on the company's treatment for hyperkalemia. However, that move isn't looking so great in hindsight, so it's possible the management team is feeling a bit gun-shy now.
Even if a buyout offer doesn't surface, there are plenty of reasons to be bullish on Acadia's stock right now. TheNational Parkinson Foundation estimates that 1 million people inthe U.S. alone suffer from Parkinson's disease, and roughly 40% of them develop psychosis. Because there are no other approved treatment options on the market, Acadia should have this indication all to itself, which is why some analysts believe peak sales of Nuplazid could eclipse $4 billion in time.
If Acadia can execute on that huge market opportunity -- which is a big "if" -- then today's market capitalization of roughly $3.5 billion might seem like a great entry point in retrospect.Investors with an above-average tolerance for risk might want to give this company's stock a closer look.
The article ACADIA Pharmaceuticals Inc.'s Shareholders Are Having a Crazy Year. Here's Why originally appeared on Fool.com.
Brian Feroldi has no position in any stocks mentioned.Like this article? Follow him onTwitter where he goes by the handle@Longtermmindsetor connect with him on LinkedIn to see more articles like this.The Motley Fool has no position in any of the stocks mentioned. Try any of our Foolish newsletter services free for 30 days. We Fools may not all hold the same opinions, but we all believe that considering a diverse range of insights makes us better investors. The Motley Fool has a disclosure policy.
Copyright 1995 - 2016 The Motley Fool, LLC. All rights reserved. The Motley Fool has a disclosure policy.