ABC's 'World News' breaks a 21-year streak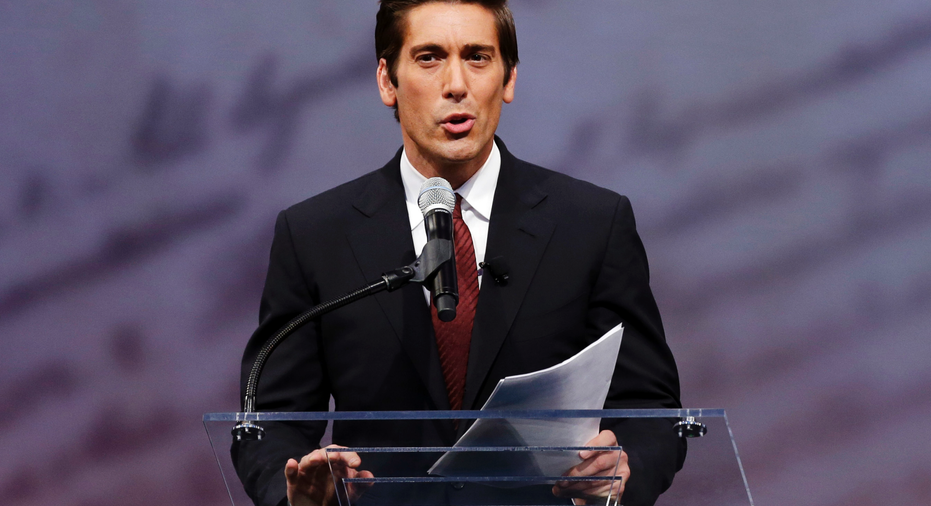 ABC's "World News Tonight" with David Muir has dethroned NBC and finished the television season as the year's most-watched evening newscast for the first time in 21 years, since the late Peter Jennings was anchor.
While network evening newscasts have diminished in influence over the years and morning shows make more money, they still collectively reach 23 million viewers each weeknight and are considered the flagship broadcasts of news divisions. Bragging rights are eagerly sought.
"One has to recognize the breaking of one of the great streaks in television," said James Goldston, ABC News president. Muir and his team "worked immensely hard to do that, and they've done it in an extraordinary period of news."
For the year, "World News Tonight" averaged 8.25 million viewers, while NBC's "Nightly News" had 8.17 million and the "CBS Evening News" had 6.56 million, according to the Nielsen company. For statistical purposes, television marks its year by the start of a new season of broadcast programs in September.
Like much in television, the programs aren't a growth industry. ABC moved in front by essentially staying even from the previous two years while its rivals lost viewers.
NBC touted its victory among the 25-to-54-year-old demographic, the statistic primarily used as a basis for advertising sales in news. NBC News ran a full-page newspaper advertisement boasting that it was No. 1 for the second season in a row with "Nightly News," the "Today" show, "Dateline NBC" and "Meet the Press." The small print noted they were wins among specific demographic categories, not among all viewers.
For the evening newscasts, NBC News President Noah Oppenheim said he wouldn't trade places with his ABC counterparts.
"If you are going to go by the quality of the broadcast, ours is superior," he said. "If you're going to go by business measurements, we're winning in the only category that matters."
Goldston said he wasn't going to dismiss the large number of viewers not included in that category. "We want to be America's favorite news show," he said.
"In a world consumed by social media and fake news, people are thirsting to get a straightforward account of what happened that day," he said. "I think 'World News Tonight' does that better than anybody."
What's most important is building on the victory, he said. ABC's "Good Morning America" ended a long victory streak by "Today" earlier in this decade, and hasn't relinquished that lead since.
There's some question about whether NBC's Lester Holt, who has traveled to Puerto Rico to anchor "Nightly News" from the hurricane-ravaged territory this week, may be hurt by association with one of NBC News' biggest success. MSNBC and its left-leaning prime-time lineup has been a huge hit in the Age of Trump. Do some of the president's supporters who don't like MSNBC take it out on people at NBC News?
"It's absolutely possible," said Tim Graham, director of media analysis at the conservative watchdog Media Research Center. Oppenheim said the audience is sophisticated enough to know the difference between the products, just like The New York Times has separate opinion pages and news pages.
CBS, whose evening newscast is in transition with Anthony Mason as interim anchor, instead looked to the morning to tout accomplishments. "CBS This Morning," while still in third place, is more competitive with ABC and NBC at that time of day than the network ever has been.
Its rivals, meanwhile, bleed viewers. "Good Morning America" averages 4.4 million viewers, but is down from 5.5 million four years ago. "Today" has dropped from 4.9 million to 4.2 million in the same time frame. Meanwhile, CBS has gained audience in that time from, going from 3 million viewers in 2013-14 to just under 3.6 million now.