ABCs of ZTE: Tech firm in focus amid US-China trade dispute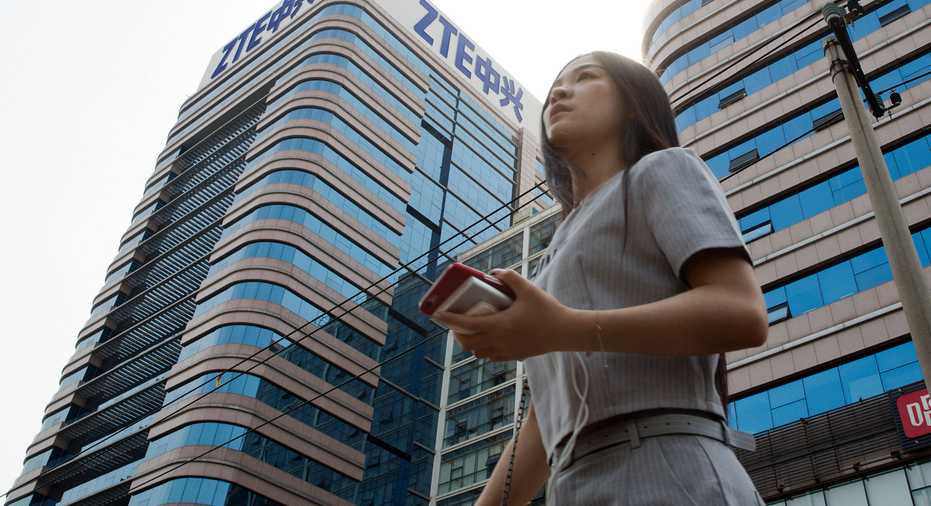 President Donald Trump injected fresh uncertainty into planned trade talks between U.S. and Chinese officials this week with his weekend social media musings that hinted at possibly easing up on sanctions for China's ZTE.
Here's a closer look at the issues:
WHAT IS ZTE?: It's a partially state-owned company based in the southern Chinese tech hub of Shenzhen, next door to Hong Kong, that makes cellphones and network switching and other telecommunications equipment. Last month, the U.S. Commerce Department banned it from buying U.S. technology or products for seven years after it misled regulators by failing to discipline employees involved in illegal exports and paying them bonuses. ZTE Corp. pleaded guilty and was hit by a $1.19 billion fine after getting caught shipping cellular network equipment to Iran and North Korea in violation of U.S embargoes aimed at keeping sensitive technology away from hostile regimes. Last week, ZTE said it had suspended major business operations because the U.S. sanctions cut off supplies of needed components and technology.
TRUMP TWEETS: Catching many by surprise, on Sunday Trump tweeted that he and Chinese President Xi Jinping "are working together to give massive Chinese phone company, ZTE, a way to get back into business, fast. Too many jobs in China lost." Trump said the Commerce Department was told to "get it done!" Hours later he tweeted that the U.S. and China were working well together on trade but it would be hard to work out a deal beneficial to both sides because "past negotiations have been so one sided in favor of China, for so many years." He added, "But be cool, it will all work out!"
TRADE TALKS, PART TWO: During China-U.S. trade talks in Beijing earlier this month, Chinese officials sought help from the U.S. delegation in getting the ban on doing business with ZTE lifted. Those talks made little apparent progress. Sunday's comments are a confusing prelude to further talks in Washington this week aimed at resolving the worst trade dispute with Beijing in decades. The Chinese delegation, led by Liu He, President Xi Jinping's top economic adviser, is due to arrive on Tuesday, China's Foreign Ministry said. The tensions flared after the Trump administration vowed to hike import duties on Chinese goods to try to even out the two countries' lopsided trading relationship, but they also reflect U.S. resistance to China's efforts to achieve tech dominance.
INTERDEPENDENCE: The U.S. business ban is devastating for ZTE because it relies heavily on U.S. technology and parts that are hard to source from elsewhere. U.S. suppliers of technology and components, such as computer chipmakers Qualcomm and Intel, account for 43 percent of the materials used in its Chinese-made handsets and networking equipment, according to tech research firm IDC. It's also an increasingly important market for ZTE, which is the fourth biggest smartphone vendor in the United States.
SECURITY WARNINGS: The U.S. government has long been suspicious of ZTE and another Chinese tech firm, Huawei. In 2012, the U.S. House Intelligence Committee said the companies posed a national security threat and advised regulators to block any of their mergers or acquisitions in the U.S. The sanctions on ZTE reflect those longer-term concerns and highlight the company's dependence on the U.S. for advanced technology. The sanctions against ZTE result from an investigation during former President Barack Obama's tenure. The were likely made harsher by prevailing trade tensions.
ZTE FACTS: ZTE says it does business with business with telecom providers, governments and corporate network clients in more than 160 countries. Last year its revenues rose 7.5 percent to 108.8 billion yuan ($17.2 billion), as it swung to a 4.6 billion yuan net profit from a net loss the year before. The company employs 75,000 workers, including about 30,000 in research and development. It has R&D centers in China, the U.S., Europe, Japan and Canada.